Oh The Places These Skiers Go: Paralympians Share Their Favorite Spots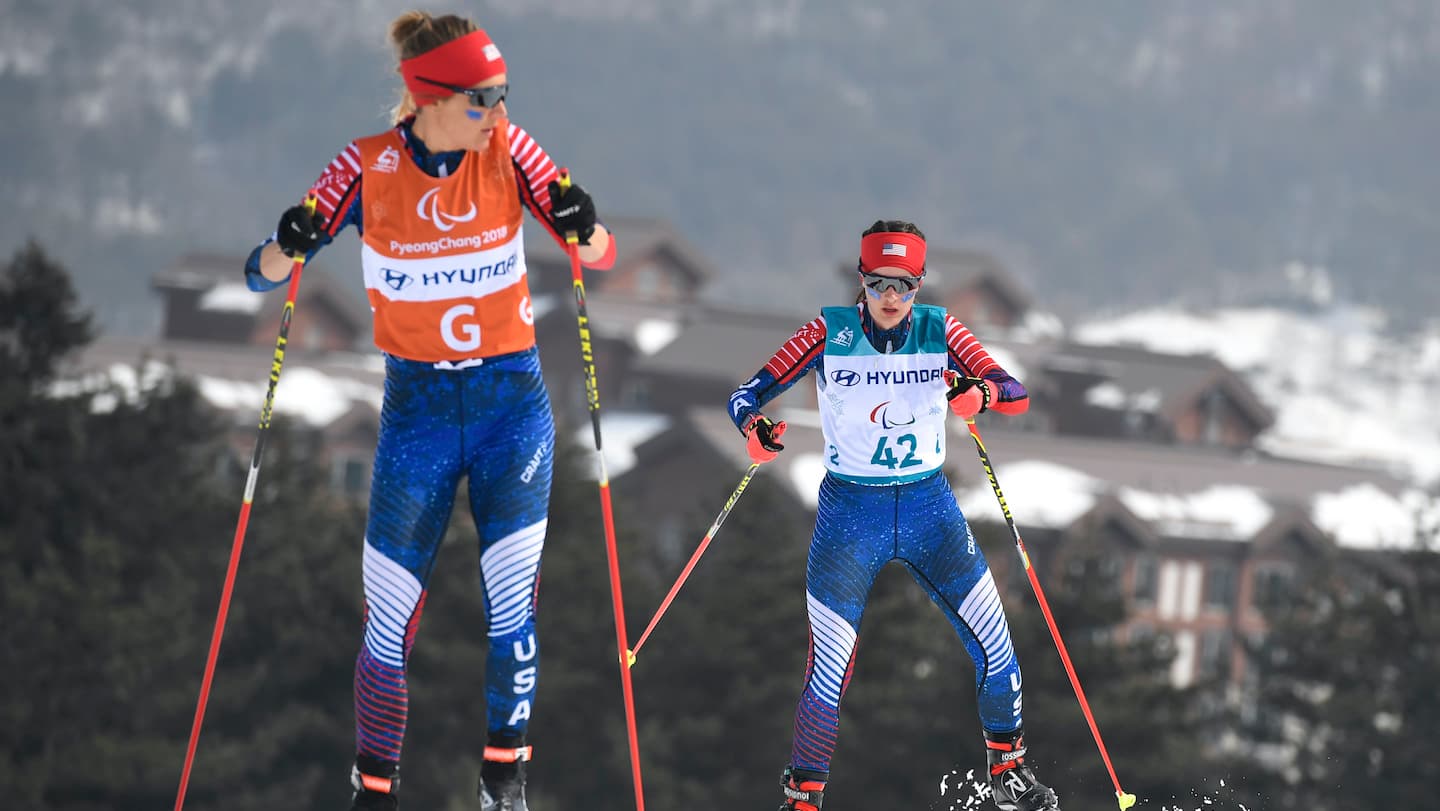 Mia Zutter competes in PyeongChang. (Photo: Mark Reis)
Robert Walsh traveled around the globe as a Para Nordic skier, and he has gotten the chance to see more of it thanks to his job with World Para Nordic Skiing.
Walsh competed in nine countries across Asia, Europe and North America, though he was sometimes so focused on performing well at a competition he didn't take any time for sightseeing.Nonetheless, Walsh considers some places more special than others almost two decades after he competed in his fifth and final Paralympic Winter Games in Salt Lake City in 2002.
He had the opportunity to race in Norway — which he called "the cradle of cross-country skiing" — when he competed at the Lillehammer Games in 1994.
But if Walsh had to pick a favorite place where he skied, he'd choose Austria. It was the site of his first international competition and where he won his only Paralympic gold medal in 1988.
He also earned a bronze four years later in Albertville, France.
"Innsbruck was the host city for the 1988 (Winter) Paralympics and was also the host city for the 1976 Winter Olympics, in which Bill Koch won the first-ever Olympic medal for the U.S. in cross-country skiing," said Walsh, who's now the chairperson of the sport technical committee for World Para Nordic Skiing.
"That bit of history inspired me during my race, and I think the combination of history and personal connection is what makes Innsbruck/Seefeld special."
World-class Para Nordic skiers regularly competed overseas before the coronavirus pandemicmade traveling much more difficult and forced international competitions to be cancelled.
It's sometimes not so easy for athletes to pick a favorite place where they've skied. They can have quite a few countries to choose from.
And then there are those trips where skiers are so busy with a competition that the only parts of a city they see are the airport, their hotels and the venue where they're competing.
Mia Zutter competed in three cross-country skiing events at the 2018 Winter Games in PyeongChang, finishing among the top 10 in both of her individual races. She said she hasn't encountered the best weather while overseas, however. She got sunburnt during one of her two trips to South Korea because she competed in weather more suited for springtime.
"It was hot, like it was 55 degrees, so they were trying to keep the snow even alive because it was melting so quickly," Zutter said. "And then in Germany, in one of my biathlon races, it was pouring rain."
Despite the weather, Zutter said South Korea is a special place for her because of the atmosphere she experienced at the 2018 Paralympics and her familiarity with one of the courses there.
"I skied that course the year before and so getting to go back to the same place was really fun," she said. "I don't know, the course was just pretty special and not like anything I'd ever skied before."
So where is Zutter's favorite place to ski? She picked Canmore, which is a town in Alberta, Canada.
Like Zutter, Joy Rondeau made her Winter Paralympic debut three years ago in PyeongChang, where she races in cross-country skiing and biathlon.
Rondeau estimated she has traveled to around a half dozen countries for competitions, but she had no hesitation to name a favorite one for her — Germany.
"I just really love the food there," she said, laughing. "I love the food, and I love the architecture."
Rondeau said she often doesn't get much of an opportunity to go sightseeing while competing overseas. That hasn't been the case during her trips to Germany, though.
She traveled last February to Finsterau, Germany, for the Para Nordic Skiing World Cup. After one of her races was cancelled, she was free to go into town and visit "these really old churches."
On another trip to Germany, Rondeau had a race postponed because of rain. She took advantage of it and got to ski from Germany to the Czech Republic and back, which she called "a really neat experience."
"That might be why I like Germany so much because I got to explore it a little bit more than the other places that I've been," said Rondeau, who's a member of the U.S. developmental team.
As he gained more racing experience, Walsh said he learned to find some balance during his overseas trips and went sightseeing while staying prepared for his competitions.
Walsh accompanied his American teammates on a day trip around tourist sites near Nagano, Japan, during their day off at the 1998 Paralympics.
"I learned to create and take opportunities to visit places and people after an event," Walsh said. "Several times, my guide and I would change our travel plans from the team's departure home and instead spend some time with other friends or in places that held special interest.
"That let me do things like hut-to-hut skiing in Norway or alpine skiing in Switzerland. I'm glad the team allowed me to have that independence, and I appreciate the extra benefits that it brought me from my skiing career."
Alex Abrams has written about Olympic sports for more than 15 years, including as a reporter for major newspapers in Florida, Arkansas and Oklahoma. He is a freelance contributor to USParaNordicSkiing.org on behalf of
Red Line Editorial, Inc.