After Long Wait, The Nordic World Cup Season Kicks Off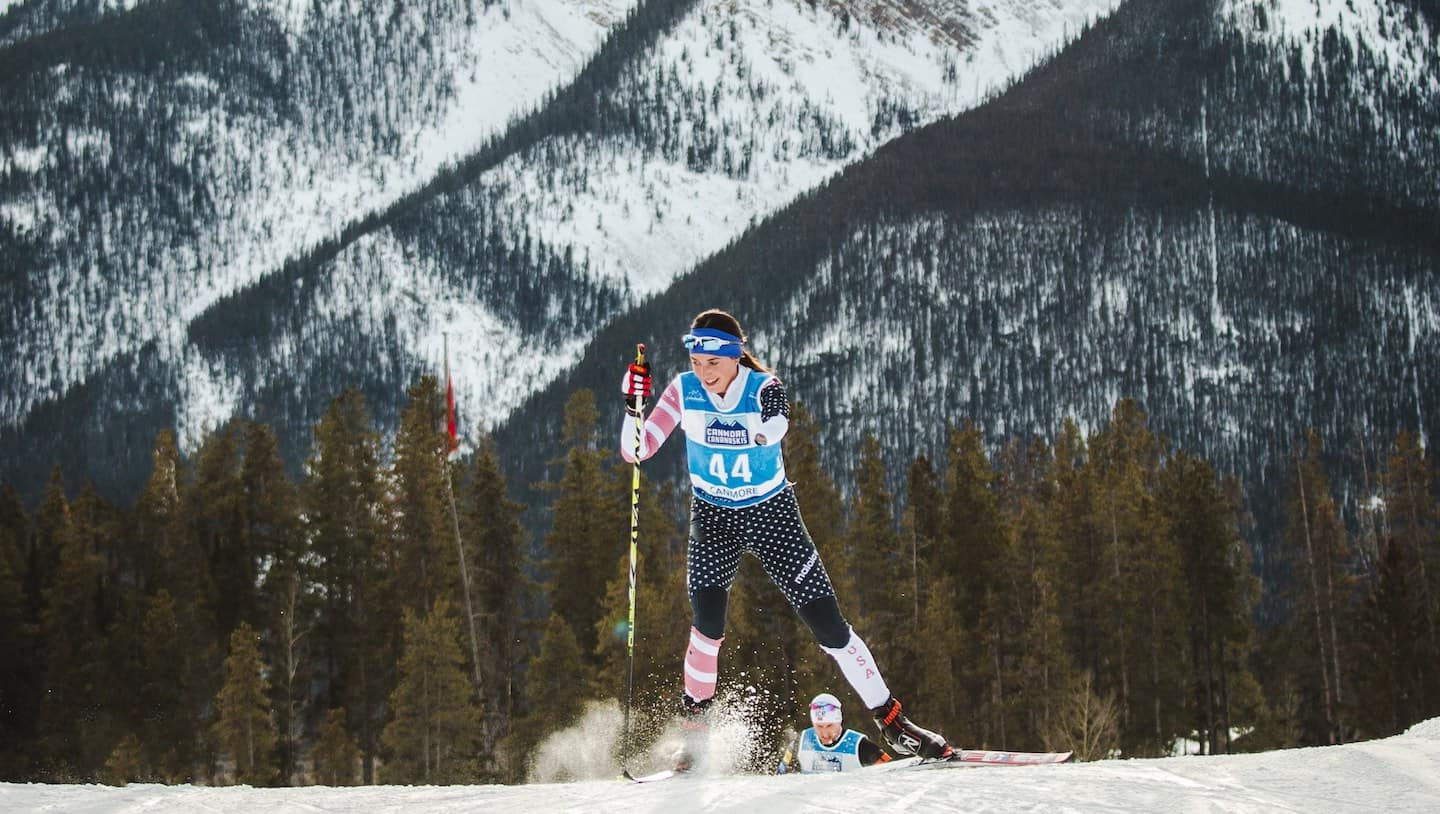 Dani Aravich competes in Canmore, Alberta. (Photo: Anna Sellers)
The top Para Nordic skiers in the U.S. have had to wait at least nine months to get back on snow and race again.
The coronavirus pandemic forced much of last season to get canceled, and American skiers competed in only one world cup event — in Slovenia last March.
Following the long layoff, members of the U.S. Paralympics Nordic Skiing national and development teams will see things quickly ramp up in the coming days and weeks.
That started last Saturday with the season-opening Para Nordic skiing world cup in Canmore, Alberta. The entire U.S. national team and most of the development team competed at the event, which ran through Dec. 12.
"The opening world cup is a great opportunity to dust off the cobwebs and remember what it feels like to race," said Eileen Carey, director of U.S. Paralympics Nordic Skiing.
"Some athletes will be on their third day on snow, and others may have spent 6-8 weeks on snow by the first race so everyone will have individual goals."
American athletes have traveled to Europe and Canada prior to the event to prepare for a skiing season that'll be anything but traditional.
The season will include both the inaugural World Para Snow Sports Championships in January in Lillehammer, Norway, and the Paralympic Winter Games Beijing 2022 two months later in March.
Athletes have been preparing in different ways.
In late September, four U.S. national team members — gold medalists Dan Cnossen, Kendall Gretsch and Oksana Masters along with silver medalist Jake Adicoff — took part in a training camp inside a ski tunnel in Oberhof, Germany.
"It definitely isn't as beautiful as skiing out in the mountains at all. It's more cement walls, which means no room for error if you do miss the turn and stuff," Masters said at the Team USA Media Summit in October.
"But our team has been going there to do some preseason prep for quite some time now, and it definitely makes a huge difference getting on snow early."
Another group of American skiers arrived in Alberta before Thanksgiving to train and familiarize themselves with what to expect at the Canmore Nordic Centre Provincial Park for the first world cup of the season.
For Masters, Gretsch, fellow national teamer Aaron Pike and development team athlete Dani Aravich, this winter season is also coming right on the tail of a summer sports season in which they competed at the Paralympic Games Tokyo 2020. Masters (cycling) and Gretsch (paratriathlon) each won gold medals, while Pike took part in several track and field events and placed sixth in the marathon. Aravich also competed in track and field, racing the 400m.
COVID-19 prevented countries from traveling to competitions last season. However, that wasn't the case at the Canmore world cup, which featured a deep international field competing in cross-country skiing and the biathlon.
More than 125 athletes from 15 countries, including Germany, France, Japan and Russia, raced at the event.
Carey said the U.S. coaches weren't concerned with how many medals the national and development teams won in Canmore – the team took home 13 medals, led by Masters and Gretsch, who combined for gold and silver in all of their races. The coaches, however, used the season opener to get athletes prepared for the world championships in Lillehammer — officially known as Lillehammer 2021 — and the Beijing Winter Paralympics that start soon afterward.
"As a program, we focus on the elements that create a great performance rather than the results, especially at this point in the season," Carey said. "We will take performances from this event (in Canmore) to help us identify where each athlete can focus their energies in preparation for Beijing or wherever their season may lead."
The U.S. national and development teams won't have the luxury of easing into the season.
The U.S. Paralympics Nordic Sit Ski Nationals will run from Dec. 29 to Jan. 2 in Bozeman, Montana, where the national and development teams are based.
Lillehammer 2021 starts a week later. It'll mark the first time that the world championships for Para Nordic skiing, alpine skiing and snowboarding will be hosted at the same time in the same city. The world championships were expected to be held last year, but they were rescheduled for January because of the pandemic.
It'll make for a quick turnaround for those American athletes who qualify for the Beijing Winter Paralympics in March.
In addition, many of the top American standing and visually impaired athletes will compete at the U.S. Cross Country National Championships at Soldier Hollow in Utah in January.
"I do feel like I've made a lot of progress," said Josh Sweeney, a member of the U.S. development team, "and I'm excited to see how it unfolds."
Alex Abrams has written about Olympic sports for more than 15 years, including as a reporter for major newspapers in Florida, Arkansas and Oklahoma. He is a freelance contributor to TeamUSA.org on behalf of Red Line Editorial, Inc.