After Three Years Away, Paralympic Medalist Jake Adicoff Is Back For More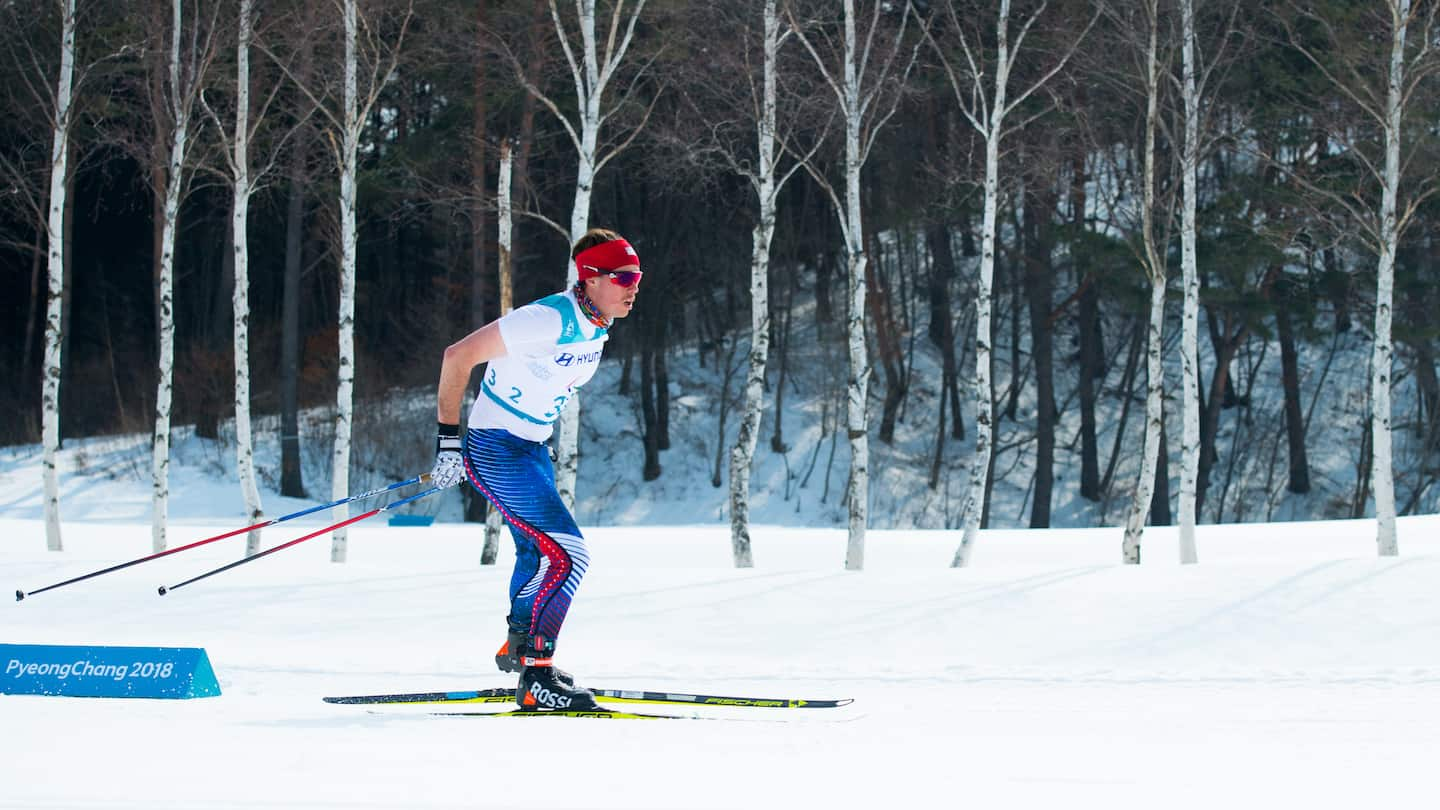 Jake Adicoff thought he was done competing in Para Nordic skiing three years ago.
He had accomplished a lot since taking up the sport in the second grade. He made his Winter Paralympic debut in Sochi at age 18, and he earned a silver medal four years later at the 2018 PyeongChang Games.
Adicoff said he was prepared to hang up his skis for good after leaving South Korea. At the time, he was close to graduating from Bowdoin College with a degree in math and computer science.
"I left PyeongChang thinking I'd just skied my last really competitive ski race. I thought I was done," Adicoff said. "It's kind of crazy. I don't know.
"I'm still like trying to figure out why I thought that. I guess at the time I kind of figured I'd got out of skiing what I wanted, and I see that still."
As it turned out, Adicoff wasn't as ready to retire from skiing as he thought. He's now training in his hometown of Sun Valley, Idaho, as he attempts to make a comeback following a three-year hiatus from the sport.
Adicoff was named last month to the U.S. Paralympics Nordic Skiing national team for the 2021-22 season. He's looking to qualify for next year's Beijing Winter Paralympics, where he hopes to medal in three individual events and win at least one gold.
"I didn't want to go to Beijing for the ride. I've done the experience before, and it phenomenal and very fun," said Adicoff, who turned 26 on May 16. "… I'm coming into this with very clear performance goals that are very, very lofty."
Adicoff is a visually impaired skier who relies on a personal guide to direct him around the course during a race. He has no vision in his right eye and has only peripheral vision in his left eye after his mother contracted chicken pox while pregnant with him.
Adicoff's best finish at the 2014 Sochi Winter Paralympics was sixth in both the 20-kilometer classic race and the 4x2.5K mixed relay with Tatyana McFadden.
"I definitely raced well for my ability at the time, but I was a lot faster in PyeongChang and I'm a lot faster now," Adicoff said. "So the skiing was great for me at the time, but looking back, it's kind of funny to think about what that was like."
Four years later, Adicoff arrived in South Korea for his second Winter Paralympics as a much-improved skier. His luck took a turn, though, once he got to PyeongChang.
Adicoff said he woke up the morning after a race feeling sick and slightly congested. He had a cold, which could take a toll on an athlete competing in an endurance sport like Nordic skiing.
Adicoff said he thought "the week was kind of over" for him and that he would leave PyeongChang without earning a medal.
However, once the 10K classic race began, Adicoff surprised himself by getting off to a fast start with his guide Sawyer Kesselheim.
"I didn't know that I was going to medal, but I was like 'OK, I was wrong. I'm feeling good. I'm skiing fast and smooth,'" Adicoff said. "I think a lot of it was I was just really relaxed going into it because I didn't have all this pressure trying to get this medal."
Adicoff crossed the finish line with a time of 24:31.3 to earn the silver medal. Once he returned to the U.S., he was invited to throw out the first pitch before a Boston Red Sox game at Fenway Park.
After eventually moving back to Sun Valley, Adicoff skied and trained casually for 10-11 months with friends. Then the coronavirus pandemic hit.
Adicoff said he started thinking about making a comeback after Eileen Carey, director of U.S. Paralympics Nordic Skiing, invited him to take part in a week of skiing in Utah with Team USA in late February.
"I was honestly starved for getting out and doing some stuff during the pandemic," Adicoff said. "So I went there and had a pretty fun week of just training with the team and seeing some development athletes and some of the top Para skiers."
Afterward, Adicoff spoke with his friends and family about possibly returning to competitive skiing. He said he came to the realization that he might not get the chance to race at the next Winter Paralympics in 2026.
If he hoped to earn a medal, he had to return now.
"I've got the drive and hoping that everything pans out," Adicoff said.
Alex Abrams has written about Olympic sports for more than 15 years, including as a reporter for major newspapers in Florida, Arkansas and Oklahoma. He is a freelance contributor to
USParaNordicSkiing.org
on behalf of
Red Line Editorial, Inc.