Nordic Roundup: Oksana Masters Looks Larger-Than-Life In Giant Murals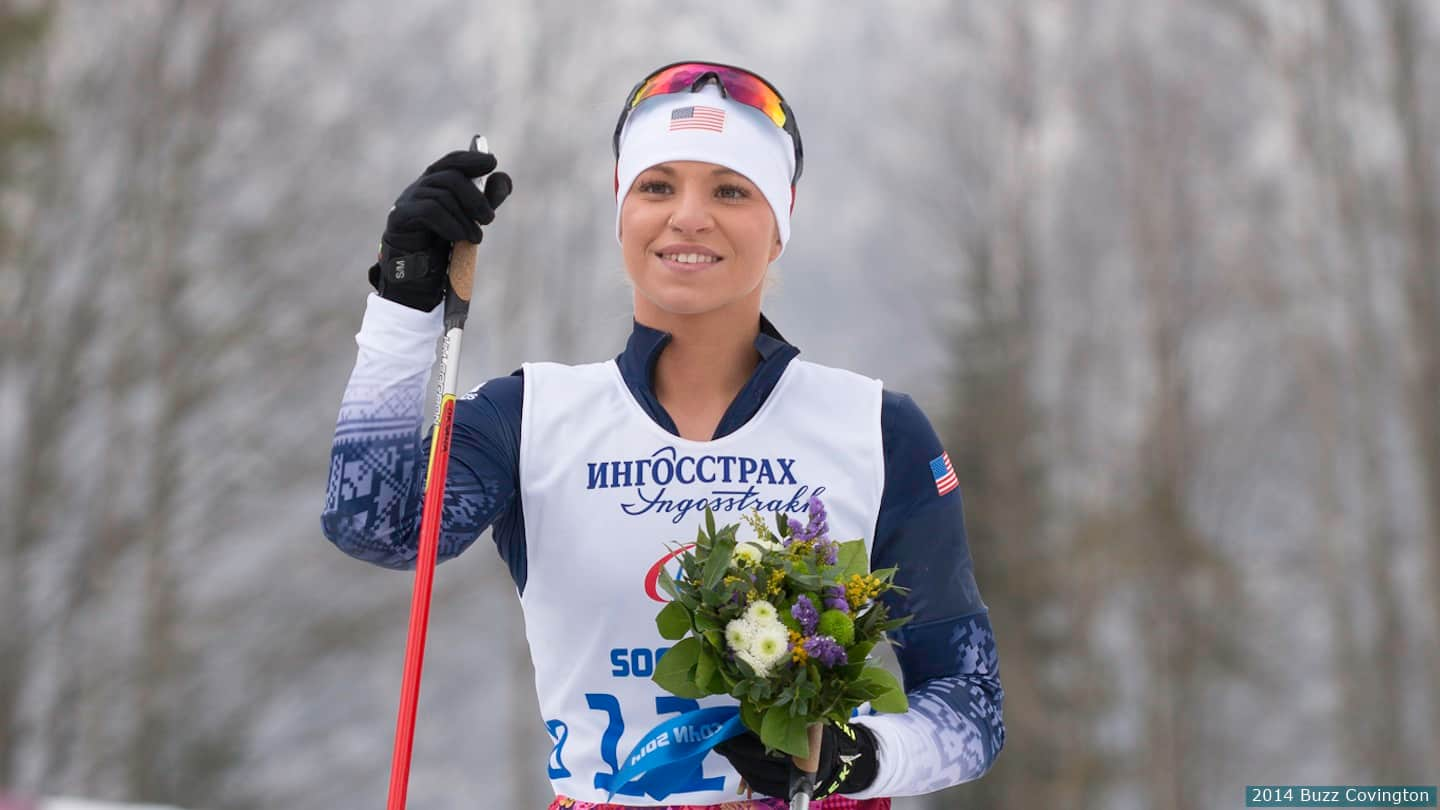 Every other Tuesday we scour the web for the latest going on in the world of U.S. Para Nordic skiing. Here's what you missed!
Masters Joins Olympians In Towering Works Of Art
Oksana Masters can now be seen on the side of a building in a major U.S. city.
Masters, a two-time gold medalist in Para Nordic skiing, is one of five female athletes who are depicted in giant muralsthat have gone up in Philadelphia, New York and Atlanta.
In the mural, Masters looks strong as she stands in the middle of the group on her prosthetic legs with her hands on her hips. She's the only Para athlete featured on the mural.
The other athletes are Olympians Alex Morgan (soccer), Ashleigh Johnson (water polo), Chiney Ogwumike (basketball) and Chelsea Wolfe (BMX).
Masters, who'll compete in Para-cycling at this summer's Paralympic Games Tokyo 2020, shared several photos of the mural on Instagram.
"When you SEE it, you can DREAM it and then BECOME it!!" Masters wrote. "… I am ABSOLUTELY honored to be involved alongside these incredibly fierce female athletes.Young Girls should never have to sweat about being supported playing their favorite sports and deserve representation."
Secret, the deodorant brand, sponsors the mural that includes the tagline, "JUST #WATCHME so you can empower the next generation of women & girls in sports."
The Philadelphia Inquirer published a photo of the mural on the side of a closed crab restaurant in Philadelphia.
Masters spoke to the newspaper about serving as a role model to girls, something she admitted she didn't have while growing up with birth defects from the Chernobyl nuclear accident.
"When I chose to be an athlete, I never was able to see myself as an athlete because I didn't get to see someone that looked like me," Masters told the newspaper. "So I couldn't believe that it was possible for me."
"Sports was this healthy outlet for me, of discovering myself, embracing myself and seeing how I'm powerful regardless of the fact I don't have legs."

Can't get enough of this new mural featuring Paralympian and role model @OksanaMasters!#ShowTheWorld https://t.co/O3jGSHG7fl


— U.S. Paralympics Nordic Skiing (@USParaNordic) July 16, 2021
Dani AravichContinues Paralympic Preparations At Training Center
Like Masters, Dani Aravich is a multi-sport athlete who's preparing to compete in Tokyo this summer.
Aravich, who was named to the U.S. Paralympics Nordic Skiing Development Team in June, has qualified for the Tokyo Games in Para track and field.
She shared a photo of herself wearing a "Team USA" shirt while taking a break from training at the Chula Vista Elite Athlete Training Center near San Diego, California.
"The road to Tokyo has started!First training camp complete at @cveatc," Aravich wrote. "One month till departure… let's get after it."
Para Nordic Skiing Community Mourns Vo Ra Mi Seo's Death
Vo Ra Mi Seo, who became the first Korean athlete to compete in Para Nordic skiing at the Winter Games, passed away from cardiac arrest on July 9. She was 35.
Seo was a three-time Paralympian who made her debut at the 2010 Vancouver Games. She was training for the 2022 Beijing Games before her death.
Masters expressed her condolences on Twitter.
"Vo Ra Mi Seo's smile would light up a room. This is absolutely sad news of not only a great competitor but also a friend," Masters wrote. "#ParaNordic was a better sport because of you. My heart goes out to the friends, family, and the whole South Korean Paralympic family."
Para Nordic Skiers Pose For "Album Dropping Soon"
Masters, Aravich and Lera Doederlein looked like three members of a girl group in a recent post on Instagram.
U.S. Paralympics Nordic Skiing shared a photo of Masters, Aravich and Doederlein posing while training on snow. With their arms crossed and their mouths covered with face coverings, the three athletes appeared to be doing a photo shoot for an album cover.
U.S. Paralympics Nordic Skiing made a joke with the photo, commenting, "Album coming soon" with a fire emoji.
Masters is a member of the U.S. Paralympics Nordic Skiing National Team. Doederlein joined Aravich as two of the newest members of the U.S. Paralympics Nordic Skiing Development Team.
Alex Abrams has written about Olympic sports for more than 15 years, including as a reporter for major newspapers in Florida, Arkansas and Oklahoma. He is a freelance contributor to USParaNordicSkiing.org on behalf of
Red Line Editorial, Inc.