U.S. Paralympics Nordic Skiing Names 2021-22 National and Development Teams Heading into Paralympic Year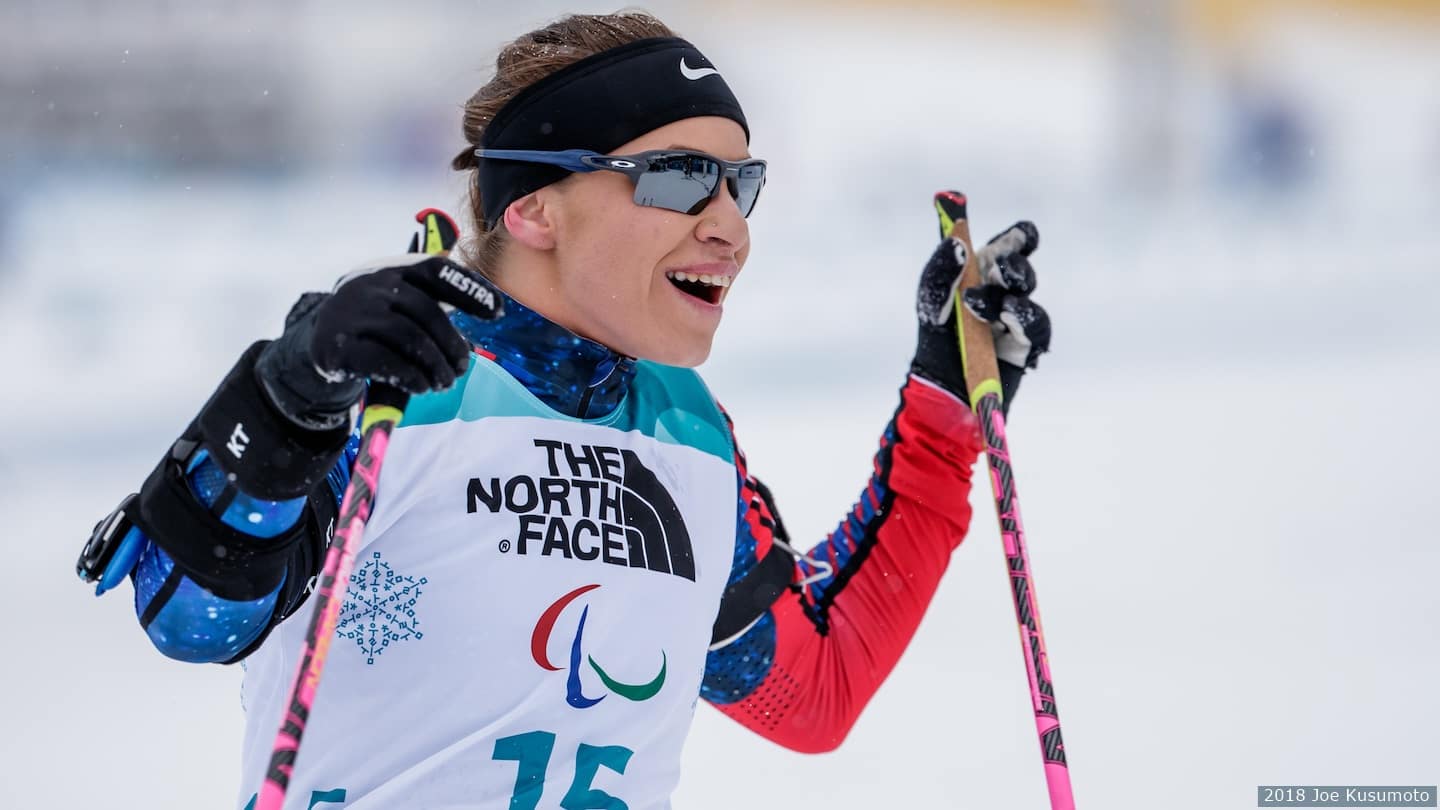 Oksana Masters smiles after a race in PyeongChang. (Photo: Joe Kusumoto)
COLORADO SPRINGS, Colorado – U.S. Paralympics Nordic Skiing today named six athletes, all of whom are past Paralympians,to its 2021-22 U.S. Paralympics Nordic Skiing national team. An additional eight athletes have earned a spot on the development team.
Eileen Carey, director of U.S. Paralympics Nordic Skiing, said she is especially excited about the growth in the development program. After 15 of the 16 Para Nordic medals won at the Paralympic Games PyeongChang 2018 were from sitting athletes, Carey and her team implemented a push to recruit more standing and visually impaired athletes. She emphasized the dedication that has gone into introducing new standing and visually impaired athletes to the sport.
"This team is a great mix of a strong core of returning medalists and our rising stars in the sport," she said. "After 2018, we initiated a big push to build a more well-rounded program with as strong a team of standing and visually impaired athletes as sit skiers. This team reflects that growth, with all sport classes represented, doubling the number of standing and visually impaired athletes than we have had on any team in the last 10 years at least. This is an important step for the development of our program and we are excited to build on this momentum in a Paralympic Games year."
Eight-time Paralympic medalist Oksana Masters (Louisville, Kentucky) and double Paralympic champion Kendall Gretsch (Downers Grove, Illinois)headline the national team roster. Both were named to the National A Team after dominating the team's sole Para Nordic world cup of the 2020-21 season. Masters took home six gold medals in six races when the team traveled overseas to Slovenia to compete in March, while Gretsch finished with five silvers and a bronze. Both dual-sport stars, Masters is currently competing for U.S. Paralympics Cycling and Gretsch on the U.S. paratriathlon national team.
Former Navy SEAL and six-time Paralympic medalist Dan Cnossen (Topeka, Kansas) and 2018 Paralympic silver medalist Jake Adicoff (Sun Valley, Idaho) each earned their spots on the National B Team. Cnossen is looking for his third Paralympic berth in 2022, while Adicoff, who retired after the 2018 Paralympics, returns to the sport after a three-year hiatus.
Rounding out the national team is four-time Paralympian and dual-sport athlete Aaron Pike (Park Rapids, Minn.) and 2018 Paralympian Ruslan Reiter (Manchester, Maine).
Seven athletes were named to the U.S. Para Nordic development team, a big jump from the two who made the squad in 2020-21. Carey talked about the growth of the program and the up-and-coming athletes who are the future of the sport in the U.S.
"We just finished a development team training camp in Bend, Oregon, and I was so impressed with what I saw out of our new athletes," Carey said. "Team USA has a history of excellence in Para Nordic skiing, and we are eager to build upon that with this team of veterans and new talent."
The 2021 World Para Snow Sports Championships, set to take place in Lillehammer, Norway, in 2021, were rescheduled to January 2022 due to the ongoing COVID-19 pandemic. The event will feature three sports together in the joint world championships for the first time and prior to the Paralympic Games Beijing 2022.
National A Team
Kendall Gretsch
Oksana Masters
National B Team
Dan Cnossen
Jake Adicoff
National C Team
Aaron Pike
Ruslan Reiter
Development Team
Dani Aravich
Lera Doederlein
Michael LeBlanc
Max Nelson
Bryan Price
Drew Shea
Josh Sweeney

Ty Wiberg
For media inquiries, please contact Kristen Gowdy at kristen.gowdy@usopc.org.