Oregon Training Camp Gives U.S. Nordic Team Key Offseason Resources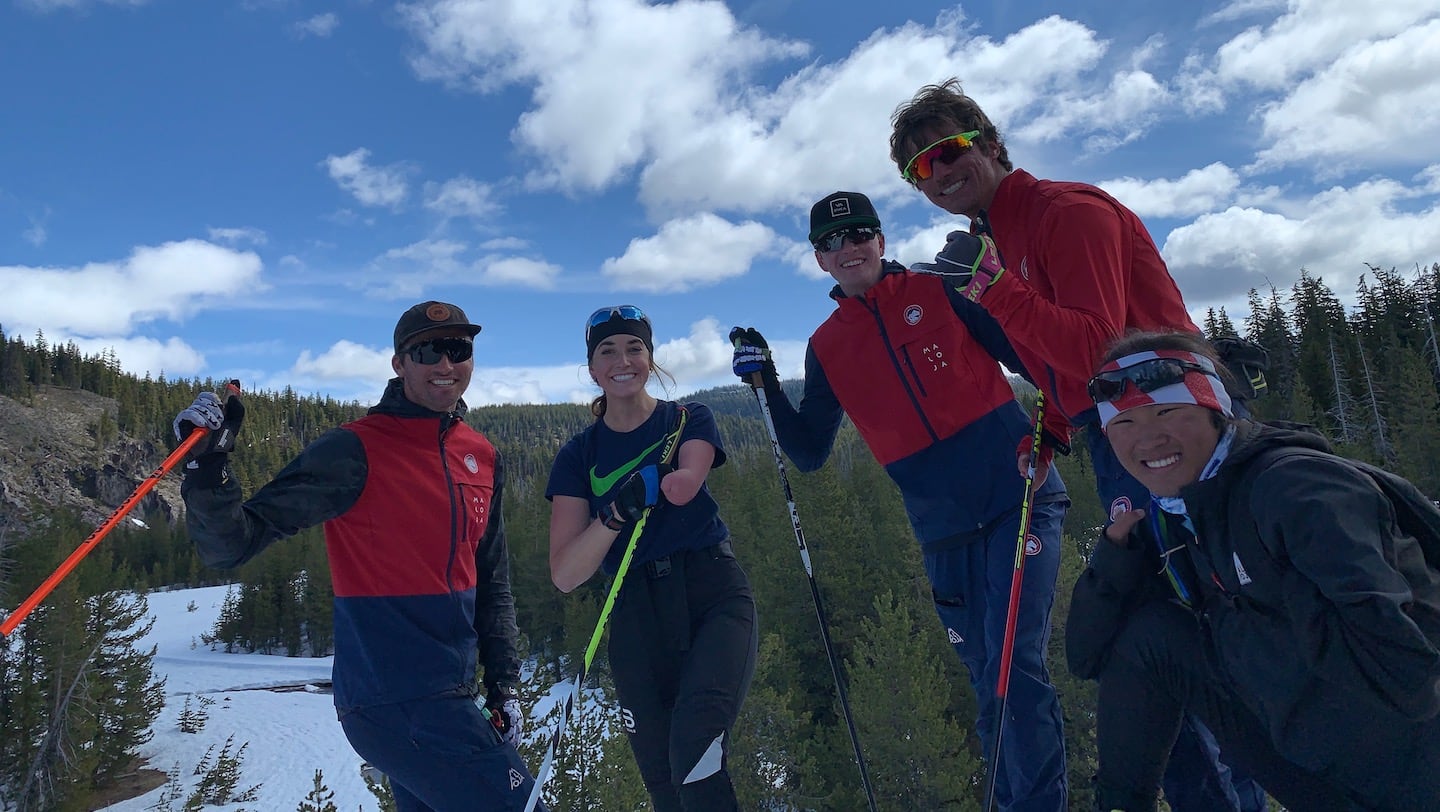 U.S. Para Nordic athletes pose for a photo in Bend, Oregon. (Photo: Dani Aravich)
Drew Shea was raised on the East Coast, so he didn't know there are parts of Oregon that still have snow on the ground this late in the year.
Shea had plenty of opportunities to go skiing once he arrived in Bend, Oregon, for a weeklong training camp hosted by U.S. Paralympics Nordic Skiing in mid-May.
"Really getting down a lot of workouts this summer, I think, will help my racing come next season," said Shea, who was named this week to the U.S. Paralympics Nordic Skiing development team.
With the Paralympic Winter Games Beijing 2022 now less than a year away, U.S. Paralympics Nordic Skiing invited close to a dozen athletes to spend a week training in Bend and learning from its high-performance staff.
The small group of athletes included several proven members of the national team, including gold medalist DanCnossenand 2018 ParalympianRuslan Reiter.
Jake Adicoff, who retired from the sport after earning a silver medal at the 2018 Winter Paralympics, also participated in the training camp. It was another step in his comeback following a three-year hiatus.
The rest of the group was made up of promising newcomers, including Dani Aravich and Lera Doederlein, who were named along with Shea to the U.S. development team.
"For them, this is the first time they've pretty much all been to Oregon. … It's just a great place to come together for your first training camp of the season," said Gary Colliander, the biathlon coach for U.S. Paralympics Nordic Skiing.
"We're getting a lot of great work in there, but it's just also easy to go out and get in some hours (and) ski behind some of the best skiers in the world."
The training camp in Bend has become an annual tradition for Team USA. However, this year's camp gave coaches and athletes a chance to work together after spending much of last year apart because of the coronavirus pandemic.
Some of the top American Para Nordic skiers had the opportunity to train together this past winter in Bozeman, Montana. But they competed in only one world cup event in Slovenia after the pandemic caused much of the season to be cancelled.
"Being a COVID year where we didn't get to see anybody in-person, it was nice to actually just be in-person with a lot of those folks," Colliander said of the training camping in Oregon.
Around 8-10 athletes with U.S. Paralympics Nordic Skiing gathered in Bend. They worked on their ski technique, practiced at the rifle range and learned from a nutritionist about ways to properly take care of their bodies.
Team USA was joined by athletes from the Challenged Athletes Foundation, which provides support, equipment and opportunities for individuals with impairments.
"We did do some one-on-one sessions and small-group sessions for ski technique, maneuvering (and) biathlon," Colliander said. "The club there is really good at kind of grooming a little spot out for us for a small (rifle) range, but we also brought in some of our high-performance staff through the U.S. Olympic & Paralympic Committee.
"So we had our team nutritionist. … It was an opportunity for them to meet some of these new athletes and establish a relationship with them, and that's something that will continue on throughout the summer."
Shea said he began one of his days at the training camp by going skiing for a couple of hours. He then had training sessions scheduled for later in the afternoon.
As a relatively new athlete to Para Nordic skiing, Shea said he wants to spend the next few months working on improving his stamina — something he noticed while competing against more experienced skiers at the Slovenia world cup event.
He also wants to eliminate the "bad habits" he sometimes falls into while skiing.
"Working through those bad habits and recognizing them from watching other skiers and from coaches pointing them out really helps (me) to become a more efficient and faster skier," Shea said.
Some of Team USA's top medal contenders for the Beijing Winter Paralympics weren't able to attend the Bend training camp. Winter Paralympic gold medalists Oksana Masters and Kendall Gretsch are multi-sport stars who are currently training for this summer's Tokyo Paralympics.
The athletes who attended the Bend training camp are expected to spend the rest of the summer doing more individualized training in different parts of the country. They'll get a chance to come together again once the fall approaches.
"In all honesty, from a national team perspective, we're really just waiting until after Tokyo," Colliander said. "The athletes will get a break, and then we'll start … our normal buildup to the season."
Alex Abrams has written about Olympic sports for more than 15 years, including as a reporter for major newspapers in Florida, Arkansas and Oklahoma. He is a freelance contributor to
USParaNordicSkiing.org
on behalf of
Red Line Editorial, Inc.