Para Sport 101: The Evolution Of Nordic Sit Skis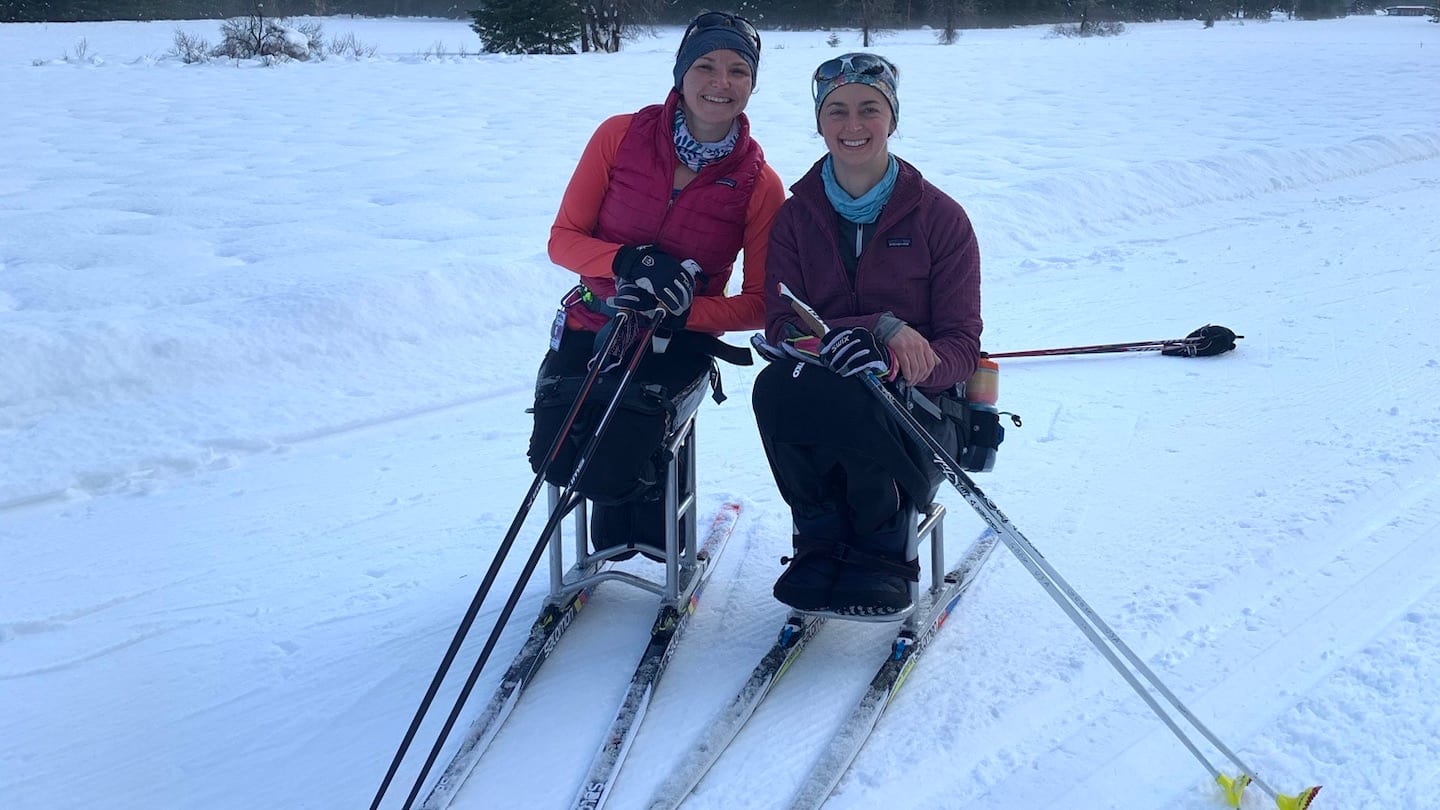 Heather Galeotalanza and Erin Martin pose while on Nordic sit skis.
Heather Galeotalanza felt uncertain the first time she climbed into a bucket seat of a Nordic sit ski.It was an entirely new experience for her. She was accustomed to strapping on a pair of skis and moving across the snow with ease before she sustained a spinal cord injury in a 2016 climbing accident.
Galeotalanza said she was unsure of what to expect when she finally tried sit skiing. She remembered a coach asking her how the ski felt.
"And I'm like 'I don't really know. I'm not really sure what it's supposed to feel like or how it's supposed to work,'" Galeotalanza said, laughing.
"Because it was just so new and unlike anything I'd ever done because everything I'd ever done previously (on skis) I'd done standing."
The sit ski was invented in the 1960s as a way to give athletes with physical impairments the opportunity to enjoy skiing like everyone else.
Athletes could get into a bucket seat attached to a ski and experience a sense of freedom while gliding on snow that they didn't feel while using a wheelchair, crutches or prosthetic legs.
As technology has improved over the years, athletes have been able to get into state-of-the-art sit skis made from lighter material and easier to maneuver.
"We kind of pushed the envelope, I guess if you will, by creating a carbon (fiber) sit ski, whereas it's stiff and light, and (we) kind of start on that road to find something that makes sense to the athletes," said Gary Colliander, the biathlon coach for U.S. Paralympics Nordic Skiing.
"And we're actually seeing some other teams go that route as well."
Colliander said Team USA made a commitment to redesign sit skis for its athletes prior to the Paralympic Winter GamesPyeongChang 2018.
It took several years for the redesign to be finalized, and it was so innovative it was featured in a Popular Science article.
Sit skis have traditionally had metal frames, usually made of aluminum or steel, which are heavy on snow. John Farra, a 1992 Olympic cross-country skier who served as the high-performance director for U.S. Paralympics Nordic Skiing, told Popular Science that he was blown away when he saw a carbon-fiber sit ski for the first time in 2014.
"We were at a world cup in Germany, and I walked by the Ukrainian wax cabin and I saw these two beautiful, sexy, eye-catching carbon-fiber frames," Farra told Popular Science in 2018.
U.S. Paralympics Nordic Skiing made the decision to also go with sit skis made of carbon fiber.
Colliander said Team USA has worked with several companies to create 3-4 basic sit-ski designs for athletes new to Para Nordic skiing to get started. Their sit skis are then customized to fit their bodies.
"When it gets to the individualize piece of it, it's like dialing in a bike fit for example," Colliander said. "Like I can ride just about any bike, but if I want to be more efficient or the most comfortable, I'm probably going to try to fine-tune it for myself. …
"In terms of maneuvering especially, that's where the individual fit of a sit ski becomes really important, especially with someone who has a spinal cord injury and doesn't have as much core function to kind of lean or kind of use their body to pull on some of the straps to make it turn."
There's a wide variety of sit skis available to athletes, depending on their physical abilities and limitations.
Athletes can position themselves in a sit ski with their hips high up or lower to the ground. Their legs can be tucked underneath them or straight out in front of them.
"So they're all sitting, but there seems to be a huge variety and not all of them work for everybody, either," said Erin Martin, who transitioned to a sit ski after sustaining a spinal cord injury in a 2013 climbing accident.
"(They're) very custom to each athlete."
Since Martin is paralyzed from the chest down, she said she doesn't have the ability to ski in an "aggressive position" with her knees angled down.
Martin has used three slightly different versions of the same general style of sit ski. She recently got a customized bucket that was molded to fit her body, and she tried it out at a training camp last month in Bend, Oregon.
"And it was tremendously helpful to have something fit exactly for me," Martin said. "It was really nice."
Meanwhile, Galeotalanza had a couple of different sit-ski models before she got one customized to fit her body measurements last year.
It's known as a "kneeler," with the bucket seat angled down instead more parallel to the ground so she could use her core more while skiing.
"It's more of a custom (sit ski) that allows me to use all of the function that I have for skiing and ski a little bit more aggressively," Galeotalanza said. "And it's also like custom-fit, so it's snugger, so it's easier for me to turn and maneuver now as well."
Alex Abrams has written about Olympic and Paralympic sports for more than 15 years, including as a reporter for major newspapers in Florida, Arkansas and Oklahoma. He is a freelance contributor to
USParaNordic
.org on behalf of
Red Line Editorial, Inc.