California Group Continues Serving Para Skiers During Pandemic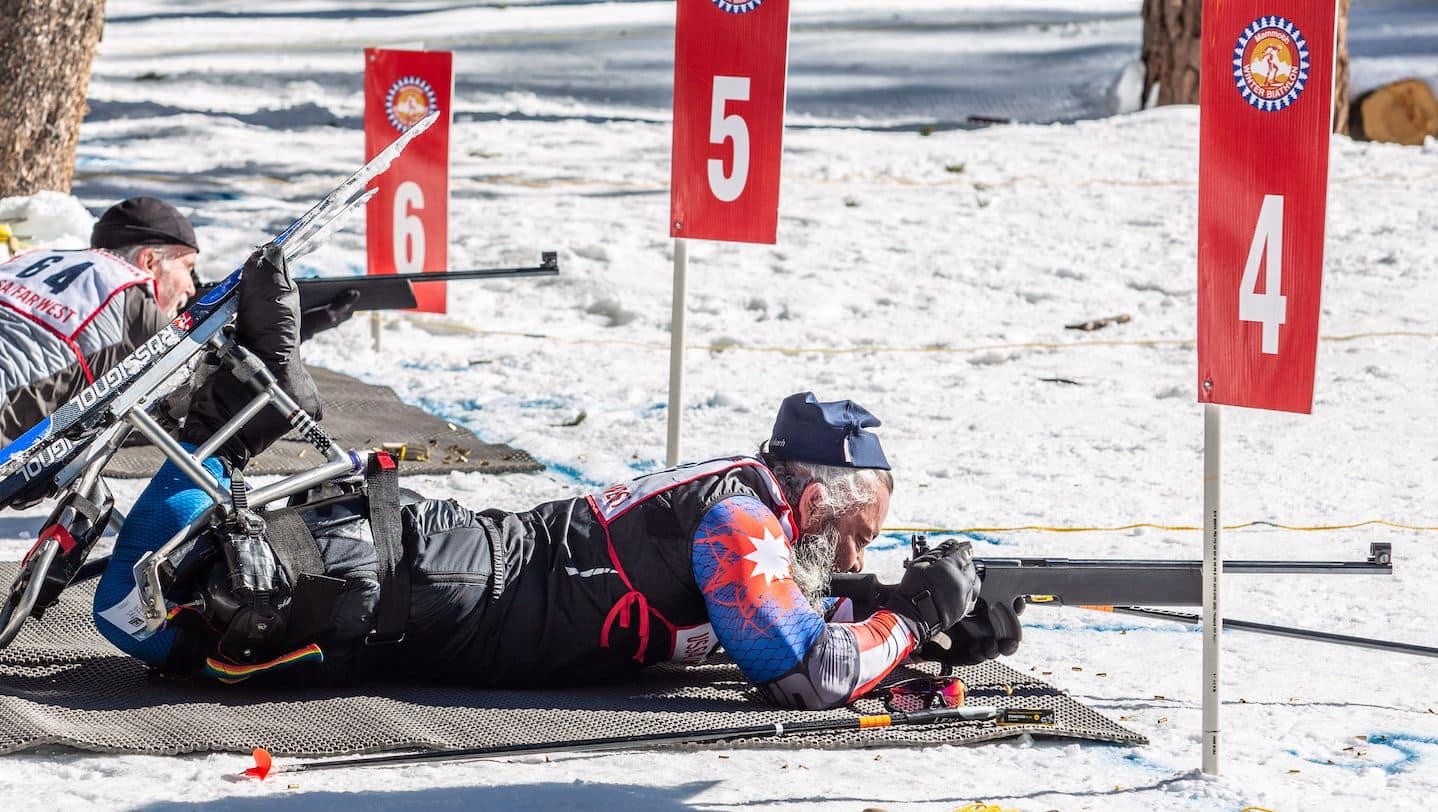 A Disabled Sports Eastern Sierra participant practices shooting. (Photo courtesy of DSES)
Maggie Palchak had never worked as a ski instructor until she started volunteering with Disabled Sports Eastern Sierra in Mammoth Lakes, California.
Several of Palchak's friends were already volunteering with DSES, and once she began working with the nonprofit organization, she quickly got hooked.Even though she had a full-time job at the time, Palchak ended up spending more than 300 hours one winter volunteering with DSES.
"I think adaptive athletes like to get on snow for the same reason any athlete likes getting on snow," said Palchak, who's now the program director for DSES. "I think they're athletes first, and they want to enjoy the freedom and the exhilaration of outdoor sports."
DSES has continued to hold ski lessons during the coronavirus pandemic and teach Para Nordic skiing to individuals with a wide variety of impairments.The turnout might not be as high as in previous years, and the organization has had to cancel several Para Nordic skiing and Para biathlon camps this winter because of the pandemic.
Still, DSES has remained busy.Its group of trained instructors regularly works with adaptive athletes and military veterans of all ages, using sports as a way to empower them. They learn Alpine skiing on Mammoth Mountain and Nordic skiing at the nearby TamarackCross-Country Ski Center.
"It's incredible," Palchak said. "It's very exciting to see people say things they think they can't do and learn what they can do and learn how to get their body and their brain to try new things and do new things and answer the question 'Can we?' with a resounding 'Yes!'"
Kathy Copeland was running the Children's Sports School on Mammoth Mountain when she sensed the need for an organization that focused on adaptive athletes.Copeland started DSES as a ski school, but it soon added Para snowboarding as a program. The organization eventually grew into a year-round adaptive sports school that now offers lessons in both winter and summer sports.DSES holds classes in Alpine skiing, Nordic skiing, biathlon and snowboarding during the wintertime.
Over the years, the organization has expanded its Para Nordic skiing program and partnered with U.S. Paralympics Nordic Skiing to bring coaches and athletes to Mammoth Lakes.
"The Nordic program is growing. My favorite thing to do in the world is to cross-country ski," Palchak said. "I've been fortunate to be able to share that passion with several of our instructors, and they, in turn, are sharing that with our athletes.
"We're working on expanding that," she added. "We do have a solid adaptive Nordic program. Our Nordic camps and our biathlon camps are known and respected by folks throughout the community."
When the temperature rises in the summertime, DSES offers lessons to adaptive athletes in mountain biking, road biking, rock climbing, flat water paddling, hiking and even fishing.
Palchak said DSES typically provides more than 3,000 lessons for 250 to 500 people with impairments over the course of a year. The bulk of them come from southern California, though one athlete came from as far as Guam to take lessons with the organization.
Of course, the pandemic has taken a toll on the program's offerings. DSES was scheduled to hold a Para biathlon camp this month to teach veterans the sport and how to make a successful transition in life. The camp is typically held in conjunction with the Mammoth Winter Biathlon.However, DSES decided to cancel its Para biathlon camp after the Mammoth Winter Biathlon was canceled.
"That said, we've been teaching Nordic lessons weekly. We'll teach them seven days a week by reservation, on demand," Palchak said. "If somebody wants to come in and do some biathlon training, we do have our electronic rifle and target systems and we also have access to the Tamarack Cross-Country Ski Center."
DSES works with adaptive athletes with both physical and psychological impairments. The organization has had especially positive results with veterans, providing them a safe place to learn a new sport.
"With many of our athletes, especially with many of our military athletes, there will be a bit of distrust at first because I'm not a veteran," Palchak said. "Some of our instructors are. Some of them aren't. But (some veterans) come up to a civilian organization and have reservations and rightly so. And we'll bring them to a camp, and by the end of the camp they'll have opened up dramatically, emotionally, verbally, physically. They'll just be a different person."
Alex Abrams has written about Olympic sports for more than 15 years, including as a reporter for major newspapers in Florida, Arkansas and Oklahoma. He is a freelance contributor to
USParaNordicSkiing.org
on behalf of
Red Line Editorial, Inc.