Paralympic Nordic Skiers Carry On Despite Pandemic-Related Challenges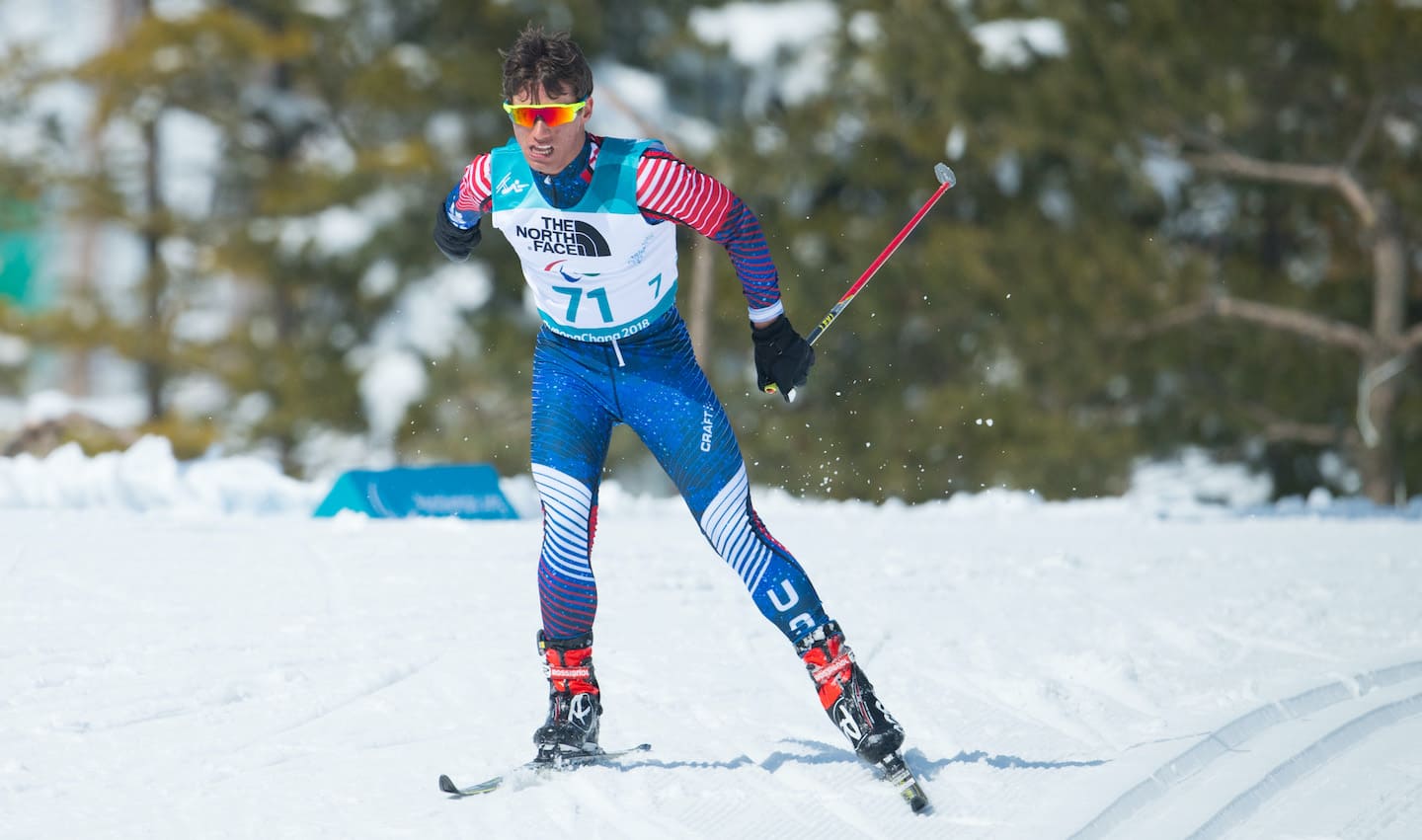 Ruslan Reiter competes in cross-country skiing. (Photo: Mark Reis)
Members of the U.S. Paralympics Nordic Skiing national team are racing again, but they're avoiding hotel rooms and many of the things they're accustomed to doing before a competition.
They're not eating dinner as a team or flying every two weeks to another city to compete. All of their races this winter, with the exception of the world cup in Slovenia, were within driving distance, and even then there is a limit on how many athletes can ride in the same car.
They're also having their groceries delivered.
This is what it takes for the top American Para Nordic skiers to safely race during the coronavirus pandemic. They're tested regularly for COVID-19, and they're required to wear face masks when they're not skiing.
"We knew that we wanted to have competitive opportunities for our athletes this winter, and we're lucky," said Eileen Carey, director of U.S. Paralympics Nordic Skiing. "If you just Google cross-country skiing right now, it's kind of turned into this perfect pandemic activity because it's naturally socially distanced and it's outside."
Officials with U.S. Paralympics Nordic Skiing started thinking of ways to host races on their own once it became apparent that there wouldn't be a typical world cup season because of the pandemic.
Carey said officials had conversations early on with athletes to find out what they felt comfortable with when it came to training and competing against each other this winter in Montana and Utah.
Carey said the organizationwanted to ensure that races could be held in a way that kept athletes, race officials and the community at large safe. Athletes were free to not participate if they didn't feel comfortable for any reason.
"We didn't have anybody on our national team who made that decision (to opt out)," said Carey, who has been overseeing most of the races this winter. "But we've been really clear from every step along the way that this is a personal decision and we are fully supportive of whatever decision any athlete makes."
Since the national team was training this winter in Bozeman, Montana, officials decided to start hosting small races there in mid-December. The field usually consisted of only 15 skiers.
To help prevent a possible spread of coronavirus, athletes stayed in houses instead of hotels — with only three athletes per house. Therewere also no indoor training sessions, such as strength training in a gym.
"One of the reasons why it's kind of nice to be able to host competitions here is that we get to set the tone and get really strict with COVID protocols," Carey said this winter. "They're not wearing masks while they're racing for the most part, but they'll wear masks pretty much anywhere else.
"Anytime their skis aren't moving, they'll wear masks."
Carey said races are planned through the end of March, when some athletes who compete in other sports will stop skiing and resume their training for this summer's Paralympics.
Those athletes who decide to keep training in Para Nordic skiing will continue on to the U.S. biathlon national championships in West Yellowstone, Montana, from March 24-28.
"We tried to design our season around the comfort level of our athletes in addition to … best practices for COVID protocols for teams," Carey said.
While races aren't expected to have fields larger than around 35 athletes, they will have an international feel to them — which makes the planning for them slightly more complicated.
Carey said she invited the national teams from Brazil and England to train and race with the U.S. team in Montana and Utah this winter. Both teams accepted her invitation. Members of the different teams weren't allowed to socialize with each other for safety reasons. Carey noted that all of the athletes have been complying with the coronavirus protocols.
"I've been very grateful for that as well, especially since given the nature of Paralympic sports, we do have athletes who are inherently at higher risk of developing complications if they were to get COVID-19," Carey said.
"So it's something that we take really seriously, and we're lucky that our athletes and the Brazilians and the British and everybody that we have really been in contact with has also been really smart about those protocols."
While the modified race schedule is different than a typical world cup season, Carey said athletes still benefit from getting on snow and competing. They continued to train and get the mental benefits that comes with putting on a race bib and going through their pre-race routines.
"There are a lot of things you can do in training, but you can't mimic a race environment without a race, and we're making compromising," Carey said. "We don't have large fields. We're not dealing with jetlag.
"There are a lot of things that we typically deal with that we're not, so it's certainly not a perfect system. But it's sort of what we've come to as the best way we can manage a season."
Alex Abrams has written about Olympic sports for more than 15 years, including as a reporter for major newspapers in Florida, Arkansas and Oklahoma. He is a freelance contributor to TeamUSA.org on behalf of
Red Line Editorial, Inc.