Nordic Skiers Like Lera Doederlein Are Seeing The Appeal Of Para-Cycling, Too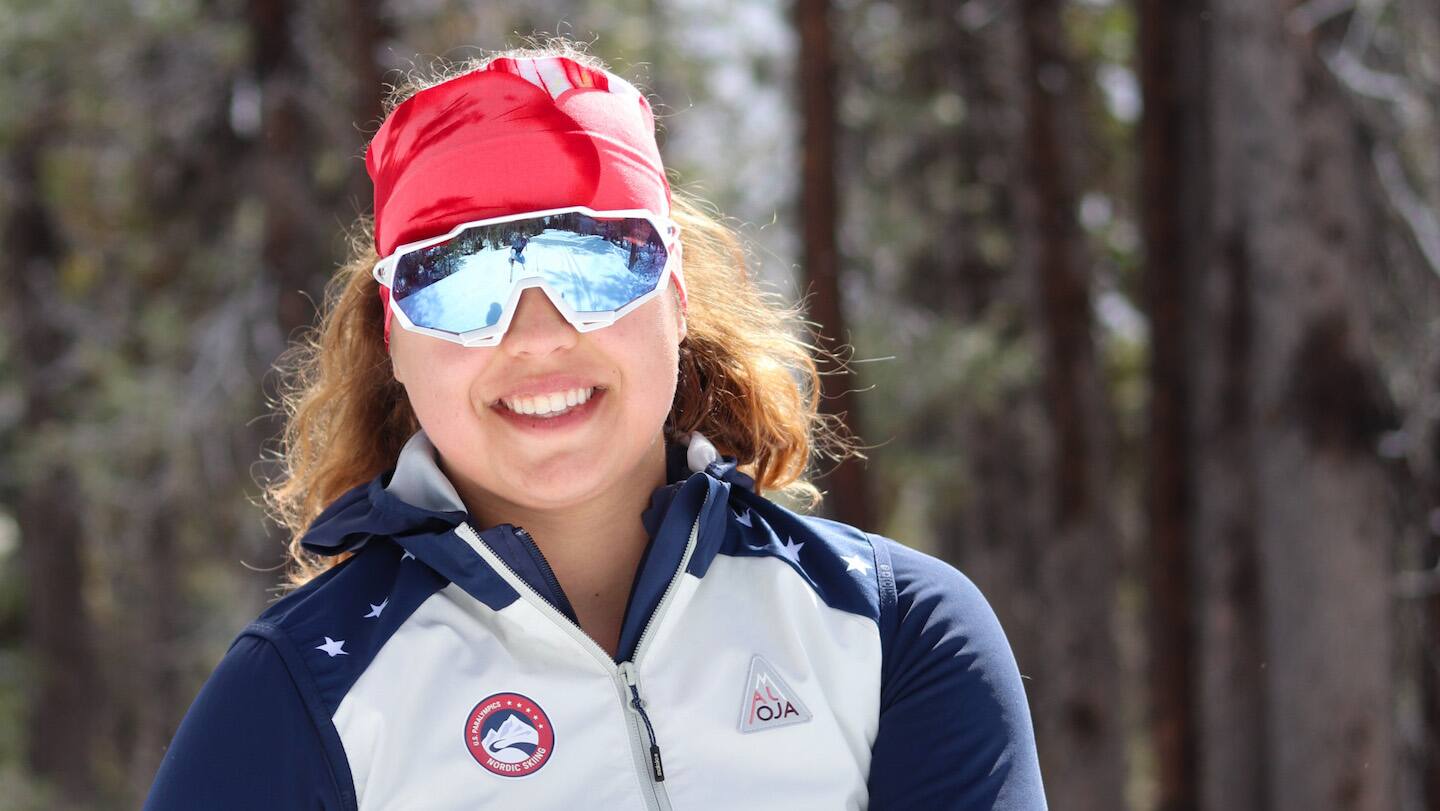 Lera Doederlein smiles for the camera at a recent Para Nordic training camp in Bend, Oregon. (Photo: Dani Aravich)
Up-and-coming multi-sport athlete Lera Doederlein knows the value of cross-training. Having a strong body and advanced cardio thresholds makes her more powerful in Nordic skiing, faster in sled hockey and, now, a burgeoning elite Para-cyclist.
Using cycling as part of Nordic training has long been a strong practice, as it can bring a lot of the same cardio push as being on snow. An interesting side effect has been Nordic athletes then choosing to compete on the bike, a completely understandable outlet for their elite athletic skills and competitive natures.
The switch from the chilly Nordic season to the much warmer cycling schedule is not an automatic thing. The demands on different muscle groups, and the challenges to the body and mind, help Para athletes push their capacities.
"It's a big change, for sure, because even though you are working hard on your output to be the best, they're totally different things," said Doederlein, who is a high school junior in California. "I feel like I am picking up new pieces, both in my training and mind, every time I am cycling. Same goes for the Nordic. Combining those sports as part of what I do is going to make me stronger and better."
Doederlein competed in April's U.S. Paralympics Cycling Open in Huntsville, Alabama, one of her first major events against top Para-cyclists. She said she was a little nervous, especially racing against Paralympic and world cup medalists, but knew she was there to learn from them.
Oksana Masters, an eight-time Paralympic medalist who stars in Nordic and cycling, encouraged Doederlein to use the bike to develop her strength and move into racing. She's following Masters' advice and mentoring, on the bike and snow.
Doederlein competed against Masters in the WH5 class for the time trial and finished second. Masters won handily, with Doederlein leaving happy with the overall experience.
"It was a really big jump after skiing, because I needed to build myself up to be on the bike again," Doederlein, 17, said. "I want to get better, so I went to race in Huntsville to give my best. It was so amazing, it was put on very well, so we didn't feel like in we were in pandemic. We were able to ride together, like cycling for real and being back on the road.
"After like a year-and-a-half of not going to races or seeing a lot of people like that, it was super fun to race together. It was teamwork, and really cool to see how I was doing."
Dan Cnossen, a 2018 Paralympic gold medalist in the 7.5-kilometer biathlon, hasn't totally caught the cycling racing bug to Doederlein's degree yet, but he also competed in Huntsville, his first Para-cycling race in more than five years, and won abronze medal.
Cnossen is quite immersed during the fall and winter with the Nordic season, competing in biathlon and cross-country skiing events. When spring and summer roll around, Cnossen is ready for a change in sports and experiences.
"I really like to surf and do water sports, along with the bike, so I am keeping myself into a lot of things besides just the stuff on the snow," said Cnossen, who is a six-time Paralympic medalist over two Winter Games in Nordic skiing. "I use the bike for training, and I love to do it. But I know, right now, I'm not in the place where the top hand-cyclists are. I've not built up to where they are. So, when I decide to compete, I want to be stronger."
He sees getting more involved in races down the road, as he'd like to focus on one sport at a time for better training and life balance.
Cnossen said he feels the difference in his body between Nordic and bike training because of the angles of movement in his arms.
"The muscle groups are so different — like I am double pulling with my arms, which is the only thing skiers like me use to propel — that feels a lot different when I crank the cardio intensity on the bike," Cnossen, 41, said. "The power output, when I am sitting down to bike, isn't exactly comparing to the skis. Cycling is like more 1-to-1 transfer, you have to push harder for more power in the crank to equating to going faster. There's more power in the snow, but you get losses in the conditions and it may not transfer. There's a little more finesse in skiing."
Joanne C. Gerstner has covered two Olympic Games and writes about sports regularly for the New York Times and other outlets. She has written for TeamUSA.org since 2009 as a freelance contributor on behalf of
Red
Line
Editorial,
Inc.