Nurses Who Nordic Ski: Celebrating Two Of Them For National Nurses Month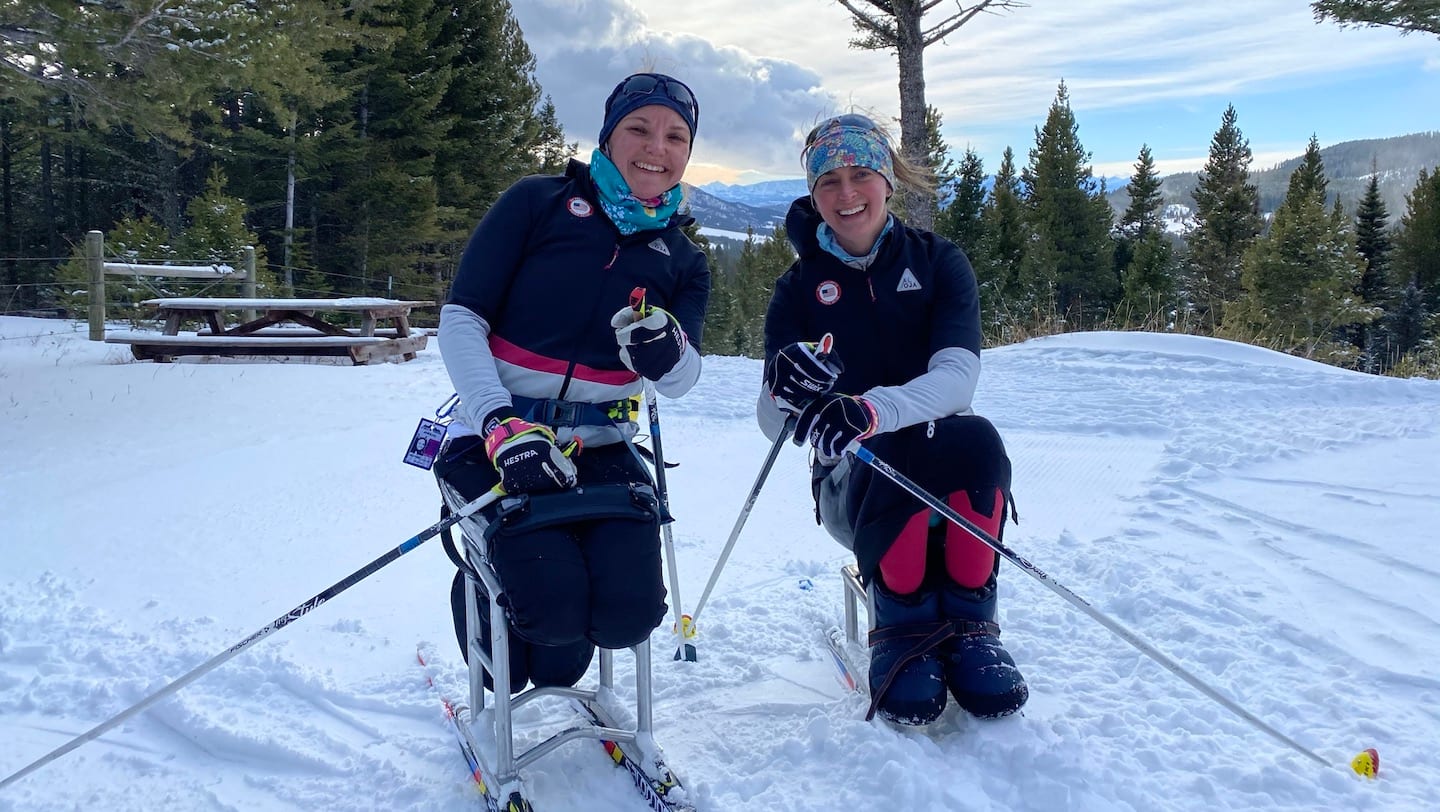 Erin Martin and Heather Galeotalanza pose together after a race. (Photo courtesy of Erin Martin)
Erin Martin had no interest in becoming a nurse, even though she spent much of her childhood hanging around a hospital.
When Martin was a kid, both of her parents worked as nurses in the neonatal intensive care unit at Sioux Valley Hospital in Sioux Falls, South Dakota. Several of her aunts and uncles were also nurses.
Martin volunteered at the hospital and even got to watch some"cool" medical procedures while tagging along with her parents at their jobs. Still, she had other career plans for herself.
"So growing up, I wanted to be my own unique person and sort of rebelled against being a nurse," Martin said. "And it wasn't until I kind of got into my early 20s that I started to consider to go into nursing."
She's now among those being recognized throughout May, which is National Nurses Month. Her good friend and training partner Heather Galeotalanza is on that list too. Both are registered nurses who have continued to work during the coronavirus pandemic and train in Para Nordic skiing during their days off.
Martin now lives in Seattle, and Galeotalanza has family in the Boston area. However, the two sit skiers met up on the West Coast this past winter and spent 4-5 months training together.
As a registered nurse care manager, Martin was able to work remotely, which allowed her to spend more time skiing and taking part in races. She competed alongside Galeotalanza at competitions that U.S. Paralympics Nordic Skiing hosted this winter in Utah and Bozeman, Montana.Their ultimate goal is to someday qualify for the Winter Paralympics, perhaps the Beijing Games in 2022.
"I definitely saw some improvement and changes from last year, and felt like I was able to build upon the things that I'd learned and my skills from the previous years," Galeotalanzasaid.
Off the snow, she had to adjust even more to the changing conditions at her job.
Galeotalanza worked as a nurse in a field hospital that was set up at the beginning of the pandemic. Every patient she treated had the coronavirus, and some patients arrived incredibly ill and requiring oxygen.
As daunting as it was, Galeotalanza said her time at the field hospital was one of her favorite jobs as a nurse.
"It was definitely overwhelming at first, and we didn't know very much at the beginning," she said. "We were still just learning about how (the coronavirus) affected people and the severity of the complications.
"We also worked with a really amazing team of nurses. … I met some people that I'm still in touch with and good friends with from the hospital."
Galeotalanza has remained on the frontlines as the pandemic has entered a new phase. She administers COVID-19 vaccines two days a week at a community health center, and she spends another two days a week testing people for the virus.
Martin and Galeotalanza have remarkably similar stories. They're close in age, and both worked as nurses at Seattle Children's Hospital at the same time.
They each took up Para Nordic skiing after sustaining spinal cord injuries in a rock climbing accident. Their accidents occurred three years apart.
"Honestly, I have to chalk it up to coincidence and kind of in a convoluted way good luck that both of us had such similar circumstances and we could identify with one another in that way," Martin said about meeting Galeotalanza.
"I mean I don't know very many nurses at all that have had spinal cord injuries."
Galeotalanza walks with braces and hiking poles. Martin, who's paralyzed from her mid-ribcage down, gets around with a wheelchair.
Martin sustained her spinal cord injury around a month before she finished nursing school at Seattle University. She had completed enough clinical rotations that she was still able to graduate on time.
"I was in a nursing home recovering from a broken arm (from the accident), so (I) hadn't started rehab yet when I went to my nursing graduation ceremony," Martin said, laughing. "Yeah, it was a crazy time."
Martin said her medical background helped her understand the extent of her injuries from the accident.
Galeotalanza said she knew "within the first five minutes" after her accident that she had a spinal cord injury and what that meant for her moving forward.
She didn't know that would include taking up Para Nordic skiing and training for the Winter Paralympics with a fellow nurse.
Martin and Galeotalanza already have plans to meet up again next winter to train together.
"I think the biggest thing for me that I've noticed is confidence and feeling more comfortable on different terrain and different types of snow," Martin said.
"Just putting in the time that I did this winter, both with Heather in training and then also in competition, I think, has really helped me feel like I can be more aggressive when I race and more confident."
Alex Abrams has written about Olympic sports for more than 15 years, including as a reporter for major newspapers in Florida, Arkansas and Oklahoma. He is a freelance contributor to
USParaNordicSkiing.org
on behalf of
Red Line Editorial, Inc.