From Cross-Training To Coffee, U.S. Skiers Do What It Takes To Prep For The Season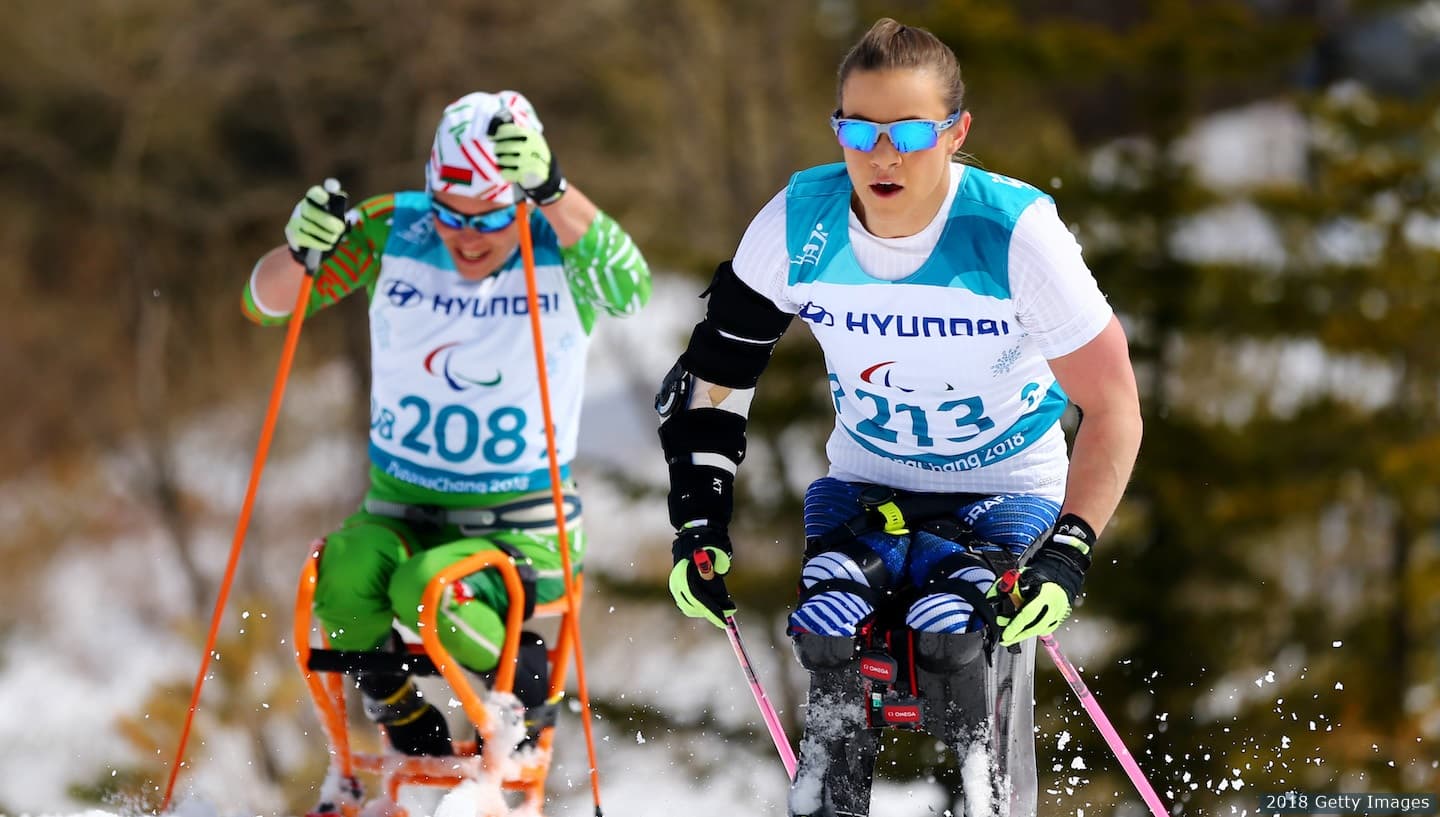 Oksana Masters competes in Nordic skiing in PyeongChang. (Photo: Getty Images)
Oksana Masters isn't a fan of drinking a protein shake before a morning workout. She prefers coffee, and lots of it.
At this point in her career, Masters, a 10-time Paralympic medalist, has a good understanding of what she must do to take care of her body.
She knows what to eat and how to stay in shape so she can compete for gold medals in Para Nordic skiing and Para-cycling.
For the five-time Paralympian, everything begins with coffee — the stronger the better.
"I cannot start the day or start any workout without coffee, and it's probably too much that I drink," Masters said last month at the Team USA Media Summit. "So, the first thing I do is espresso transitioned to an Americano, and then I start thinking about … what the training is looking like in the morning."
Masters said she's able to get through her two and sometimes three workouts a day with a boost from the countless cups of coffee she drinks.
Her U.S. Paralympics Nordic Skiing teammates have their own ways of preparing their bodies for the grind that comes with training for the upcoming Paralympic Winter Games Beijing 2022.
Like Masters, Kendall Gretsch is a two-sport Para athlete who has won gold medals in her winter sport (Nordic skiing) and her summer sport (paratriathlon).
Shortly after returning home from this past summer's Tokyo Paralympics, where she earned her first gold in the triathlon, Gretsch resumed training for the Beijing Winter Paralympics.
Gretsch said she's able to maintain her high cardio fitness levels by competing in two endurance sports throughout the year. Nordic skiing and the triathlon require her to cover long distances but use different muscles.
"I think actually one of the harder pieces about transitioning (between sports) is that between the seasons I'm really cardiovascularly really fit, but my ski muscles are not there," Gretsch said at the media summit.
"And so I try to just go in and do everything that I could from a cardio aspect. I would just completely blow out my arms."
Gretsch worked to regain her "ski muscles" by using an exercise machine called a SkiErg that simulates the Nordic skiing motion.
Then, in late September, Gretsch took part in a training camp in Germany with Masters and U.S. teammates Jake Adicoff and Dan Cnossen. They spent several days skiing in an underground snow tunnel and practicing their rifle shooting for the biathlon.
"Doing a summer and a winter sport, you really get to stay in that competitive mindset," Gretsch said. "And I think there's always your first races of the year where you're dusting off the cobwebs. And being able to race year-round, I think maybe you're going to have to do that a little bit less because you're just used to racing."
Dani Aravich joked she's envious of Gretsch for having a second endurance sport to train in this past summer.
Aravich, who's a member of the U.S. Paralympics Nordic Skiing development team, is a sprinter in addition to a skier. She made her Paralympic debut in Tokyo, competing in the 400-meter dash.
As much as her sprint workouts helped her in Tokyo, they didn't necessarily prepare Aravich for the upcoming Para Nordic skiing season.
"My summer training leading into Tokyo was probably quite different from most other Nordic skiers or biathletes," Aravich said at the media summit. "I had a lot less hours, a lot more speed-focused and just probably didn't get as great of a base as I needed."
She has worked on getting back into skiing shape while training in Montana and Utah over the past few months.
Masters, meanwhile, has established a daily routine for when she's in the Para Nordic skiing season. She said she'll be on snow for 1.5-3 hours in the morning, depending on if she's training for the biathlon or Nordic skiing.
She then heads home and has a lunch prepared by her boyfriend, Aaron Pike, a five-time Paralympian who competes in Nordic skiing during the winter and the marathon in the summer.
"He's the one who, I swear, keeps me alive and fed because I'm not a cook, so he makes these amazing rice bowls that (are) just incredible," Masters said.
After lunch, Masters goes back on snow or to the gym for another workout.
"It's pretty amazing," she said. "I get to do what I love."
Alex Abrams has written about Olympic sports for more than 15 years, including as a reporter for major newspapers in Florida, Arkansas and Oklahoma. He is a freelance contributor to TeamUSA.org on behalf of Red Line Editorial, Inc.