Quietly, Without Seeking Attention, Dan Cnossen Represents Veterans In Everything He Does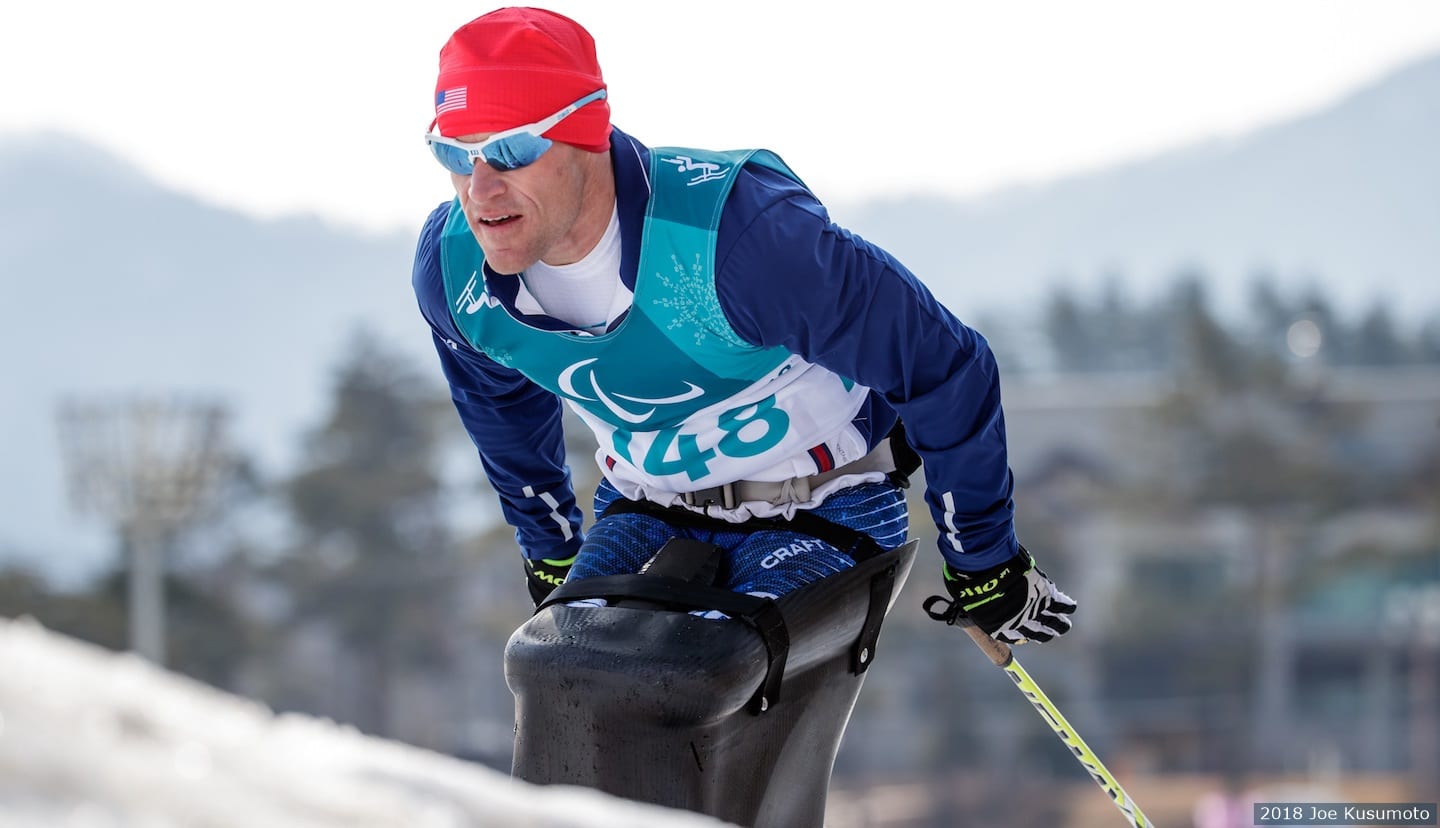 Daniel Cnossen competes in the Paralympic Games PyeongChang 2018. (Photo: Joe Kusumoto)
Dan Cnossen would rather quietly reflect on Veterans Day than attend a large parade where strangers wave American flags and thank him for his service.
That's just part of his personality as a former Navy SEAL who studied theology at Harvard.
Cnossen, 41, takes a professional approach to everything he does in life. He doesn't need validation or attention for earning a Paralympic gold medal as a Nordic skier, or a Purple Heart and a Bronze Star with Valor for his military service.
While Cnossen won six medals at the Paralympic Winter Games PyeongChang 2018, he said the days he looks forward to the most are when he can just get on snow and leisurely ski for two hours.
Cnossen was reminded during a recent interview about the time when former First Lady Michelle Obama shared a story in the White House about him completing a half-marathon only four months after losing both of his legs in an explosion in Afghanistan.
Cnossen was quick to point out that he did the half-marathon on a handcycle, not on foot, so it wasn't that big of a deal. He's also humble when it comes to his military service.
"For anybody that goes into the military, there is a bit of a sacrifice. And for many, it's a really good deal," Cnossen, a native of Topeka, Kansas, said. "And I was one of those who felt like I was just getting a really good deal to be in the community that I was in, that I was able to get through the training and meet the friends that I got to meet and be part of that team.
"That I was a part of that, for me, just seems very fortunate. I'm not one who is seeking out the 'Thank you for your service,' which tends to be something that a lot of people say."
Cnossen said he's drawn to testing himself and seeing what he's capable of doing, whether that's pushing through pain during a ski race or overcoming what he called a "discomfort" in water to become a Navy SEAL.
Cnossen's grandfather served in the U.S. Army during World War II, and his father did three tours in the Vietnam War as a Marine from 1965-68. However, Cnossen said he didn't feel pressure from his family to enlist in the military or attend the Naval Academy because of some sense of duty.
"As a younger child, I gravitated to reading books about life in the military or war, and this kind of thing interested me," Cnossen said. "And when I was a freshman in high school, I can't really remember exactly why, I think it had to do with initially wanting to fly planes and then deciding that I wanted to be a Marine, I just gravitated to wanting to go to the U.S. Naval Academy."
Everyone in Cnossen's circle of friends at the Naval Academy wanted to be among the select group chosen for Navy SEAL training. He started thinking about becoming a Navy SEAL as well, but there was a problem.
He didn't feel comfortable in water.
Cnossen went to the pool nearly every day during his four years at the Naval Academy to work on the swimming portion of the physical test required for Navy SEAL training. He practiced his swimming technique and even got help from a few friends who were on the Naval Academy's varsity swim team.
Cnossen said he became a decent enough swimmer to make the school's triathlon team and then become a Navy SEAL.
"I was always into sports as a kid, team sports, and I thought going into the military is kind of like a team sport, except the consequences can be certainly much more serious," Cnossen said. "I went to the Naval Academy in a time of peace. I didn't know there was going to be a war just a few years later."
In September 2009, at age 29, Cnossen was serving as a platoon commander for SEAL Team One in Afghanistan when he stepped on an improvised explosive device and lost both of his legs just above the knee.
Cnossen said he was still feeling weak from his injuries and hadn't trained at all when he signed up for a half-marathon. He had only recently been allowed to leave the hospital.
"I think what I really gravitate towards is challenge, and often those challenges tend to be physical. But I also gravitate to challenges that are academic or in other ways," said Cnossen, who earned a master's degree in public administration and theological studies from Harvard in 2018.
"But I think now that I have this injury that this presents an ultimate challenge, and there's this whole new adaptive sporting world in front of me that is new and exciting, challenging."
After completing the half-marathon, Cnossen was invited to attend an introductory adaptive sports camp in San Diego. He was 30 at the time, and he was still doing physical therapy at Walter Reed National Military Medical Center in Washington, D.C., to learn how to walk on prosthetic legs.
Even though he had another major surgery ahead of him, Cnossen agreed to go to the adaptive sports camp. While there, he met two coaches with U.S. Paralympics Nordic Skiing.
"They were talking to me, and they said, 'You know, as far as missing two legs above the knee, as weird as it sounds, that's actually a pretty good injury for sit skiing. So you should try this, and with your background in the military, maybe you'd like biathlon,'" Cnossen said.
"And I didn't really know what biathlon was, but I found out it's cross-country skiing with shooting."
The U.S. Paralympics Nordic Skiing coaches invited Cnossen to attend a ski camp in West Yellowstone, Montana, in November of 2010. He admitted he wasn't initially good at maneuvering on a sit ski, and he wasn't properly dressed for the heavy snow in West Yellowstone. Nonetheless, he enjoyed it.
Cnossen said he loved the freedom of being out in nature, and he thought Para Nordic skiing could give his life more direction.
"Again, similar to me saying I decided to go into the military without really deciding, I think I decided to pursue this sport without really deciding," Cnossen said. "It just kind of (was like) I want to go to the next thing and the next thing and the next thing, and then when I got done with my physical therapy, it was like 'Well, I need to move somewhere where there's snow."
Cnossen made his Paralympic debut at the 2014 Sochi Winter Paralympics, and four years later, he earned a gold in the biathlon plus four silvers and a bronze across biathlon and cross-country skiing PyeongChang. He's now training for his third Winter Paralympics in Beijing in March.
Cnossen said he represents military veterans in everything he does, not just when he's competing at the Winter Paralympics. Still, he'd rather go about his day quietly without trying to draw attention to himself.
He doesn't need to be thanked for his service.
Alex Abrams has written about Olympic sports for more than 15 years, including as a reporter for major newspapers in Florida, Arkansas and Oklahoma. He is a freelance contributor to USParaNordicSkiing.org on behalf of Red Line Editorial, Inc.