Nordic Roundup: Dani Aravich Wins Halloween With Game Of Thrones Costume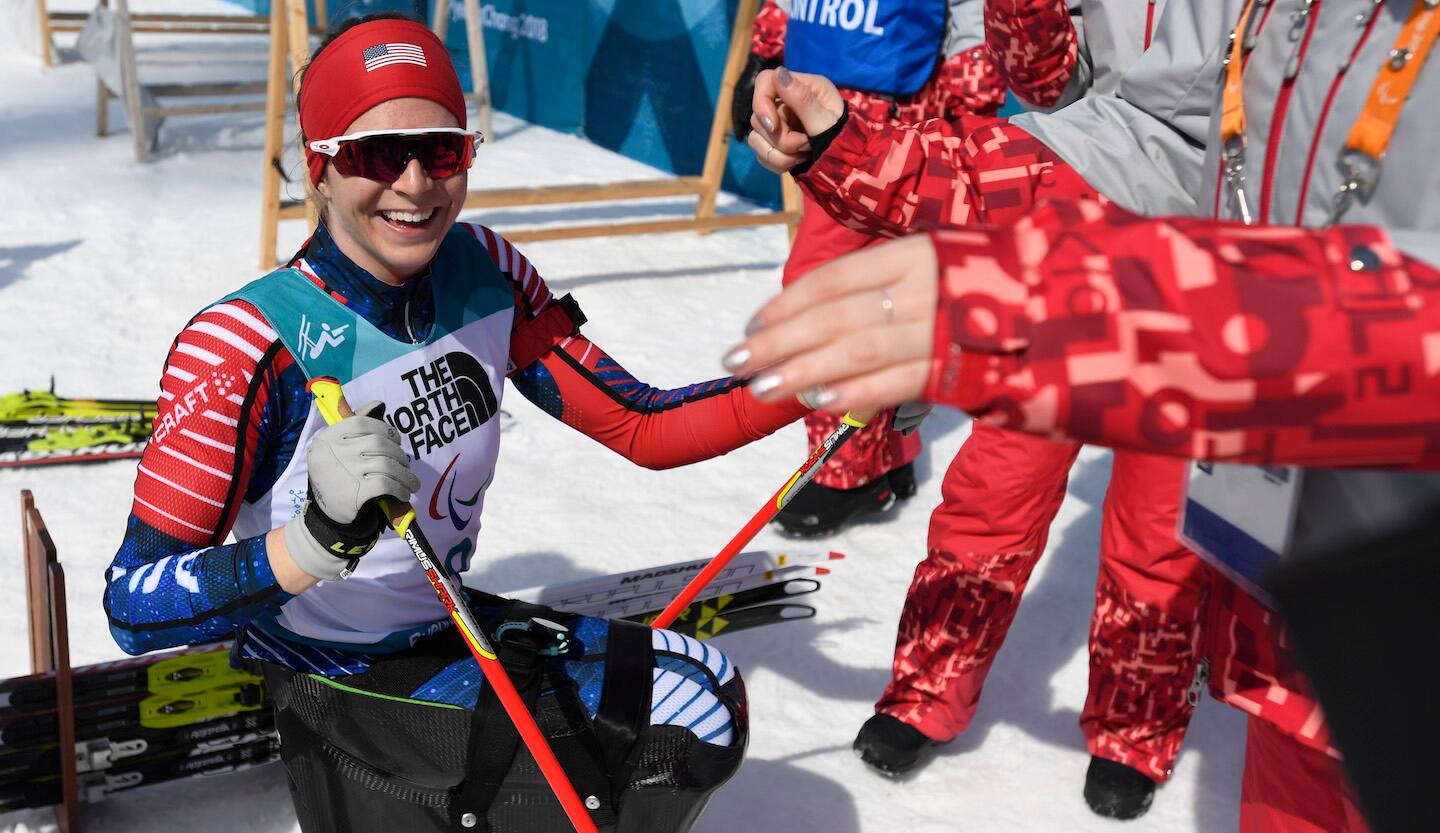 Kendall Gretsch smiles after finishing a race at the PyeongChang Paralympics. (Photo: Mark Reis)
Every other week we scour the web for the latest going on in the world of U.S. Para Nordic skiing. Here's what you missed!
Dani Aravich Goes "Game of Thrones" For Halloween
Dani Aravich has a sense of humor when it comes to missing most of her left arm below the elbow.
Her Twitter handle is @theonearmdan, and her Twitter bio begins with the line, "Single-handedly changed your life."
Aravich, who's a member of the U.S. Paralympics Nordic Skiing development team, came up with a Halloween costume that plays off her missing part of her arm. She went as "Game of Thrones" character Jaime Lannister, who had his right hand severed on the show.
Aravich posted a photo of herself dressed as Jaime Lannister on Instagram. She included a quote from the fictional character, "I've lost a hand, a father, a son, a sister, and a lover, and soon enough I will lose a brother. And yet they keep telling me House Lannister has won this war."
Para Nordic Skiers Don't Take It Easy on Sundays
Members of the U.S. Paralympics Nordic Skiing team aren't taking it easy on Sundays, not with the Beijing Winter Games only four months away in March.
U.S. Paralympics Nordic Skiing shared a photo on social media of its athletes continuing to train Sunday by roller skiing at Crosscut Mountain Sports Center in Bozeman, Montana.
The photo included the message "Sunday sprints > Sunday scaries. Getting some sprint time trials in on the new @crosscut_mt roller loop!"
Oksana Masters Finds the "Perk in Every Situation"
Oksana Masters has maintained a positive attitude while overcoming a traumatic childhood that included being raised in government-run orphanages in Ukraine.
She's now encouraging other people to change their perspectives and view possible setbacks as actual blessings.
Masters posted a photo on Instagram of herself doing a high kick while wearing her prosthetic legs. She added a comment to illustrate that there are positives to having both of her legs amputated above the knee.
"When you're an amputee ABOVE the knee it means No hamstring and quads. It also means high kicks for days," Masters wrote. "Always find the perk in every situation. GO GO GADGET LEGS…….ENGAGED"
Masters has won a combined 10 Paralympic medals in Nordic skiing, cycling and rowing, including four golds.
In late August, she became the sixth American to earn a gold medal in both the Summer and Winter Paralympics when she won the women's road cycling time trial and the women's road race in Tokyo.
Masters has transitioned from cycling to Nordic skiing since returning from Tokyo. She's training for the upcoming Paralympic Winter Games Beijing 2022, where she'll again be considered a gold-medal contender.
It hasn't been a seamless transition, though.

My transition is a little bit different from the past when I've transitioned from summer to winter only because I had an unexpected health (issue) leading into Tokyo, which took a lot of time out of the gym for me," Masters said at the Beijing Team USA Media Summit in October.
"And so I'm kind of playing catch-up on skiing and also strength."
Skiers Train in Their Own Unique Ways
Two-time gold medalist Kendall Gretsch maintains her cardio fitness levels throughout the year by competing in two endurance sports — Nordic skiing and paratriathlon.
Her U.S. Paralympics Nordic Skiing teammates have their own ways of staying in shape and training for the season. For example, Masters drinks coffee before each of her two and sometimes three workouts every day.
"I think actually one of the harder pieces about transitioning (between sports) is that between the seasons I'm really cardiovascularly really fit, but my ski muscles are not there," Gretsch said at the media summit.
"And so I try to just go in and do everything that I could from a cardio aspect. I would just completely blow out my arms."
Alex Abrams has written about Olympic sports for more than 15 years, including as a reporter for major newspapers in Florida, Arkansas and Oklahoma. He is a freelance contributor to USParaNordicSkiing.org on behalf of Red Line Editorial, Inc.