Thanksgiving In Canmore Will Be One Of A Kind For U.S. Para Nordic Team Members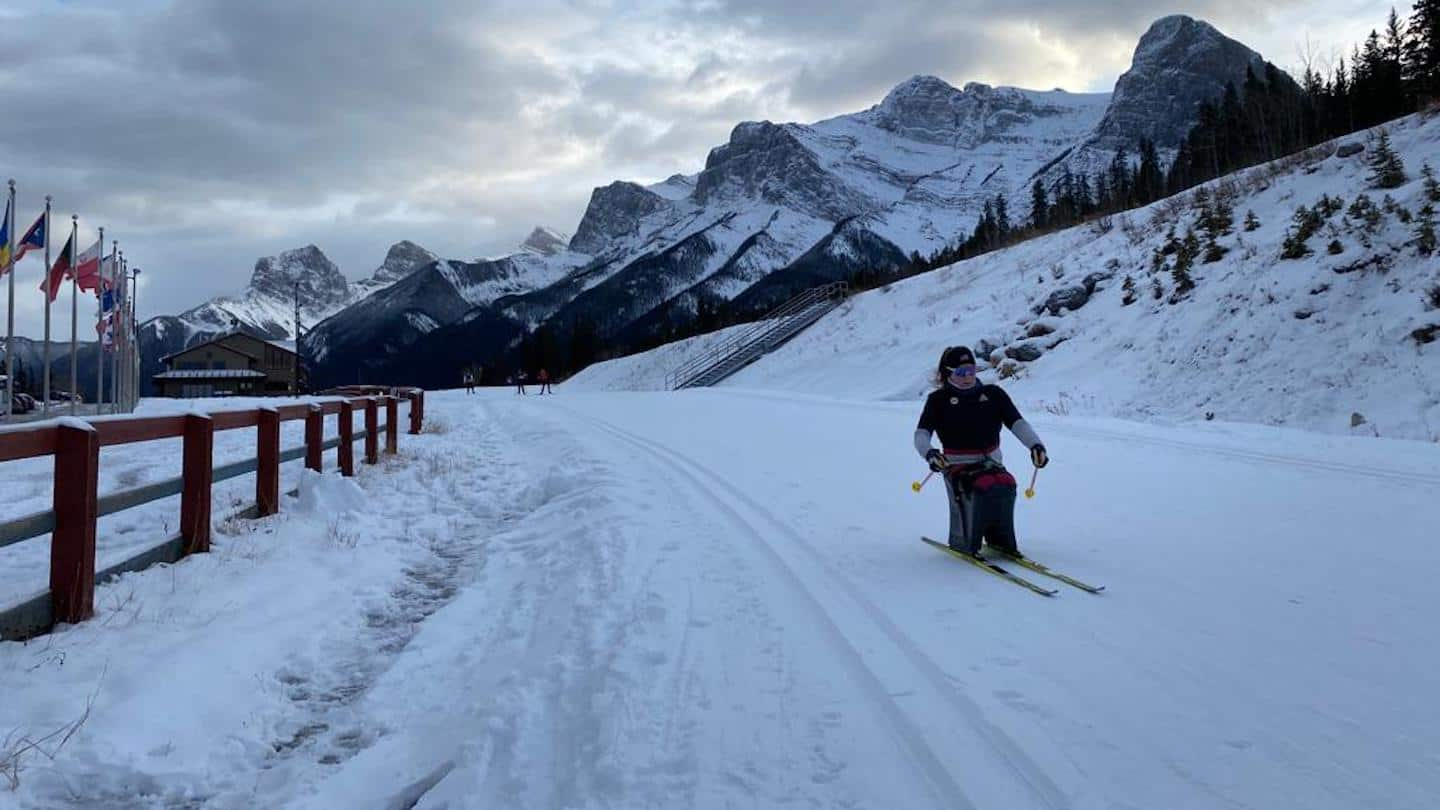 Kendall Gretsch trains in Canmore.
Nick Michaud is planning to make bacon chocolate like he does every year for Thanksgiving, combining melted chocolate with pieces of bacon.
"A little salty, a little sweet," said Michaud, a development coach for U.S. Paralympics Nordic Skiing.
Someone else will be in charge of cooking a turkey and making enough side dishes to feed 10 athletes from the U.S. Paralympics Nordic Skiing national and development teams. That's because of the way the world cup season is set up, some of the top American Para Nordic skiers won't get to spend Thanksgiving on Thursday with their families.
They'll instead be in Canmore, Alberta — in a country where Thanksgiving is traditionally celebrated in October, not November — to take part in a training camp before the first world cup event of the season is held there in early December.
No worries, though.
The U.S. coaches and athletes are already planning to sit down together for a family-style Thanksgiving meal and toss a football around like they would if they were celebrating the holiday back home in the United States.
But, first, they'll hold a training session on Thursday morning.
"It's going to be my first time in my 25 years of life that I haven't been with my parents for Thanksgiving, so I think they are definitely a little bit bummed," said Dani Aravich, a member of the U.S. development team who's originally from Boise, Idaho.
"But they obviously understand that this is something I need to do in order to prepare for our first competition."
Michaud said late November is traditionally a time when Nordic skiers get together as a team to train on snow. However, members of the U.S. Paralympics Nordic Skiing teams weren't able to do that a year ago because of the coronavirus pandemic.
A group of American skiers were scheduled to travel on Monday to Canmore, where they'll stay until after the world cup event ends on Dec. 12. Several teammates are expected to join them later this week. By Thanksgiving, six members of the U.S. development team and four members of the national team are expected to be in Canmore to train.
"We need that time together as a group. People crave it, and because we're so busy and there's so much going on, it's nice to spend time together where we're not talking about heart rates or we're not working on gear," Michaud said.
"We're not 100 percent professional, but to just sit around and joke around. We missed that during COVID. The group has been craving that, and also when you spend time on the road and you spend a lot of time together doing something really hard, you do become like family."
Aravich is hoping to bring one of her family traditions with her to Canmore, and in doing so, start a new tradition with U.S. Paralympics Nordic Skiing.
In the late 1990s, Aravich's family started using the same table runner for Thanksgiving. Every year, when they're together for the holiday, her family members write what they're thankful for on the table runner and then sign their names and the year.
"So we have now, yeah, like 23 years of things that we've written down that we're thankful for. So I was thinking I could try to find an empty table runner, grab some Sharpies and all of us (in Canmore) can sign it," Aravich said.
"We might not spend obviously every Thanksgiving together as a group because people will come in and out of the program. But maybe in the future if people are going to be spending Thanksgiving together for some competitions or some camps, then they can bring that along and 10 years from now they can look back on see what people were saying in 2021and what they were thankful for."


So, what is Aravich thankful for this year, one in which she made her Paralympic debut in August as a sprinter at the Paralympic Games Tokyo 2020?
"I'm definitely thankful to have gotten to represent the U.S. in Tokyo and had the opportunities I've had in Nordic so far," said Aravich, who's hoping to qualify for her second Paralympics in Beijing in March.
"It's just been, like I said before, a crazy, interesting year, probably something I never would have anticipated doing just a few years ago."
Michaud said the U.S. Paralympics Nordic Skiing Thanksgiving isn't being catered. The coaches and athletes will make the food themselves.
However, Thanksgiving could pose a bit of a dilemma for them.
The athletes have been working with nutritionists to help them learn better lifestyle habits when it comes to cooking. Several athletes also have been working on getting leaner this year.
So will athletes get to fill their plates with turkey, stuffing and pumpkin pie only a few days before they open the season?
"We're American. We're going to eat a lot on Thanksgiving," Michaud said, laughing. "It's what we do."
Alex Abrams has written about Olympic sports for more than 15 years, including as a reporter for major newspapers in Florida, Arkansas and Oklahoma. He is a freelance contributor to TeamUSA.org on behalf of Red Line Editorial, Inc.