Germany Training Camp Will Offer Season's First Skiing On Snow For U.S. Foursome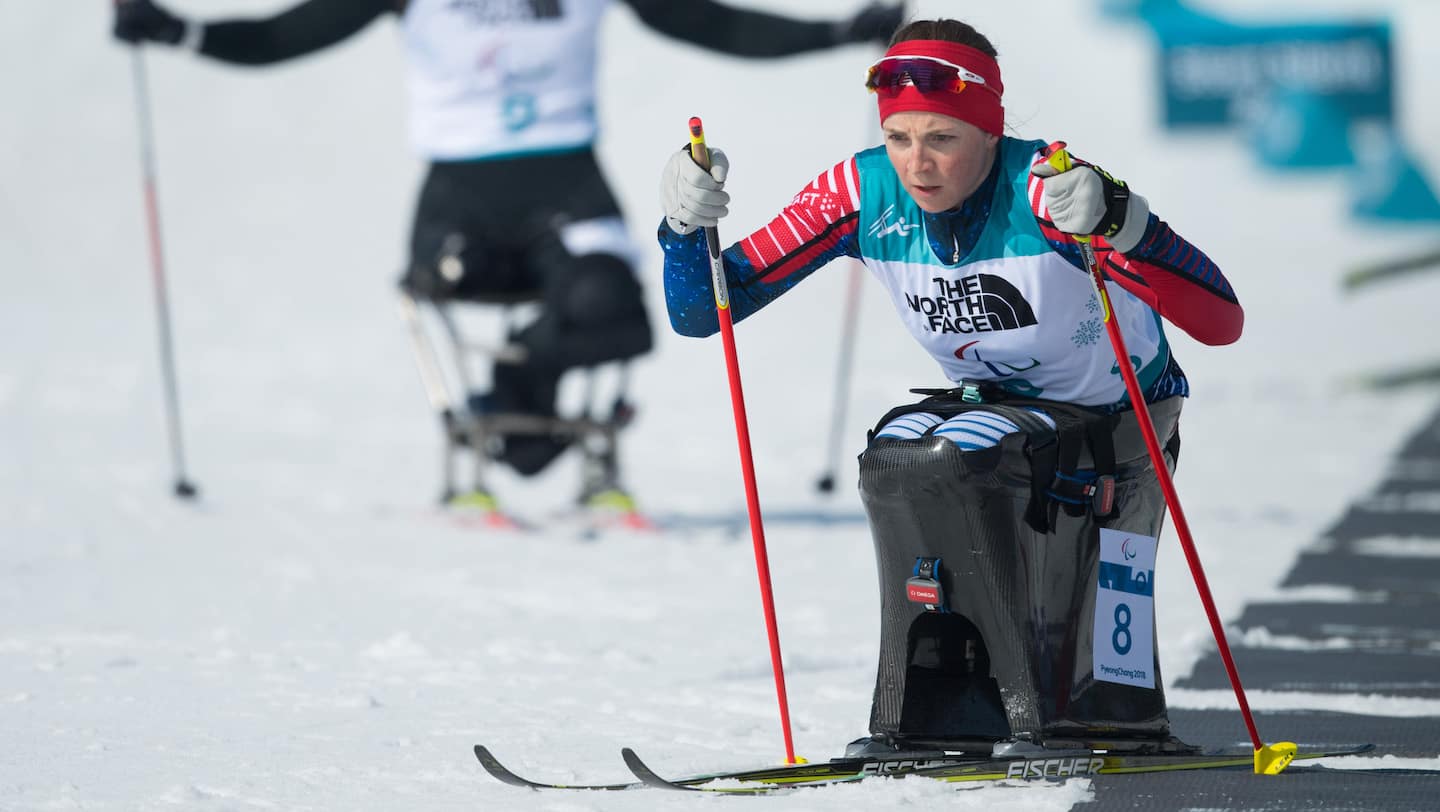 Kendall Gretsch couldn't wait to get back on snow.
Coming off a gold medal in the paratriathlon at the Paralympic Games Tokyo 2020, Gretsch has resumed her training for Nordic skiing, the sport in which she won two gold medals in her Paralympic debut in 2018. Since returning from Tokyo, she has spent time working out with an exercise machine called a SkiErg that simulates the Nordic skiing motion. However, it can't fully replicate the feeling of skiing around a course.
She'll finally get to experience that over the next few days.
Gretsch and three other American Para Nordic skiers who earned medals at the 2018 PyeongChang Winter Paralympics — Jake Adicoff, Dan Cnossen and Oksana Masters — have reunited in Germany for a training camp on snow.
"The (Beijing Winter Paralympic) Games aren't that far away, so I think (I'm) very anxious to get on snow," Gretsch said.
Gretsch, Cnossen and Masters have established themselves as dominant sit skiers on the U.S. Paralympics Nordic Skiing national team in recent years. Like Gretsch, Masters also won two gold medals in PyeongChang and she has seven total Nordic medals. Cnossen, meanwhile, took home six medals in South Korea — a gold, four silvers and a bronze.
Adicoff, meanwhile, is attempting a comeback after taking a three-year hiatus from the sport. The 26-year-old visually impaired skier made his Winter Paralympic debut in Sochi at age 18, and he earned a silver four years later in PyeongChang.
The four members of Team USA will intensify their training while in Germany. They'll use the workouts to continue preparing for the upcoming Nordic season and the Beijing Winter Paralympics, which begin in March.
Gretsch said she planned to leave Tuesday (Sept. 28) for Germany, and she expected to spend 10 days there.
"We try (to hold a training camp every year), especially for sit skiers because the on-snow maneuvering is so unique in a sit ski," said Eileen Carey, director of U.S. Paralympics Nordic Skiing. "And we've historically tried to prioritize getting that on-snow time in the fall."
Adicoff, Gretsch, Cnossen and Masters aren't expected to do any racing in Germany. They'll instead go through structured workouts during their first time on snow this season.
They're also expected to meet up with the British team, which Team USA trained with last winter in Montana.
Carey said U.S. Paralympics Nordic Skiing often holds a training camp this time of year in Sweden, with the world cup opener coming up in early December in Canmore, Alberta, the Americans opted for Germany this season in part because travel there is easier.
Of course, the skiing conditions in Germany will be different than what the American athletes are accustomed to while training with the national team in Bozeman, Montana.
They'll train indoors in a ski tunnel, where they can get on snow regardless of what the outside temperatures and condition are like.
"It's not the most exciting thing to ski in a tunnel — it's a short loop that you do over and over and over and over again," Carey said. "And it's inside. Most of us like to ski because we like to be outside. So that will mix it up a little bit."
For Gretsch and Masters, the training camp comes only a few weeks after they returned from making history at the Tokyo Paralympics.
Gretsch became the fifth American to earn a gold medal in the Winter and Summer Paralympics when she rallied to win the paratriathlon on Aug. 28.
Two days later, Masters became the sixth American to accomplish the feat. She earned her first gold of the Tokyo Paralympics in the women's road cycling time trial, and she added a second gold the next day in the women's road race.
Gretsch said she has been easing herself back into her training regimen for Para Nordic skiing after spending the past few months focusing on the paratriathlon. Her coaches have been helping her make the transition.
"That's kind of the focus, is getting prepped for the Nordic season," Gretsch said. "But I'm not like jumping straight into exclusive ski training just because I think it's a little bit too abrupt of a change on the body."
The training camp in Germany will help Gretsch and her three teammates get ready for the season. They'll also get to enjoy some much-needed time on snow, even if it is indoors.
Alex Abrams has written about Olympic and Paralympic sports for more than 15 years, including as a reporter for major newspapers in Florida, Arkansas and Oklahoma. He is a freelance contributor to USParaNordicSkiing.org on behalf of Red Line Editorial, Inc.