Skiing On Wheels, The Soldier Hollow Biathlon Camp Proved Valuable For Drew Shea And Others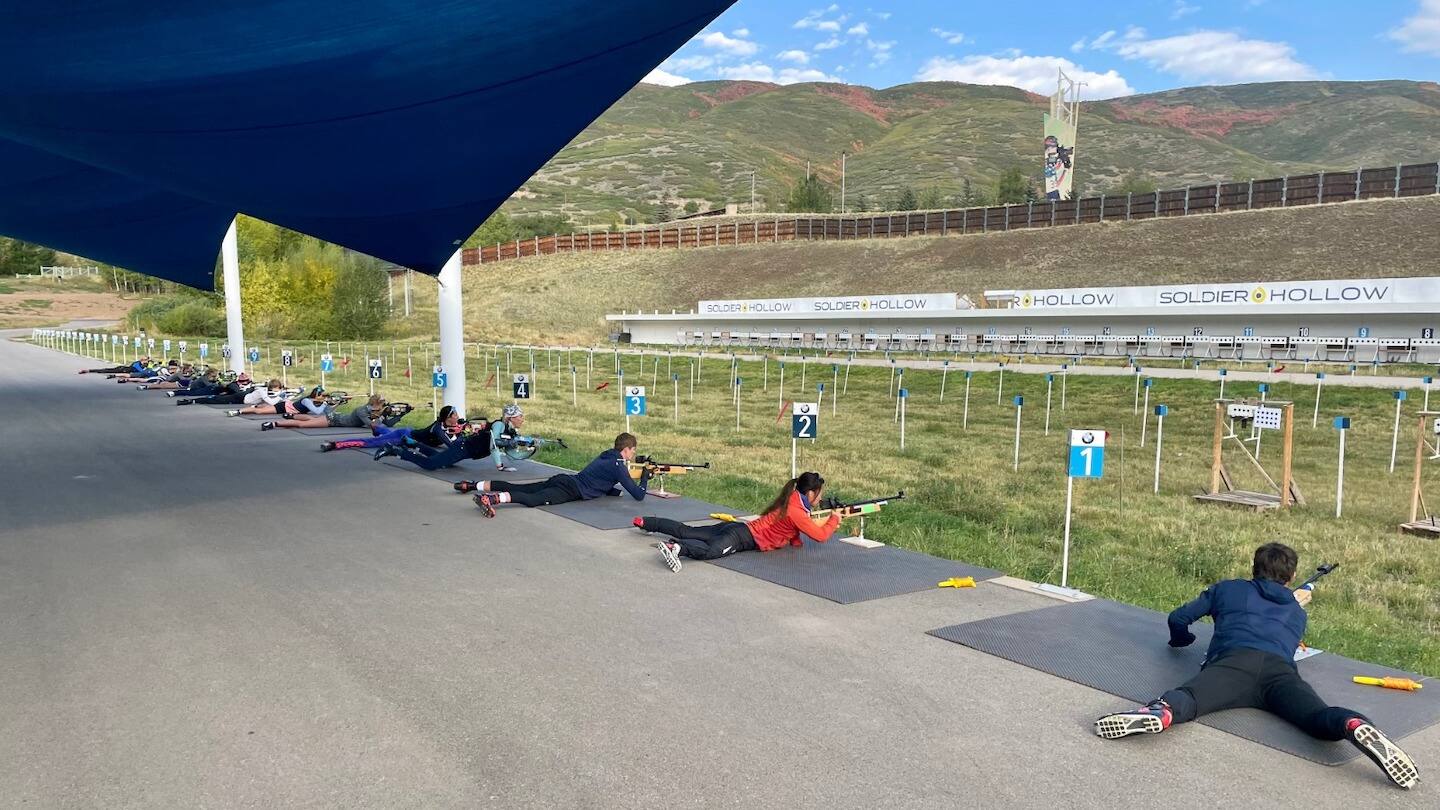 Drew Shea, Grace Miller and Ruslan Reiter practice at the biathlon range in Midway, Utah
Drew Shea felt like he was skiing on snow when, in actuality, he was racing on pavement with a pair of roller skis.
It didn't matter that there was no snow on the ground or that the temperatures in Midway, Utah, were warm enough for him to wear shorts.
Shea was still able to spend almost a week practicing for the biathlon and preparing for the upcoming Para Nordic skiing season.
Shea, who was named in June to the U.S. Paralympics Nordic Skiing development team, joined more than a dozen athletes for a biathlon minicamp at Soldier Hollow in Utah from Sept. 22-26.
"Throughout these minicamps, it's a great time to just talk to other athletes and talk to some new coaches that may be around," said Shea, who had his left hand amputated after he was involved in an accident at age 21.
"So I always come away from these camps with a couple of things at least to continue to work on before the season starts or throughout the season."
Shea was one of three members of Team USA to take part in the five-day minicamp. Grace Miller and Ruslan Reiter, who made their Winter Paralympic debuts in PyeongChang in 2018, joined Shea at Soldier Hollow.
The rest of the athletes at the minicamp came from Crosscut Mountain Sports Center, which is a year-round recreation and sports training facility near Bozeman, Montana.
Shea has a connection with Crosscut in addition to Team USA. Originally from Vienna, Virginia, he moved to Bozeman at the beginning of the summer to train with both the U.S. Paralympics Nordic Skiing development team and Crosscut, which is his club team.
As a relative newcomer to Para Nordic skiing, Shea welcomed the opportunity in late September to work on his rifle shooting and his skiing — albeit on roller skis — at the minicamp.
While there was snow, the conditions at Soldier Hollow weren't always ideal for the athletes as they raced around a paved loop and tried to hit targets at the shooting range.
"It's great to be out there when we have the elements working kind of in our favor and also against us because you never know what you're going to have on race day," Shea said.
"Soldier Hollow is unique in (that) we're actually outside shooting on these roller skis. So, getting the feel for wind again and being able to … learn from the wind on the fly as we're shooting was a big takeaway for me."
Shea said the first part of the minicamp included low-energy training to help the athletes get reacquainted with being on roller skis.
The workout sessions got harder later in the week, and athletes experienced more of what it's like to compete during an actual race with a high heart rate.
The minicamp ended Sept. 26 with a time trial that closely simulated a real biathlon race. For Shea, that meant focusing on himself and not worrying so much with where he finished in the pack.
"I try not to put too much pressure on myself this early on in the season," Shea said. "It's definitely beneficial for me to get in as much race experience as possible because I feel like I need these time trials with so many things to work on because I am so new in the sport.
"So for me, it's just more of a learning experience and learning from other athletes like, 'Was my strategy better than others? Was my strategy worse than others?' And you kind of have all sorts of takeaways from just one race during that week."
Shea said he'll return to Soldier Hollow on Oct. 18 to take part in another minicamp. He's expected around that time to compete in several biathlon races with Crosscut.
He'll then join Team USA when it opens its world cup season in early December with races in Canmore, Alberta.
Shea said one of his goals is to be in contention to qualify for the Paralympic Winter Games Beijing 2022, which begins in March. However, he said his focus right now is more on continuing to train over the next few months, so he's ready for season.
After so much time training on dryland, Shea admitted he's looking forward to finally getting back on snow.
"I can't wait. I cannot wait," Shea said. "It's kind of funny. We do all this training throughout the offseason, and it's easy to lose sight of what we're actually working towards.
"But then you kind of take a step back and think about how awesome it will be to be back on snow and be back in the race environment. I'm very excited."
Alex Abrams has written about Olympic sports for more than 15 years, including as a reporter for major newspapers in Florida, Arkansas and Oklahoma. He is a freelance contributor to USParaNordicSkiing.org on behalf of Red Line Editorial, Inc.