Nordic Roundup: Skiers Training, And Having Some Fun, As Paralympic Season Looms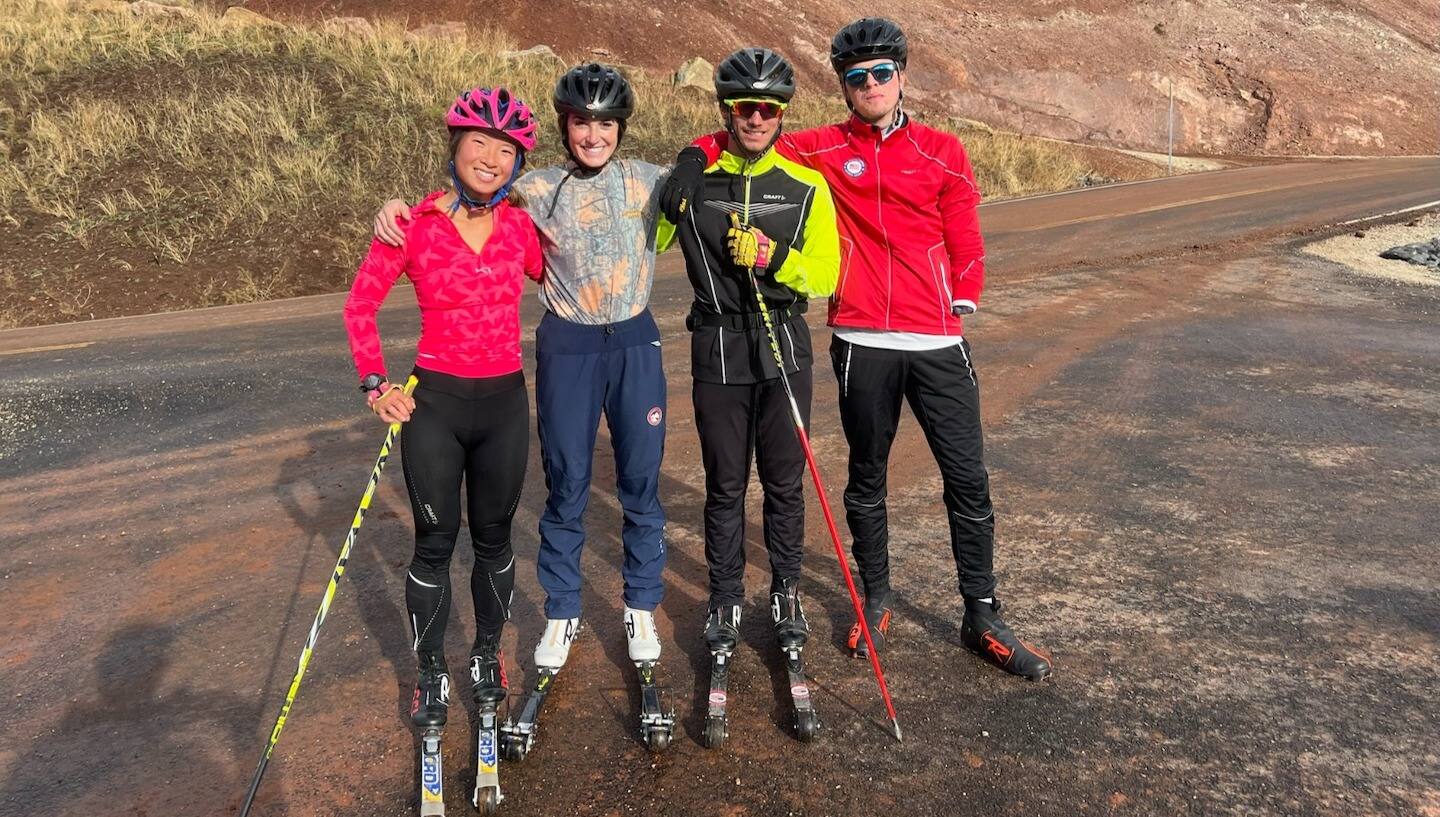 Grace Miller, Dani Aravich, Drew Shea and Ruslan Reiter pose on roller skis in Midway, Utah.
Every other week we scour the web for the latest going on in the world of U.S. Para Nordic skiing. Here's what you missed!
Para Nordic Skiers Get Back Into the Swing of Things
Dani Aravich and Grace Miller have been busy training together for the upcoming Para Nordic skiing season. They've also poked fun at themselves as they've worked to get back into the swing of things this fall.
Aravich, who was named to the U.S. Paralympics Nordic Skiing development team, shared a video of herself attached to a cord as she moves from side to side on a pair of roller skis.
"Trying to remember how that skiing thing works? Am I doing this right?" Aravich wrote on Instagram.
Aravich made her Paralympic debut this summer as a sprinter at the Paralympic Games Tokyo 2020, but she's attempting to qualify as a Nordic skier at the Beijing Winter Paralympics in March.
Miller, meanwhile, has moved from Alaska to Bozeman, Montana, to train full-time with Team USA. She made her first Winter Paralympics three years in PyeongChang.
Miller posted two photographs of herself training on roller skis at Soldier Hollow in Midway, Utah. She added the comment, "Before and after."
In the first photo, Miller appears focused as she roller skis on pavement. In the second photo, she's lying on her back in the grass, looking exhausted.
Oksana Masters Rings the Closing Bell
Oksana Masters has traveled around the world, and now she's made it to Wall Street.
Masters and Olympic alpine skier Breezy Johnson rang the closing bell at the New York Stock Exchange on Oct. 19.
Masters, a 10-time Paralympic medalist who has won a combined four golds in Nordic skiing, cycling and rowing, shared photos of her trip to Wall Street on Instagram.
"About last night… it was such an honor to celebrate all of the hard work & perseverance @delta has done through adversity by ringing the closing bell at the @nyse along side the kindest, gutsiest, fastest women on snow, @breezyjohnsonski," Masters wrote. "Thank you #deltaairlines for supporting all of @teamusa climb towards #beijing2022 and connecting us with the world. #keepclimbing"
The official Twitter account for the New York Stock Exchange posted a photo of Masters standing next to Johnson, who was holding a large, wooden gavel.
CEO Ed Bastian and the @Delta (NYSE: $DAL) team rang the Closing Bell today to celebrate the perseverance of their 75,000 employees as the industry recovers from the pandemic. #KeepClimbing 🛫 pic.twitter.com/AtO0HrAYBZ

— NYSE 🏛 (@NYSE) October 19, 2021
Ty Wiberg Shares His Story with PBS Wisconsin
Ty Wiberg allowed cameras to follow him from Spanish class to the snow.
Wiberg, who's a member of the U.S. Paralympics Nordic Skiing development team, was featured in a segment for PBS Wisconsin.
"During the last semester of my senior year I had (the) opportunity to tell my story and how I fell in love with Para Nordic to PBS Wisconsin," Wiberg wrote on Instagram. "Due to COVID-19 the release of the episode was postponed."
The nearly 6-minute segment covers Wiberg's determination to overcome spina bifida, a disabling condition that resulted in him being born with his spinal cord exposed on his back.
He also discusses his rise in Para Nordic skiing and the moment when he learned he had made the national team.
"The coach for Team USA pulled me off to the side, and she asked me, 'Ty, do you have a passport?'" Wiberg told PBS Wisconsin. "And I looked at her a little puzzled, and she's like 'Well, you're going to Germany.' It took a second for it to register, and I was like 'Are you serious?'"
Liza Corso Begins College in Most Unusual Way
Liza Corso didn't get to begin college like a typical freshman.
She missed more than a week of classes at Lipscomb University in Tennessee because she was overseas competing in track and field at the Tokyo Paralympics.
Corso, who's now pursuing Para Nordic skiing as well, surprised herself in Tokyo by shaving 13 seconds off her personal best in the 1,500-meter and earning the silver medal in the T13 final with a 4:30.67.
As soon as she was done competing in Japan, Corso flew back to Nashville to start college and begin racing for Lipscomb during the cross-country season.
"I didn't really talk about it too much, but the school posted it on their Instagram, so like some random people have come up to me and been like 'Oh, you were in the Paralympics,'" Corso told TeamUSA.org.
"And my professors know, too, so some of them have mentioned it in class or something. I don't like going around saying, 'Oh, I was just in Tokyo,' but people have found out."
Alex Abrams has written about Olympic sports for more than 15 years, including as a reporter for major newspapers in Florida, Arkansas and Oklahoma. He is a freelance contributor to TeamUSA.org on behalf of Red Line Editorial, Inc.