Bring On The Snow: After Triathlon Gold Kendall Gretsch Is Back To Nordic Skiing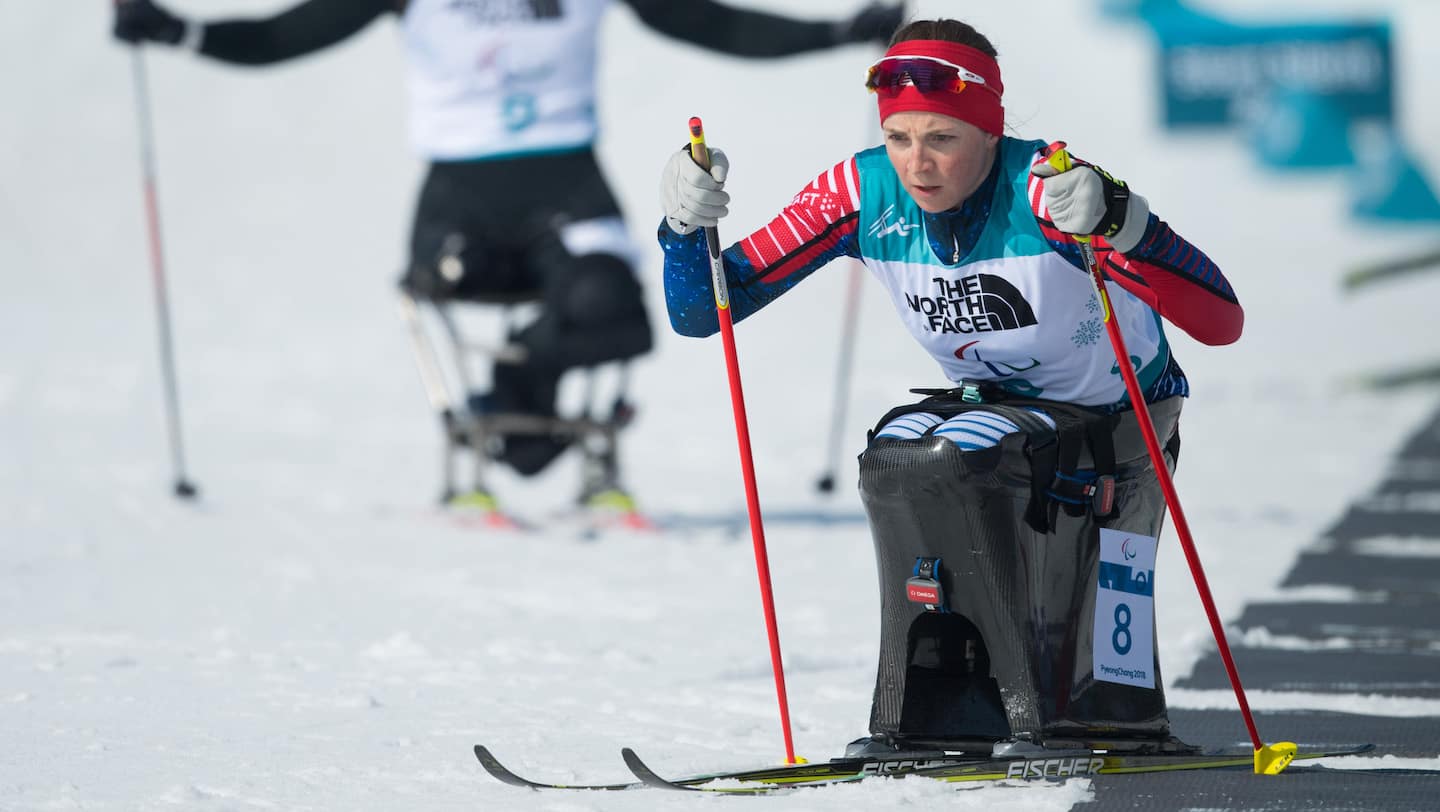 Kendall Gretsch competes in Nordic skiing in PyeongChang. (Photo: Mark Reis)
Kendall Gretsch needed a few days to relax and unwind after returning from the Paralympic Games Tokyo 2020 with a gold medal in the paratriathlon.
The 29-year-old had been training almost nonstop over the past few months. She had gone from the snow-covered mountains in Montana to the warm temperatures and high humidity at Odaiba Marine Park in Japan.
Gretsch, a two-sport athlete who has starred in Para Nordic skiing and the paratriathlon, decided to go home and take a break.
After returning from the Tokyo Paralympics, she traveled to the Chicago area and spent a week with her family. While she was there, she made it a point to not train.
"I took that week off completely. I purposefully planned the trip so it was pretty close after the Games," said Gretsch, a native of Downers Grove, Illinois. "That way I could kind of be at home and just enjoy being at home and not have to worry about jumping back into training while I was there."
Gretsch, however, won't have much time to rest following her historic performance at the Tokyo Paralympics. After all, the 2022 Beijing Winter Paralympics are set to begin in March — only six months away.
Gretsch has already resumed her training in Colorado Springs, Colorado, and is now working ski-related exercises back into her workouts.
And on Sept. 28, exactly one month after she won a gold medal in the paratriathlon at the Tokyo Paralympics, Gretsch will head to Germany to get back on snow. She'll train there with a few of her teammates from the U.S. Paralympics Nordic Skiing national team.
"That's kind of the focus, is getting prepped for the Nordic season," Gretsch said. "But I'm not like jumping straight into exclusive ski training just because I think it's a little bit too abrupt of a change on the body."
On Aug. 28, Gretsch, who was born with spina bifida, won the paratriathlon PTWC to become only the fifth American to win gold medals in both the Summer and Winter Paralympics. She had previously earned a pair of golds in Para Nordic skiing at the 2018 PyeongChang Winter Paralympics.
Wanting to add more to her collection, Gretsch admitted she headed to Tokyo with the goal of winning a gold in the paratriathlon.
As it turned out, she needed every bit of energy to make up ground on Australia's Lauren Parker and then use a late charge to win the race in 1 hour, 6 minutes, 25 seconds.
She beat Parker, the 2019 world champion, by one second.
Because of the staggered start in the women's triathlon wheelchair race, Gretsch said she entered the competition knowing she'd start four minutes back from the first group of racers. She'd then have to make up the time throughout the race.
"I just had this feeling like we were going to be really close and knew that hopefully it wasn't going to be a blowout either way and that it could be a really tight race," Gretsch said. "So I trained for the potential of a finish like that, of being able to have another gear on the run."
On Aug. 30, Oksana Masters joined Gretsch in becoming the sixth American to earn gold medals in both the Summer and Winter Paralympics when she won the women's road cycling time trial. Masters also won gold in the cycling road race.
Gretsch and Masters are teammates on the U.S. Paralympics Nordic Skiing national team, and they spend their winters training together. However, they didn't talk openly about both of them making history in Tokyo.
"I don't know if we talked about it specifically, but I have so much respect for Oksana as an athlete," Gretsch said. "She just kind of has this intensity and mentality around here, and so being around her for the winter season, I think it just kind of elevates everyone's expectations of what they can get out of themselves.
"And so yeah, I kind of knew that was something possible for her. And so why could it not be possible for me?"
Gretsch and Masters are expected to train together in Germany along with fellow Paralympians Dan Cnossen and Jake Adicoff. They'll take part in structured workouts as they prepare for the start of the Para Nordic skiing season.
They'll also train with the British Para Nordic skiing team. Gretsch said she'll be in Germany for around 10 days.
"We always do a camp like this at the beginning of the year, and it's always good to just kind of get some time on snow and kind of refocus for the season," she said.
Gretsch has already set her goals for the Beijing Winter Paralympics. She said she wants to medal in all six individual races she's expected to compete in, but first she's looking forward to getting back to skiing in Germany.
She doesn't need any more time to relax.
"I think I kind of had my break, and now I'm ready to get back in," Gretsch said. "The (Winter) Games aren't that far away, so I think (I'm) very anxious to get on snow."
Alex Abrams has written about Olympic sports for more than 15 years, including as a reporter for major newspapers in Florida, Arkansas and Oklahoma. He is a freelance contributor to USParaNordicSkiing.org on behalf of Red Line Editorial, Inc.