Nordic Roundup: What Drives Oksana Masters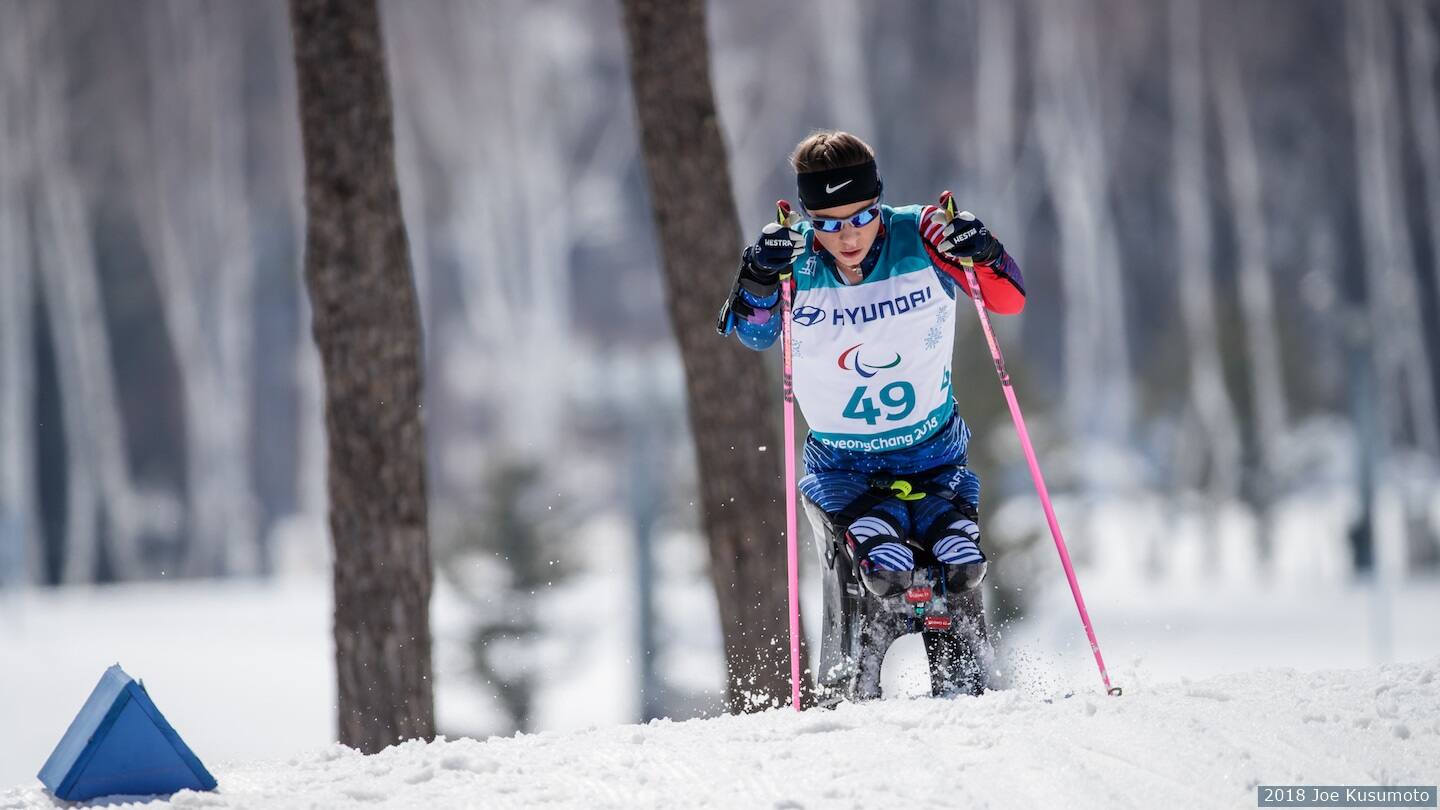 Oksana Masters competes in PyeongChang. (Photo: Joe Kusumoto)
Every other week we scour the web for the latest going on in the world of U.S. Para Nordic skiing. Here's what you missed!
Oksana Masters Continues To Be Fueled By "Failure"
Oksana Masters has a collection of medals she has earned from the past five Paralympic Games, including four golds.
Still, the 10-time medalist admitted she's motivated by "failure."
Masters shared on Instagram a photo of herself from a recent photo shoot for the Paralympic Winter Games Beijing 2022, which begin in March. In the picture, she's wearing a Team USA uniform as she poses in a sit ski.
In 2012, Masters qualified for her first Paralympic Games in London as a rower. However, she missed out on qualifying in 2008 when the Games were last held in Beijing.
"@beijing2022 not gonna miss you this time. In 2008, I did not make my first Paralympic Games," Masters wrote. "14 years later, that fire from my failure is still keeping that fire and hunger alive to make it for #Beijing2022 Winter @paralympics games.

"People sometimes see and hear only the positives of an athlete, but the truth is there is a special strength that ONLY comes from failure and setbacks."
Masters wrote that she "learned how to lose" before she learned to win.
In August, Masters became the sixth American to win a gold medal in both the summer and winter Paralympic Games when she earned two golds in Para-cycling in Tokyo.
Three years ago, she won two golds in Para Nordic skiing at the 2018 PyeongChang Games. She also has earned three silvers and three bronzes.
Kendall Gretsch Gets Back To Work
Kendall Gretsch told TeamUSA.org she needed a break after returning from the Tokyo Games, but it didn't last long.
Gretsch erased an early deficit and edged Australia's Lauren Parker down the stretch to win the paratriathlon in Tokyo with a time of 1 hour, 6 minutes and 25 seconds. She beat Parker, the 2019 world champion, by one second.
With the win, Gretsch joined Masters as one of only six Americans to win a gold medal in both the summer and winter Games.
Gretsch told TeamUSA.org she spent a week visiting family in the Chicago area after the Tokyo Games. However, she was soon training again in preparation for Beijing.
"I think I kind of had my break, and now I'm ready to get back in," Gretsch said. "The Games aren't that far away, so I think (I'm) very anxious to get on snow."
Dani Aravich Realizes "Winter Is Coming"
Dani Aravich knows the Beijing Games are quickly approaching.
Aravich shared several photos of herself from a photo shoot with NBC for the Games and added the comment, "Winter is coming."
Aravich, who's a member of the U.S. Paralympics Nordic Skiing development team, made her Paralympic debut in Tokyo and competed in the 400-meter run. She's looking to now qualify for Beijing.
Aaron Pike And Oksana Masters Are Powered By Coffee
Wednesday (Sept. 29) is National Coffee Day, but Masters and boyfriend Aaron Pike appear to celebrate it everyday.
The couple regularly posts about their love of coffee on social media.
Pike, who's a member of the U.S. Paralympics Nordic Skiing national team along with Masters, recently shared a photo of an intricate-looking espresso machine on Instagram. He added the comment, "I'm back."
A few days earlier, Masters posted a photo of herself looking excited as she stared into the camera from above, her blonde hair falling into her face.
"Signs of too much coffee…I mean is there even such a thing," Masters wrote on Instagram.
International Coffee Day is Friday (Oct. 1).
Beijing Announces Winter Games Slogan
On Sept. 17, the Beijing Organizing Committee for the 2022 Olympic and Paralympic Games announced the official slogan for the upcoming Games: "Together for a Shared Future." The phrase echoes the slogan of the 2008 Beijing Games, "One World, One Dream" as the city makes history as the first city to host both the summer and winter editions of the Games.
The slogan reflects China's 🇨🇳 commitment to overcome global challenges as a community with a shared future for mankind 🌏#Paralympics #ParaSnowSports #Beijing2022 @beijing2022

— #ParaSnowSports (@ParaSnowSports) September 17, 2021