Roundup: Kendall Gretsch Turns 30 — And Tries Downhill Skiing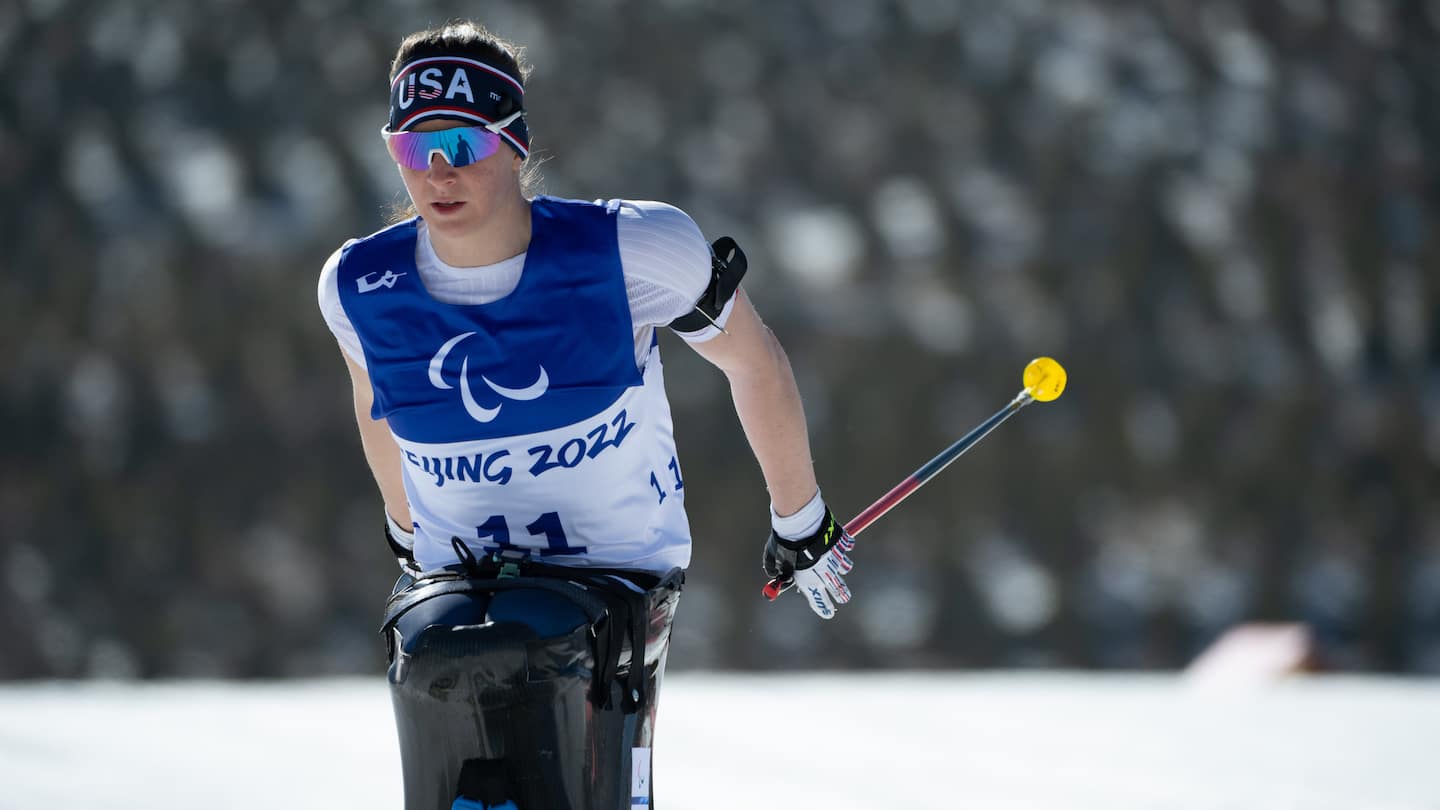 Kendall Gretsch competes in cross-country skiing at the Beijing Paralympics (Photo: Mark Reis)
Every other week we scour the web for the latest going on in the world of U.S. Para Nordic skiing. Here's what you missed!
Kendall Gretsch Enjoys Downhill Skiing, Celebrates Her Birthday
Kendall Gretsch has had plenty of reasons to celebrate lately.
She earned three medals at the Paralympic Winter Games Beijing 2022, including a gold in the biathlon middle-distance race. A few days later, after returning to Colorado, she tried downhill skiing for the first time.
Gretsch, a four-time gold medalist in Para Nordic skiing and the paratriathlon, reached another milestone on April 2. She celebrated her 30th birthday.
On March 25, eight days before her birthday, Gretsch tried downhill skiing for the first time at Breckenridge Ski Resort in Colorado. She was among several members of the U.S. Paratriathlon team who went downhill skiing.
"I never have been on a mono ski before, so I am pretty stoked to try it out," Gretsch told the Summit Daily News. "I feel like I am going to fall a lot, but I am excited."
Gretsch admitted she was nervous the first time she got on the chair lift to take her to the top of the mountain.
"I had a death grip on the bar the whole ride up," Gretsch told the Summit Daily News. "I just didn't know if I put my weight forward if the (the mono ski chair) would tip forward."
A dual-sport star athlete, Gretsch has won at least one gold medal at each of the past three Winter and Summer Paralympics. She has earned a total of six medals in Para Nordic skiing and the paratriathlon since 2018.
"She doesn't really have an off button."

Is there anything @KendallGretsch *isn't* good at??https://t.co/EXcnu3VXkq

— U.S. Paralympics Nordic Skiing (@USParaNordic) April 2, 2022
Top Americans Cap Season at Biathlon National Championships
Dani Aravich and Ruslan Reiter had more to do after returning from the Beijing Winter Paralympics.
They weren't done with the Para Nordic skiing season just yet.
In late March, Aravich and Reiter wrapped up their seasons by competing at the U.S. Biathlon National Championships in Lake Placid, New York. Going against able-bodied athletes, including U.S. Olympian Clare Egan, Aravich placed 15th in the women's sprint, while Reiter was 17th in the men's race. Both also race the pursuit, with Aravich taking seventh and Reiter 10th in their respective events.
Ty Wiberg, who's on the U.S. Paralympics Nordic Skiing development team with Aravich, shared on Instagram that he won three national titles in Lake Placid. He posted a photograph of himself wearing two of his first-place medals from the men's sit ski division around his neck.
"What a week it was last three races of the season and I had no misses on all eight of my total shooting stages," Wiberg wrote. "Also coming away with 3 National titles. Psyched to be ending my season on a great note now time to relax and recharge before we get back at it."
Aravich and Reiter, both standing skiers, competed at their second Paralympics in Beijing.
Lera Doederlein Returns to Sled Hockey
Lera Doederlein hasn't wasted anytime switching sports and going from the snow to the ice.
Doederlein competed in a sled hockey tournament with the San Diego Ducks only a few weeks after making her Paralympic debut as a Nordic skier in Beijing. She has been a member of the Ducks of the Pacific Sled Hockey League since 2018.
"Back with the @duckssledhockey fam at last," Doederlein wrote on Instagram. "What a great weekend! 4 games, 4 wins, and so much fun surprising my team for my first time back at a tournament since the beginning of Covid. I'm also so proud of our all women line out there on the ice kicking butt!"
Doederlein fell in love with sled hockey after a prosthetist introduced her to the sport in 2017. She admitted she felt "a little rusty" being back on the ice after spending this past winter training in Nordic skiing.
Doederlein earned a pair of top-10 finishes at the Beijing Winter Paralympics, taking ninth in the biathlon sprint and biathlon middle-distance race.
Cool, calm and composed 😎

Lera Doederlein making it look easy during a race on her Paralympic debut! #ThrowbackThursday

📸Thomas Lovelock for OIS#WinterParalympics #TeamUSA #ShowTheWorld pic.twitter.com/L8TTQHQAO3

— U.S. Paralympics Nordic Skiing (@USParaNordic) March 31, 2022
Alex Abrams has written about Olympic sports for more than 15 years, including as a reporter for major newspapers in Florida, Arkansas and Oklahoma. He is a freelance contributor to USParaNordicSkiing.org on behalf ofRed Line Editorial, Inc.