Roundup: Aaron Pike Shines In Boston Barely A Month After The Paralympics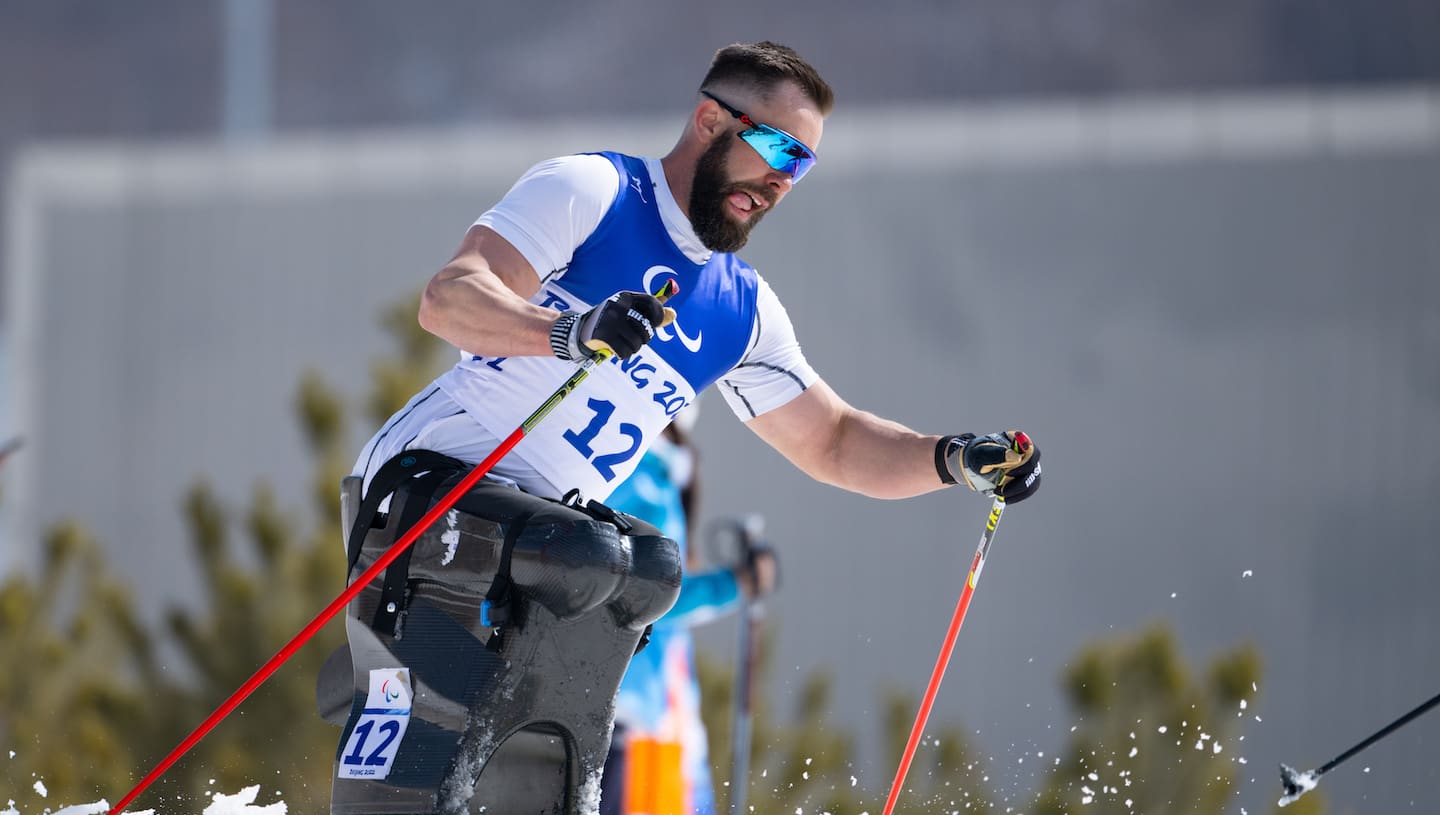 Aaron Pike competes in Beijing. (Photo: Mark Reis)
Every other week we scour the web for the latest going on in the world of U.S. Para Nordic skiing. Here's what you missed!
Pike Surprises Himself At Boston Marathon
Aaron Pike didn't need much time to rest after returning home from the Paralympic Winter Games Beijing 2022.
Pike surprised himself last week by earning his best finish ever at the Boston Marathon — only one month after he competed as a Nordic skier in Beijing.
The six-time Paralympian took second place in the men's wheelchair division of the Boston Marathon, completing the race in 1:32:49.
He finished behind only fellow Paralympian Daniel Romanchuk, who posted a time of 1:26:58 to give him his second career win at the Boston Marathon.
"Never imagined this year being my best finish at the @bostonmarathon.Never count yourself out! (I might have a week ago)," Pike wrote on Instagram.
Pike competes in Nordic skiing in the winter and track and field in the summer. He quickly transitioned from his winter sport to his summer sport after the Beijing Paralympics.
Oksana Masters, Pike's longtime girlfriend and teammate on the U.S. Paralympics Nordic Skiing national team, admitted she was impressed with his performance at the Boston Marathon so soon after the Beijing Winter Paralympics.
"I don't mean to brag…oh wait, yes I do!!!!" Masters wrote on Twitter. "@Pikester86 you just Achieved something remarkable. W/only 20 days back in your racing chair coming off Beijing Winter #Paralympics weeks ago, you win (second) @bostonmarathon."
I don't mean to brag…oh wait, yes I do!!!! @Pikester86 you just Achieved something remarkable. W/ only 20 days back in your racing chair coming off of Beijing Winter #Paralympics weeks ago, you win🥈 @bostonmarathon 💜Tokyo✅Marathon season✅Beijing✅ #Boston126 ✅#TeamUSA 🥹🥹 pic.twitter.com/VoBR5nZBrR

— Oksana Masters (@OksanaMasters) April 18, 2022
Aravich Wins New Para Nordic Race Series
U.S. Paralympics Nordic skiing coaches recently created the National Para Nordic Development Race Series to "motivate up-and-coming athletes to learn and grow in the sport."
The winners of the inaugural season were recently crowned.
Dani Aravich, who earned a pair of top-10 finishes at the Beijing Winter Paralympics, won first place in the new race series. It caps an eventful past year for the dual-sport athlete.
Aravich made her Paralympic debut as a sprinter at the Tokyo Paralympics; she followed that up by competing as a Nordic skier last month in Beijing.
Ty Wiberg, who was named with Aravich to the U.S. Paralympics Nordic Skiing development team, earned second place. Erin Martin, who qualified for her first Paralympics in Beijing, finished third.
Jordan Valentine was named the circuit's Rookie of the Year.
Masters Tries Another Sport
Oksana Masters is already a multi-sport star, but she decided to give a new sport a try.
Masters, a 17-time Paralympic medalist in Nordic skiing, cycling and rowing, recently went snowboarding in Vail, Colorado. She shared a video of her snowboarding on Instagram.
"The thrill of new experiences, opportunities and living outside of our comfort zones!" Masters wrote. "Ended the Winter season on a board, chasing @aaronlevipike and yes, I may have rolled down more than I actually rode but I am officially hooked!!"
Pike shared photos on Instagram from his time with Masters in Vail. He wrote that the couple "gave the people on the (ski) lift some free entertainment as we were falling all over the mountain."
Masters's introduction to snowboarding came only a few weeks after her teammate, gold medalist Kendall Gretsch, tried downhill skiing for the first time at Breckenridge Ski Resort in Colorado.
"She doesn't really have an off button."

Is there anything @KendallGretsch *isn't* good at??https://t.co/EXcnu3VXkq

— U.S. Paralympics Nordic Skiing (@USParaNordic) April 2, 2022
Former Para Coach Profiled in the New York Times
Jon Kreamelmeyer was inducted into the Paralympic Hall of Fame in 2014 after coaching the U.S. Paralympics cross-country skiing team from 1998-2006.
He has taken up adaptive skiing since having his right leg amputated as a result of an aneurysm that formed behind his knee.
Kreamelmeyer was profiled recently in The New York Times.
"I don't know if it's ironical, or a blessing, but I had 20 years of experience being around disabled athletes, so I have an understanding of what's going on," Kreamelmeyer told the Times.
"I'm proud to be part of the club. On the other hand, being part of the club requires a lot of acceptance. I'm still in that period of trying to accept what I can do and what I can't do."
Alex Abrams has written about Olympic sports for more than 15 years, including as a reporter for major newspapers in Florida, Arkansas and Oklahoma. He is a freelance contributor to USParaNordicSkiing.org on behalf of Red Line Editorial, Inc.