Roundup: Glacier Training Is Ideal "Summer Camp" For Jake Adicoff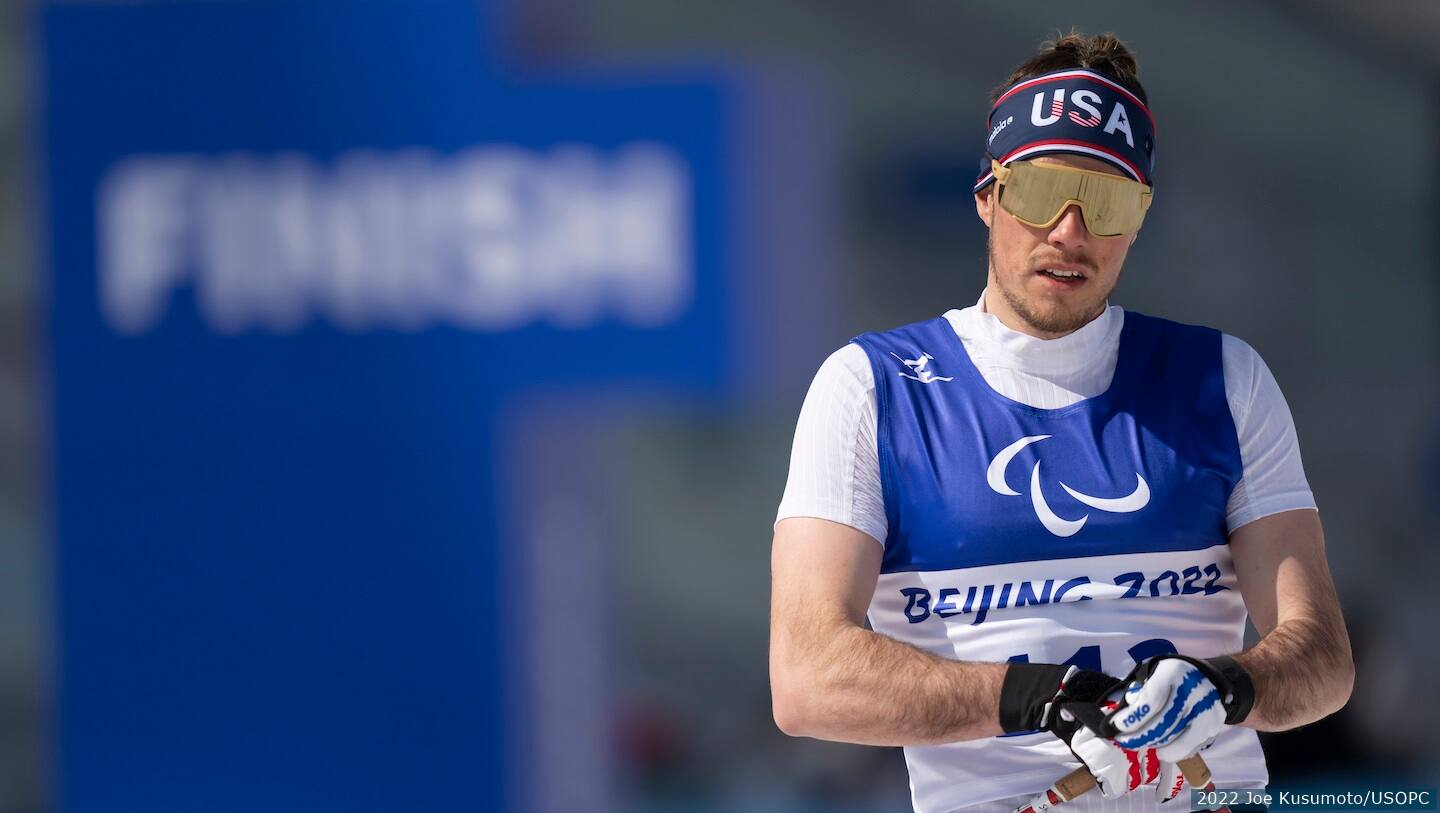 Jake Adicoff looks on after racing at the Paralympic Winter Games Beijing 2022. (Photo: Joe Kusumoto)
Every other week we scour the web for the latest going on in the world of U.S. Para Nordic skiing. Here's what you missed!
Jake Adicoff Travels This Summer To Train On Snow
Jake Adicoff has found ways to train on snow this summer, even going to a glacier to do it.
The three-time Paralympian recently took part in a training camp with several other skiers on Haig Glacier near Canmore, Alberta.
Adicoff shared photographs on Instagram from his time on the glacier. He also posted a short video that appears to show him sliding down the snow on his backside while wearing a pair of shorts.
"Summer camp or a fever dream, you choose," Adicoff wrote. "Swipe to see my legs in full brick mode."
Adicoff is coming off a strong showing at the Paralympic Winter Games Beijing 2022 in March. He won his first gold medal as a member of the U.S. cross-country skiing mixed relay team, and he earned silvers in a pair of individual cross-country skiing races.
A native of Sun Valley, Idaho, Adicoff traveled to Bend, Oregon, earlier this summer to train some more on snow.
Oksana Masters Reveals Book Cover
Oksana Masters revealed what the cover to her upcoming memoir "The Hard Parts" will look like when it's published on Feb. 21, 2023.
In the cover photo, she's seen standing on an empty road while wearing her prosthetic legs and an all-black Nike outfit. The book's subtitle states it's a "memoir of courage and triumph."
🚨 I am beyond excited to finally share with you the official cover and new release date of my forthcoming memoir THE HARD PARTS. February 2023 My memoir will be hitting the bookshelves but you can PRE ORDER now here ➡️ https://t.co/AvszaQptMh 🚨link in bio @ScribnerBooks pic.twitter.com/ePhJs2W3UE

— Oksana Masters (@OksanaMasters) July 26, 2022
Masters is a 17-time Paralympic medalist in Nordic skiing, cycling and rowing. She has spoken about her journey from being raised in Ukranian orphanages to becoming the most decorated U.S. Winter Paralympian of all time.
Masters shared on Instagram that she's making the finals edits to "The Hard Parts." While doing so, she posted two photos of herself as a kid while growing in different orphanages.
"The first picture is of me in the 2nd Orphanage. Baby Oksana here was a dreamer at a time when it was safe to smile and show it," Masters wrote.
Paralympians Gather For Duluth Training Camp
Grace Miller went roller skiing, spent time sailing and even played a little "human soccer."
U.S. Paralympics Nordic Skiing held a training camp in Duluth, Minnesota, from July 20-27. While there, Miller trained alongside fellow Paralympians Ruslan Reiter, Dani Aravich and Max Nelson.
The camp doubled as a way for U.S. Paralympics Nordic Skiing to help Nelson, who's visually impaired, get acclimated to being a college freshman at St. Scholastica.

"For every visually impaired person, it's kind of hard. We worry about where our classes are or where do we get our food because we don't know where to go for that stuff," Nelson told USParaNordicSkiing.org. "I mean, sure, we can ask for help, but it's still a lot to take in at once."
Teenager Gets Help From U.S. Paralympics Nordic Skiing
Otis Loga considered himself more of runner, but then he received a sit ski in the mail from a U.S. Paralympics Nordic Skiing coach.
The 17-year-old teenager with mild cerebral palsy has now gotten more interested in Nordic skiing. He'll compete in both skiing and cross-country running during his senior year of high school.
"When I (sit) ski, I can actually be in charge and kind of go where I want to go. And it's nice," Loga told USParaNordicSkiing.org. "I can actually ski alongside my peers and the rest of my ski team."
Alex Abrams has written about Olympic sports for more than 15 years, including as a reporter for major newspapers in Florida, Arkansas and Oklahoma. He is a freelance contributor to USParaNordicSkiing.org on behalf ofRed Line Editorial, Inc.