Para Biathletes Go Indoors To Stay On Target With Their Shooting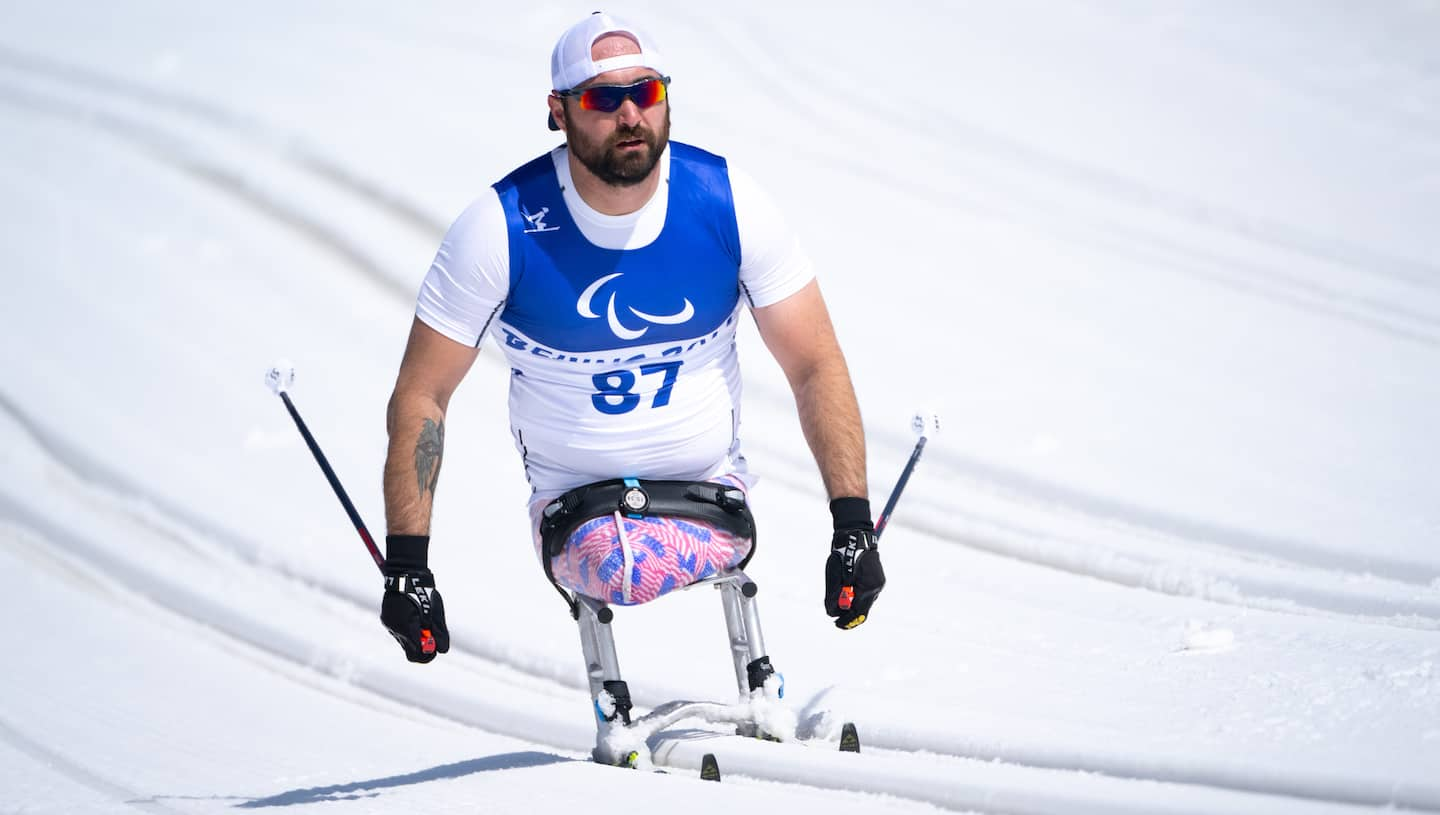 Josh Sweeney competes at the Paralympic Winter Games Beijing 2022. (Photo: Mark Reis)
Josh Sweeney, a two-time Paralympian, practices his biathlon rifle shooting not at an outdoor shooting range but instead in his garage at his home in Boise, Idaho.
Grace Miller, a two-time Paralympian, has worked on her shooting while lying on the floor in a room and aiming at a target on a small stand a few feet away from her.
Whatever works, right?
Para Nordic skiers often have to get creative when it comes to practicing the shooting portion of the biathlon. They don't always have access to an outdoor shooting range.
There are also times when standing and sitting skiers need to work on their shooting in a quiet place, away from heavy gusts of wind that make hitting a target more difficult. That's when they take their air rifles indoors and shoot at targets in their garage or at an indoor shooting range.
"Basically, we just try to create scenarios for our athletes to continue building the skills and getting the repetitions that they need," said Nick Michaud, a development coach for U.S. Paralympics Nordic Skiing. "And so we have some athletes that their only option is to set up a target in their garage or in their backyard. We'll try to help facilitate that so they can get the work done that they need to be doing."
Para Nordic skiers have learned to adapt and find different ways of training in the offseason. They use roller skis to stay in shape and continue working on their skiing when there's no snow on the ground.
Indoor target practice is no different.
Michaud said coaches send targets to skiers for them to practice on when they're not all training together in Bozeman, Montana, where U.S. Paralympics Nordic Skiing is based. Coaches also send links to websites that help skiers get ammunition for their air rifles and offer ideas on how to set up targets at home.
"We also have athletes that don't have a target, and they can make a paper target or shoot on different objects," Michaud said. "And then as part of their skill development, they might shoot on different paper shapes or different moving objects like a hanging rock or anything creative that enhances their skills."
Biathletes who train year-round in Bozeman regularly go to a local indoor shooting range for target practice. Michaud said it's a nice change of pace for them.
On Wednesday evenings, they practice at the indoor shooting range in Bozeman. It's an environment in which they can take time and work on the fundamentals of shooting.
The next morning, they go to Crosscut Mountain Sports Center in Bozeman to do more intensive target practice. The training includes exercises to get their heart rates up, and then they'll go head-to-head while shooting at Crosscut's outdoor range.
On Fridays, the biathletes return to the indoor range to wrap up their target practice for the week.
"It gives them a chance to kind of connect the harder skill development with the real-time pressure with the outdoor variables of what they're working on for competition," Michaud said.
Indoor shooting ranges are convenient for the athletes, Michaud said, because most ranges are at least 10 meters long, which is how far targets are from skiers during the shooting portion of a Para biathlon.
"Through spring and most of summer, we use it as just a place to really slow down and hone in on the most basic fundamentals and make sure that everything is really clean and sound before they just hop into harder outdoor training sessions with wind and higher heart rates," Michaud said. "So it's a chance to get a balance between those two — the fundamentals and live action."
For some Para Nordic biathletes, an indoor shooting range is sometimes their best option.
"We have a couple of athletes in the Pacific Northwest area, for example, that don't really have time or access to outdoor shooting ranges," Michaud said "But there are some indoor ranges around."
Alex Abrams has written about Olympic sports for more than 15 years, including as a reporter for major newspapers in Florida, Arkansas and Oklahoma. He is a freelance contributor to TeamUSA.org on behalf of Red Line Editorial, Inc.