Craftsbury Outdoor Center Hosting First-Ever Camp For Visually Impaired Athletes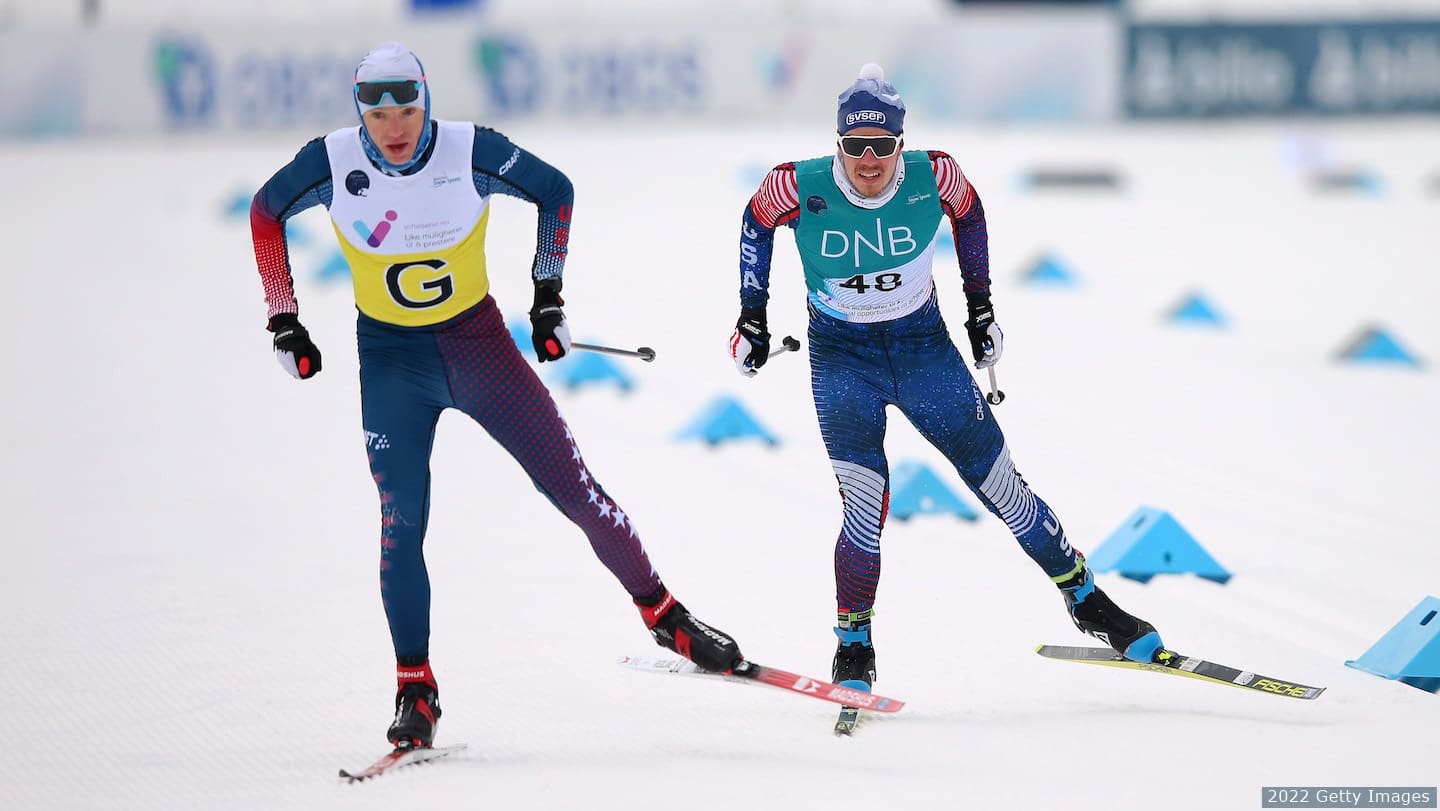 Sam Wood and Jake Adicoff ski together at the 2021 Para Snow Sports World Championships in Lillehammer, Norway. (Photo: Alex Livesey)
As a three-time Olympian in the biathlon, Susan Dunklee often crossed paths with U.S. Para Nordic skiing coaches and athletes when she was training at different courses around the country.
On one occasion, she was asked at the last minute to serve as a guide for a visually impaired athlete who was about to take part in a friendly relay race in Bend, Oregon.
Dunklee agreed to do it, even though she admitted she didn't know what she was doing. She gave verbal cues while skiing to help the visually impaired athlete get around a small, snow-covered loop without crashing.
"It was a little scary, to be honest, because there's a lot of responsibility that you have when you're guiding somebody," Dunklee said. "You have to be a good communicator. You have to be very attentive, and that's a heavy thing to try to take on.
"But again, it can be such a gift for somebody to help them be able to enjoy the snow."
Dunklee retired from the biathlon this past spring after competing at the Olympic Winter Games Beijing 2022. She has shifted her focus now that she's done racing, and she'll introduce a small group of visually impaired athletes to Para Nordic skiing this weekend.
Dunklee is helping to run a three-day ski clinic at the Craftsbury Outdoor Center in Craftsbury Common, Vermont, where she works as the center's running director.
The ski clinic is designed for two different groups: visually impaired athletes who are new to competitive skiing, and experienced skiers who are interested in serving as guides for athletes who can't see during a race.
Each athlete will be paired with a guide this weekend, and they'll ski together during several sessions on snow.
"The whole idea of this clinic is to be able to give athletes who might want to try ski racing," Dunklee said. "They might've done some skiing in the past. They might've done other sports and really enjoyed competing in other sports, but (this clinic is) giving them an option to kind of get their feet wet with a little higher level with ski training.
"The other purpose of the clinic is to try to train guides and kind of build up the guide pool and give people an opportunity to try it out."
This is the first time that the Craftsbury Outdoor Center has hosted such a clinic. It was made possible with support from the Foreseeable Future, a nonprofit organization that enables visually impaired individuals to live fulfilling lives through sports and recreation.
Visually impaired athletes need a strong connection with their guides to be successful as Para Nordic skiers. It typically takes time for athletes and guides to work as a team and communicate well on the course to go as fast as possible during a race.
Dunklee said visually impaired athletes from Minnesota to New England will attend this weekend's ski clinic. One athlete is expected to bring her own guide with her, but the rest of the athletes will be paired with new guides for the first time.
"I think a big component of this clinic is developing a relationship of trust between a guide and an athlete and giving people the tools they need to be able to ski safely and have fun with it," Dunklee said. "To me, enjoying the sport and what you're doing is so important as a foundation for going anywhere with it."
Attendees at the clinic will get to learn more about the athlete-guide relationship from proven guide Sam Wood.
Wood served as the guide for his close friend, three-time Paralympian Jake Adicoff, at the Beijing Games in March. Together, they won a gold medal as members of the cross-country mixed relay team and silver in a pair cross-country races.
U.S. Ski & Snowboard later named Adicoff and Wood as its Adaptive Athletes of the Year for their performance in Beijing.
Wood is expected to share his experiences in Beijing with the athletes and guides this weekend at Craftsbury. He can tell them how to build trust and good forms of communication, which will lead to faster times on snow.
"It's on the snow and it's off the snow, right?" Dunklee said. "You're doing some ski work on the snow, but we are also encouraging the guides to really work with the athlete in kind of getting around (Craftsbury's) campus, getting meals in the dining room and just spending time together, talking, communicating.
"We have a lot to learn, and we're really excited to have Sam along to help us learn because he has such a wealth of knowledge around this and the dynamic and how you create the dynamic."
Alex Abrams has written about Olympic sports for more than 15 years, including as a reporter for major newspapers in Florida, Arkansas and Oklahoma. He is a freelance contributor to USParaNordicSkiing.orgon behalf of Red Line Editorial, Inc.