Six Nordic Skiers To Watch This Season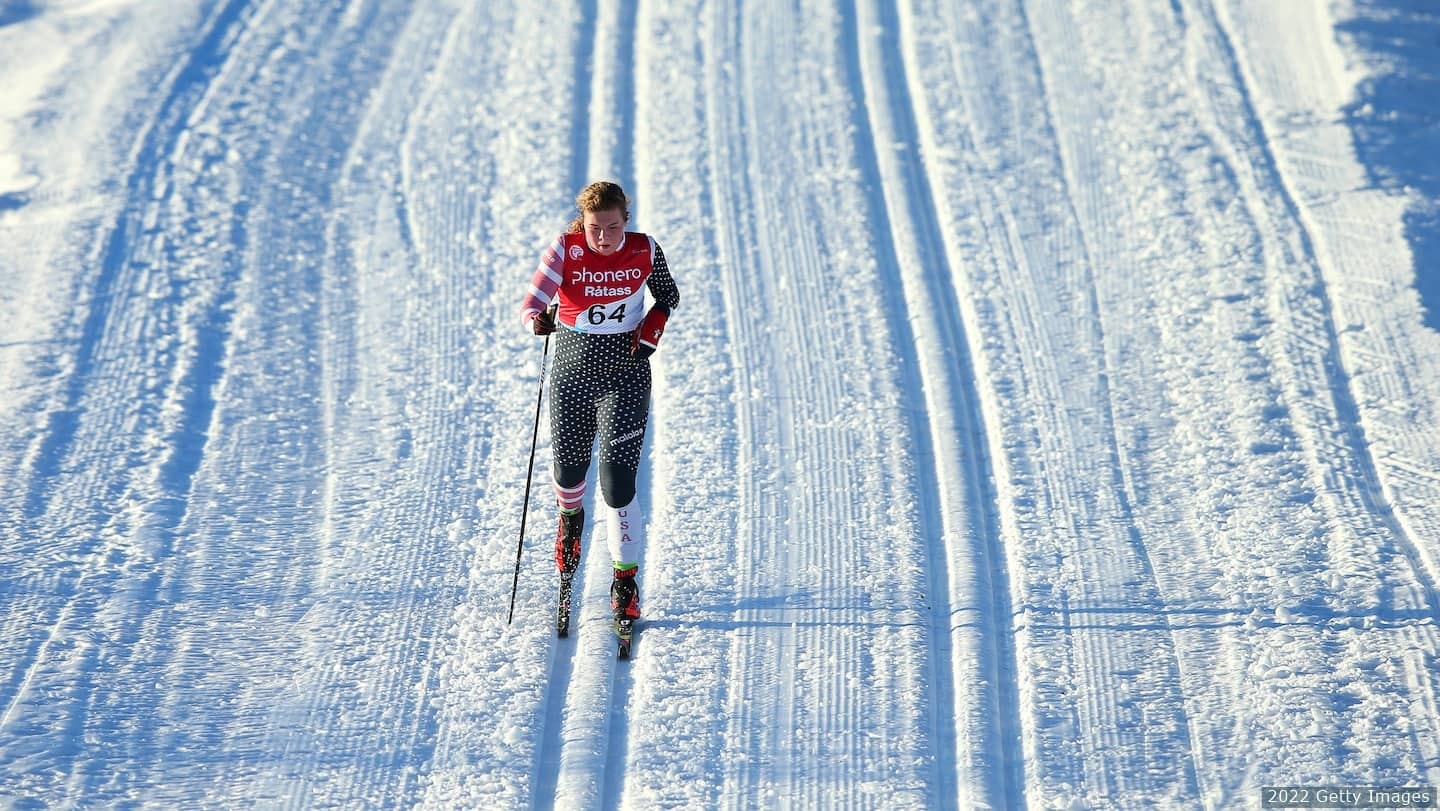 Sydney Peterson competes at the 2021 Para Snow Sports World Championships. (Photo: Alex Livesey)
It has been a memorable offseason for some of the U.S. Para Nordic skiers.
Lera Doederlein and Max Nelson graduated from high school only a few months after they made their Paralympic debuts in Beijing.
Oksana Masters got engaged to her longtime boyfriend Aaron Pike, who's also her teammate on the U.S. Paralympics Nordic Skiing national team.
Now that the winter is approaching, all four of them will soon be competing again on snow.
Members of the U.S. Para Nordic skiing national and development teams will get to spend this upcoming season experimenting with new things as they work toward the Paralympic Winter Games Milano Cortina 2026.
"We have all of our medalists from Beijing returning, so that's really exciting. So that's obviously athletes who've proven they can be at the top level of the sport," said Eileen Carey, director of U.S. Paralympics Nordic Skiing. "And then I think we're always excited and looking for those athletes who are making breakthrough performances."
The U.S. will bring a roster featuring a mix of proven medalists and promising newcomers to its first world cup competition as a team in Planica, Slovenia, on Jan. 11. Here are six Para Nordic skiers to watch this season.
Jake Adicoff
Adicoff has traveled across the globe this offseason to train on snow.
The four-time Paralympic medalist took part in a training camp on Haig Glacier near Canmore, Alberta. He then went skiing in Victoria, Australia.
Adicoff thought he was done competing in Nordic skiing after he earned a silver medal in the men's visually impaired 10-kilometer cross-country race at the Paralympic Winter Games PyeongChang 2018.
However, the Sun Valley, Idaho, native, felt the urge to continue competing and came out of retirement to race in Beijing with his close friend and guide, Sam Wood.
Adicoff and Wood have won three Paralympic medals together, including a gold as members of the U.S. cross-country mixed relay team in Beijing. U.S. Ski & Snowboard named the pair as its Adaptive Athletes of the Year.
Adicoff will look to keep the momentum going this season.
Dani Aravich
The past year has been busy for Aravich.
She made her Paralympic debut as a sprinter in Tokyo, and she followed it up six months later by competing in Beijing. But she's not a two-sport athlete anymore.
Aravich said she decided to stop competing in track and field so she could turn her focus entirely to developing as a Nordic skier. She's looking forward to the start of the season.
"This is the first time now since I started skiing that I'm only skiing and not running track and field as well," said Aravich, a standing skier and native of Boise, Idaho. "So to have all my attention on skiing, I think we have some room to definitely play around with my training and with my technique."
Aravich showed potential as a rising star in Beijing. She earned a pair of top-10 finishes, placing eighth in the cross-country sprint race and ninth in the cross-country middle-distance race.
Kendall Gretsch
Eight days before Gretsch celebrated her 30th birthday earlier this year, she tried downhill skiing for the first time at Breckenridge Ski Resort in Colorado.
Now Gretsch, a ski skier from Downers Grove, Illinois, is getting back to competing in Nordic skiing, where she has thrived.
Gretsch earned three medals in Beijing, including a gold in the biathlon middle-distance race. It capped a memorable year for the two-sport star. Just a few months before arriving in Beijing, Gretsch rallied down the stretch to win a gold medal in the paratriathlon by one second at the Tokyo Paralympics.
Having become only the fifth American to win gold medals in both the Summer and Winter Paralympics, she now has four Paralympic golds across her two sports and six total medals.
Erin Martin
The Seattle native said she learned a lot during her first Winter Paralympics in Beijing.
As a relative newcomer to Nordic skiing, Martin was excited to compete on the world's largest stage. It also gave her the opportunity to focus on her "process" and how she prepares for a race.
A sit skier, Martin finished 15th in the cross-country middle-distance race and 16th in the cross-country sprint race in Beijing. She's now about to start her first season as a member of the U.S. Paralympics Nordic Skiing development team.
In September, Martin worked on her fundamentals as a sit skier while taking part in a training camp with Masters, Aravich and Doederlein in Sweden.
"I think going into the season I want to take advantage of times when I am skiing with the other team members to learn from them and share my experiences and really try to collaborate as much as I can so I learn as much as I can," Martin said.
Oksana Masters
Masters has transcended the Para sports world and become a crossover star.
In June, she was the first Para athlete to ever get nominated for the ESPY award in the Best Athlete, Women's Sports category. And her memoir, "The Hard Parts," will be published Feb. 21 as the season is underway.
"I'm actually starting to realize I'm an athlete," said Masters, a native of Louisville, Kentucky. "I belong here when I always second-guessed myself and doubted myself."
As the most decorated U.S. Winter Paralympian of all time, Masters is considered a favorite in most races she enters. It doesn't matter if it's in Nordic skiing or cycling. Masters won her first two world titles in Para-cycling in August. She has since transitioned back to Nordic skiing and started training again on snow.
Masters will look to continue her dominance as a sit skier this season. All but three of her 17 Paralympic medals have come in Nordic skiing.
Sydney Peterson
Peterson is coming off a breakout performance in Beijing.
The Lake Elmo, Minnesota, native was a late addition to the U.S. team after she received a special invitation to compete in Beijing three weeks before the Games started. She responded by earning three medals during her Paralympic debut.
Peterson won a gold medal as a member of the U.S. cross-country skiing mixed relay team. She also captured a silver in the cross-country long-distance race and a bronze in the cross-country sprint race.
Peterson, a standing skier, will turn 21 during this season. Even though she has been skiing since she was a kid, Peterson is still new to Nordic skiing. Her future in the sport looks bright.
Alex Abrams has written about Olympic sports for more than 15 years, including as a reporter for major newspapers in Florida, Arkansas and Oklahoma. He is a freelance contributor to USParaNordicSkiing.orgon behalf of Red Line Editorial, Inc.