National Para Nordic Development Race Series Opens Its Second Season In Maine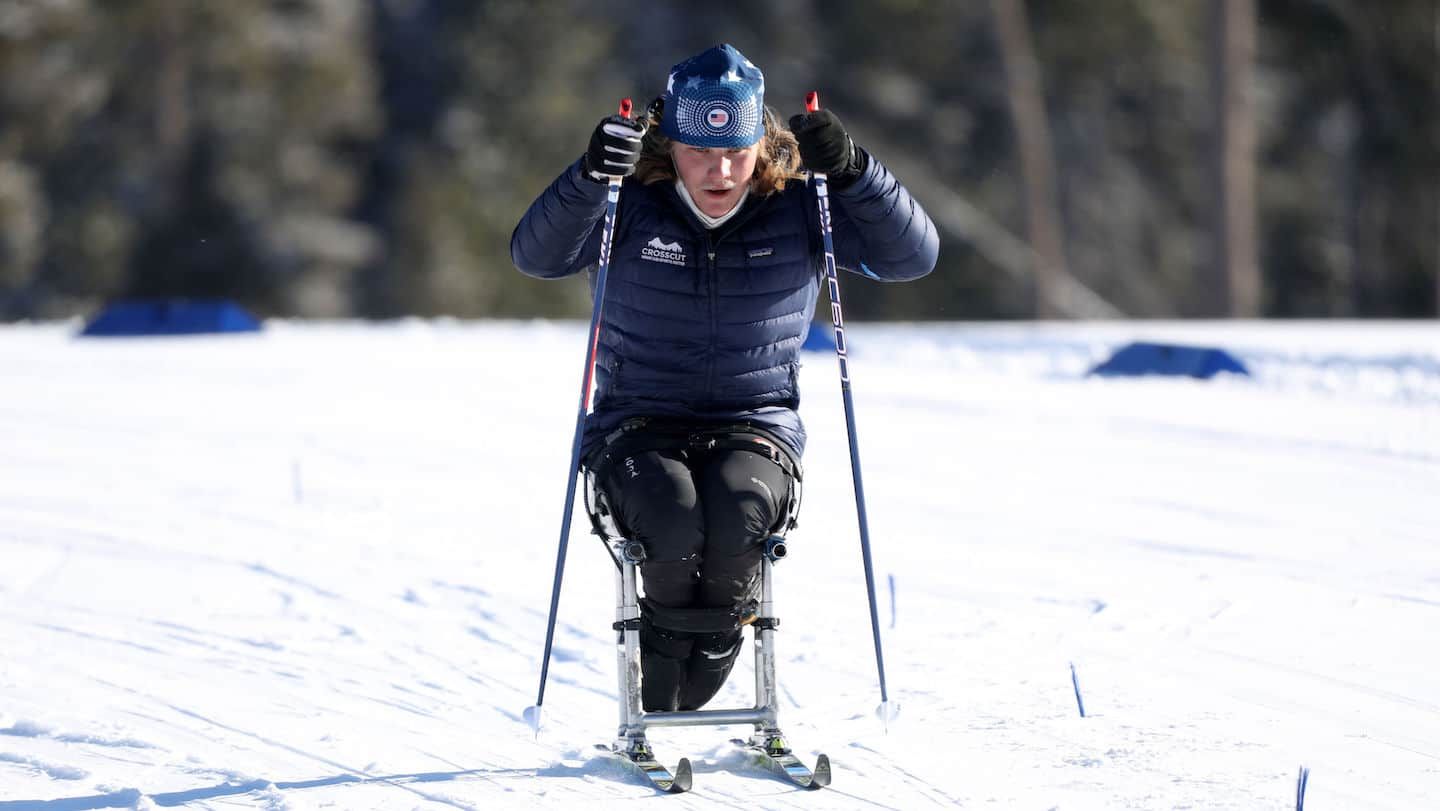 Ty Wiberg competes at the 2021 U.S. Paralympics Nordic Skiing Sit Ski Nationals.
Ty Wiberg had no doubt that he'd compete in the National Para Nordic Development Race Series this winter after taking part in its inaugural season a year ago.
Wiberg showed his potential as a sit skier while racing last season in the hopes of someday qualifying for the Paralympic Winter Games. He finished second in the race series, which is a type of development league started by U.S. Paralympics Nordic Skiing.
Paralympian Dani Aravich was crowned the winner.
The new race circuit provided Aravich, Wiberg and other adaptive athletes with more opportunities to get on snow and compete as they look to develop as Para Nordic skiers. It also encouraged them to race hard, especially since prizes and bragging rights were on the line.
"It was more race experience for sure, and that was the mindset I went in with. It's more race experience," said Wiberg, a junior at Montana State University who was named along with Aravich to the U.S. Paralympics Nordic Skiing development team. "It's more opportunities to go against some more athletes, so I have other options and I'm not just racing by myself. So it was awesome to have that motivation, and then also the motivation to possibly place and then win those prizes."
The second season of the National Para Nordic Development Race Series kicked off on Dec. 4 with the Quarry Road Opener in Waterville, Maine.
It was the first of five races that will make up the circuit's 2022-23 season, which will conclude with the U.S. Biathlon National Championships in Casper, Wyoming, in late March.
Events will also be hosted in Utah, Idaho and Washington, making the development series a circuit that spans across the whole of the U.S.
"It's open to everybody. That's much of the drive behind this is just to encourage all athletes at all levels of development to get out there and race and have some experience," BethAnn Chamberlain, a development coach with U.S. Paralympics Nordic Skiing, said. "We've found that some athletes are timid or don't think they're ready to race, whereas we see racing as a step in development. And so everybody is welcomed."
Chamberlain said U.S. coaches were looking at ways to get adaptive athletes to compete in more domestic races. They also wanted to grow Para Nordic skiing and introduce the sport to more people around the country.
As a result, U.S. Paralympics Nordic Skiing started the National Para Nordic Development Race Series. Its inaugural season consisted of four races, and it has grown to five races in its second season.
Chamberlain said around 30 adaptive athletes are expected to take part in the race circuit over the next three months. Athletes move up in the standings by earning points from competing in events and finishing in the top three at races.
"There are a lot of motivations behind this, but having the experience of planning out the season, planning out the races and the planning of the training behind it and setting goals is all part of the development in any athlete's journey as they compete," Chamberlain said. "Whether they reach the Paralympics or they reach their high school team, that's a really important piece and it's also really fun."
Like Wiberg, Heather Galeotalanza is a Paralympic hopeful who competed in the circuit's inaugural season. She has returned for its second season.
Galeotalanza traveled from her home in Boston, where she works as a nurse, to race in the Quarry Road Opener earlier this month.
She plans to compete in the season's next two events — the U.S. Sit Ski Nationals in Midway, Utah, on Jan. 2-5 and a month later at the Boulder Mountain Tour in Sun Valley, Idaho. Galeotalanza said she benefits from getting as many opportunities as possible to race on snow. It's all part of her development as a Para Nordic skier.
"I think every race you can learn something, whether you're taking away something like learning about pacing or when to push yourself and cornering and practicing passing other people when the course is crowded," Galeotalanza said.
"Just that real-time practice because you can practice cornering and you can practice coming into a corner with multiple people, but it's always a little bit different when you're in a race and everyone is trying to go as fast as possible," she said.
Alex Abrams has written about Olympic sports for more than 15 years, including as a reporter for major newspapers in Florida, Arkansas and Oklahoma. He is a freelance contributor to USParaNordicSkiing.orgon behalf of Red Line Editorial, Inc.