Roundup: Oksana Masters Finds New Ways To Train After Surgery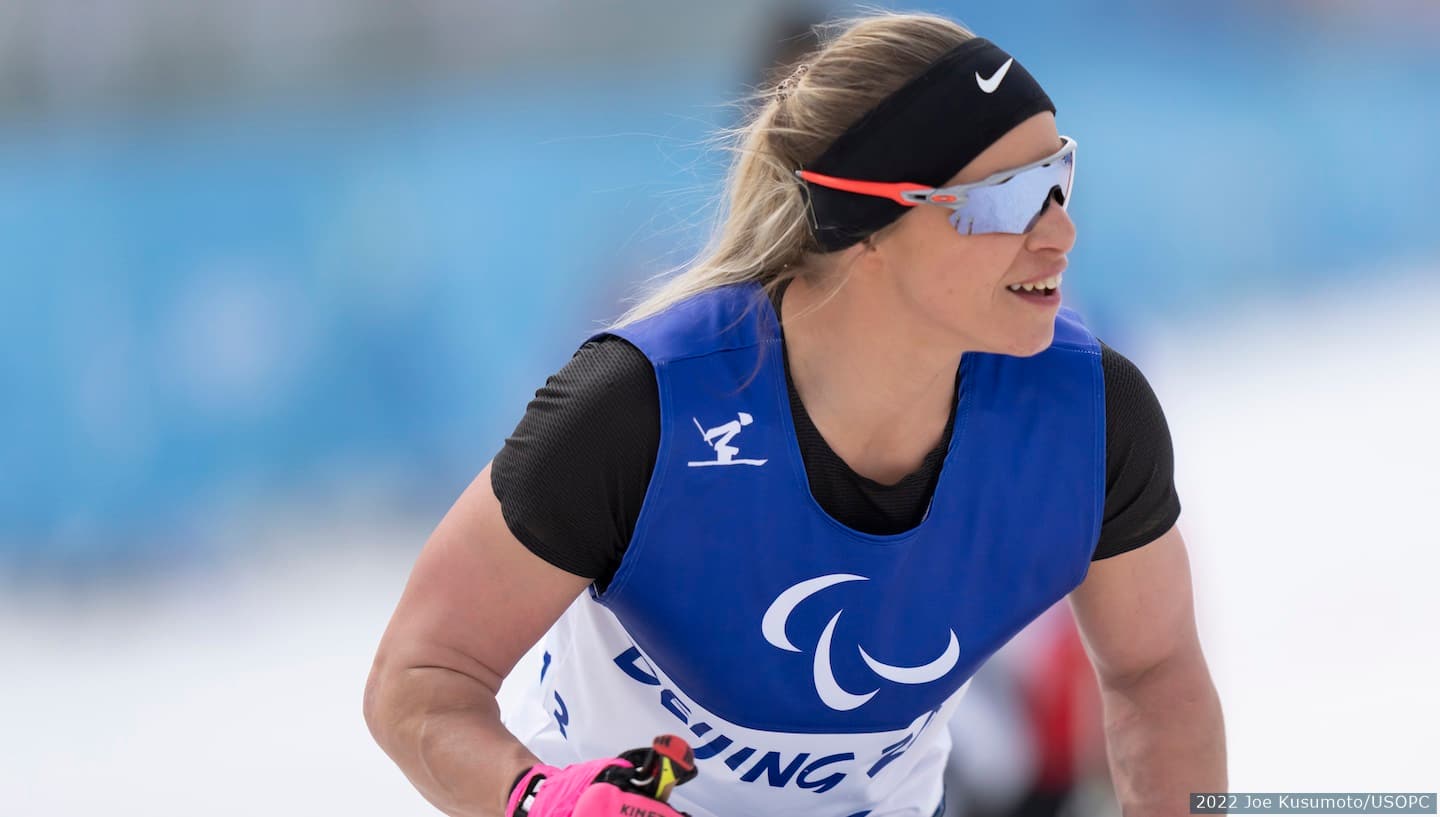 Oksana Masters looks on after finishing a race at the Paralympic Winter Games Beijing 2022. (Photo: Joe Kusumoto)
Every other week we scour the web for the latest going on in the world of U.S. Para Nordic skiing. Here's what you missed!
Oksana Masters Gets Creative In Her Training
Oksana Masters has gotten creative and found a way to continue training as she recovers from recent surgery on her left hand.
Masters, the most decorated U.S. Winter Paralympian of all time, shared a video on Instagram of herself doing a workout in a bathroom. In the video, she's sitting on a stool and using cords to mimic the arm movements she does while pushing herself on her sit ski.
"As an athlete, the clock never stops running, especially when injuries happen," Masters wrote. "Happy to be making baby steps even if it means taping ski grips to forearm and working towards the starting line from the bathroom."
The 17-time Paralympic medalist wrote in another Instagram post that she twice visited an emergency room because of her hand injury. Despite the setback, she has maintained her sense of humor.
"Leaving the first training camp with two visits to the emergency room, one trip to Vail, Colorado, to the Steadman Clinic, a surgery, and 1 working limb," Masters wrote. "I really know how to start a season."
Masters recently spoke to Morning Honey about her unexpected rise as a Para Nordic skier.
"I talk about entering cross-country skiing and that sports was a solid ground for me," Masters told the online publication. "It was my lighthouse and way of navigating not knowing things. It was very therapeutic."
National Para Nordic Development Race Series Starts Second Season
U.S. Paralympics Nordic Skiing started the National Para Nordic Development Race Series a year ago as a development league for up-and-coming athletes.
After a promising inaugural season, the circuit kicked off its second season on Dec. 4 with the Quarry Road Opener in Waterville, Maine.
The circuit will feature five races this season, concluding with the U.S. Biathlon National Championships in Casper, Wyoming, in late March.
"It's open to everybody. That's much of the drive behind this is just to encourage all athletes at all levels of development to get out there and race and have some experience," BethAnn Chamberlain, a development coach with U.S. Paralympics Nordic Skiing, told USParaNordicSkiing.org.
Two-time Paralympian Dani Aravich won the circuit's inaugural season last year.
Dani Aravich's Dad Plays Coach
Aravich's father was recently cheering her on during one of her biathlon races. He tried to offer her some pointers along the way.
Aravich shared a video on Instagram of her father offering her encouragement as he stood alongside the course as she skied.
She couldn't help but laugh at some of the tips her father gave her during the race, such as when he hollered out, "Hips and hand! Hips and hand!"
"Love his race commentary," Aravich wrote. "Also he had no idea what 'hips and hands' meant, he heard someone else's coach say it."
Ruslan Reiter Enjoys More Time On Snow
Ruslan Reiter was back on snow and skiing near his home in Bozeman, Montana.
The two-time Paralympian shared several photographs on Instagram from his time skiing during the first weekend of the season at Bridger Bowl in Montana.
In two of Reiter's photographs, there's a small plane parked on the snow. The plane has a U.S. Paralympics Nordic Skiing sticker on the top of it.
Reiter has said his focus over the next two years is to attend flight school in the hopes of someday becoming a pilot.
Alex Abrams has written about Olympic sports for more than 15 years, including as a reporter for major newspapers in Florida, Arkansas and Oklahoma. He is a freelance contributor to USParaNordicSkiing.orgon behalf of Red Line Editorial, Inc.