Paralympic Hopeful Ty Wiberg Is Getting Back To Normal Life After Brain Surgery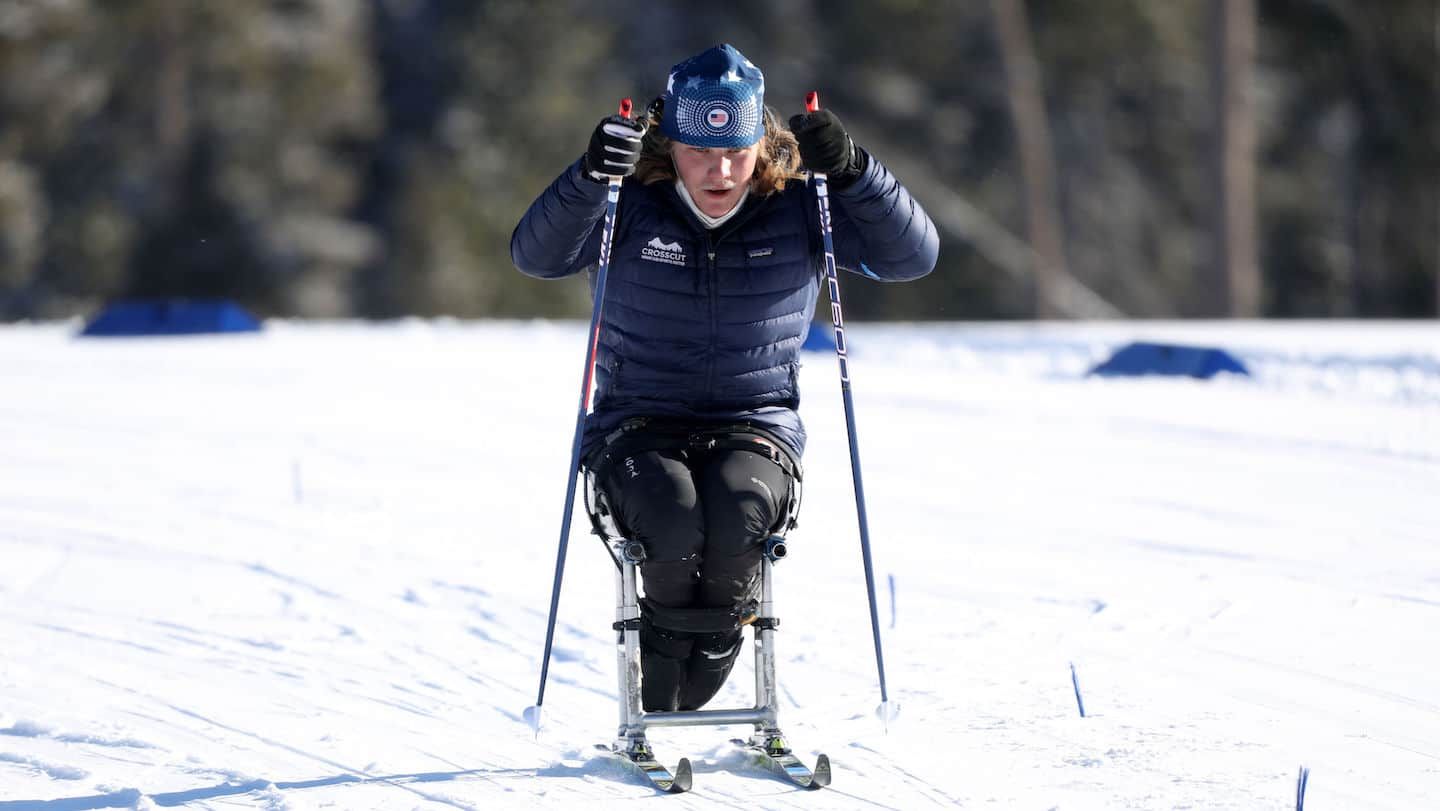 Ty Wiberg competes at the 2021 Sit Ski Nationals. (Photo: Crosscut Mountain)
During the first week of November, Ty Wiberg felt like Lucy Whitmore, Drew Barrymore's character in the 2004 romantic comedy "50 First Dates."
Doctors told Wiberg that he'd experience some short-term memory loss in the days immediately after he underwent brain surgery on Halloween. He was encouraged to write down how he spent his days since there was a chance he wouldn't remember them.
"Going into it, I was expecting (short-term memory loss), but I wasn't at the same time," Wiberg said. "So waking up that whole week I was in the hospital, like if I didn't journal about what I did the previous day, I would forget it. I wouldn't have any idea."
Wiberg, who turned 21 on Nov. 27, hopes to qualify someday for the Winter Paralympics as a Nordic sit skier. He has shown potential in cross-country skiing and biathlon, and he just missed out on earning a trip to the Paralympic Winter Games Beijing 2022 in March.
Like many other people born with spina bifida, Wiberg gets hydrocephalus, better known as "water on the brain." He had a surgically placed tube in his brain to help drain the extra fluid, but it started malfunctioning a few years ago.
Wiberg said he started noticing issues with the tube. He felt pain where the tube was in his neck, and as the fluid built up, he began feeling lethargic and experiencing headaches.
A neurosurgeon informed Wiberg that there was a new procedure available, in which he could have a hole put in the base of the third ventricle of his brain. The extra fluid around his brain would drain through the hole, and he'd no longer need the tube.
As nervous as he was about it, Wiberg said it was a "no-brainer" to get the procedure done at the Mayo Clinic Hospital in Rochester, Minnesota, on the last day of October.
"For me it was (like), if there's a procedure that can take away a foreign object within my body and replace it with something that's just natural, relatively speaking, let's do it," Wiberg said. "Obviously, there are risks to surgery, and especially with that surgery there was a seven percent risk for infection.
"… I was worried about it, and it made me nervous."
Instead of keeping it a secret, Wiberg decided to share that he had brain surgery on Instagram. He's now starting to feel more like himself, and he got back on snow earlier this month. It was the first time Wiberg skied since before the surgery.
Wiberg plans to compete in the U.S. Paralympics Nordic Skiing Sit Ski Nationals in Midway, Utah. The competition runs Jan. 1-5.
"For sit ski nationals, honestly, coming off of major brain surgery just about four weeks ago and just getting back into it, the goal is to just go," said Wiberg, who's a junior at Montana State University. "At this moment, I'm obviously going to set expectations for myself, but really (it's) to just go and compete."
While recovering afterward in the hospital, Wiberg said his doctors, his nurses and his parents made sure that he kept a journal to remind himself of what he did daily.
Once he returned home and started feeling better, Wiberg said he thought he'd no longer experience short-term memory loss. He didn't feel he needed to keep writing down everything, but he was wrong.
"I didn't journal for the whole day, and that afternoon my parents kind of started quizzing me about what I did during the day. And I just sat there and I could maybe recall one thing that I did the entire day," Wiberg said. "I broke down.
"It was the scariest thing ever thinking you had it dialed and you just knew what was going on and then in that moment not being to recall anything."
Wiberg wasn't allowed to resume training for Para Nordic skiing until after Thanksgiving. He admitted he felt antsy sitting still for so long.
He eventually eased his way back into working out, using exercise bands and soup cans as small weights to get his body moving again. He returned to skiing on Dec. 1, though he noticed once he was on snow how much the long layoff had taken a toll on him.
Wiberg said he wanted to share photos of himself in the hospital and the news about his surgery with his Instagram followers, many of whom have a disability like himself. It was another chance for him to use his social media presence to show people that he struggles at times as both a world-class athlete and a college student. As he put it, it's OK to not be OK and ask for help.
"I'm showing the ugly side of having a disability, being an athlete, getting back to being an athlete with a disability," Wiberg said. "So (it's up to me) just show all the parts of my life and be open with everybody because it isn't all sunshine and rainbows."
Alex Abrams has written about Olympic sports for more than 15 years, including as a reporter for major newspapers in Florida, Arkansas and Oklahoma. He is a freelance contributor to USParaNordicSkiing.orgon behalf of Red Line Editorial, Inc.