Seven U.S. Nordic Skiers Have A Chance To Shine At World Championships In Lillehammer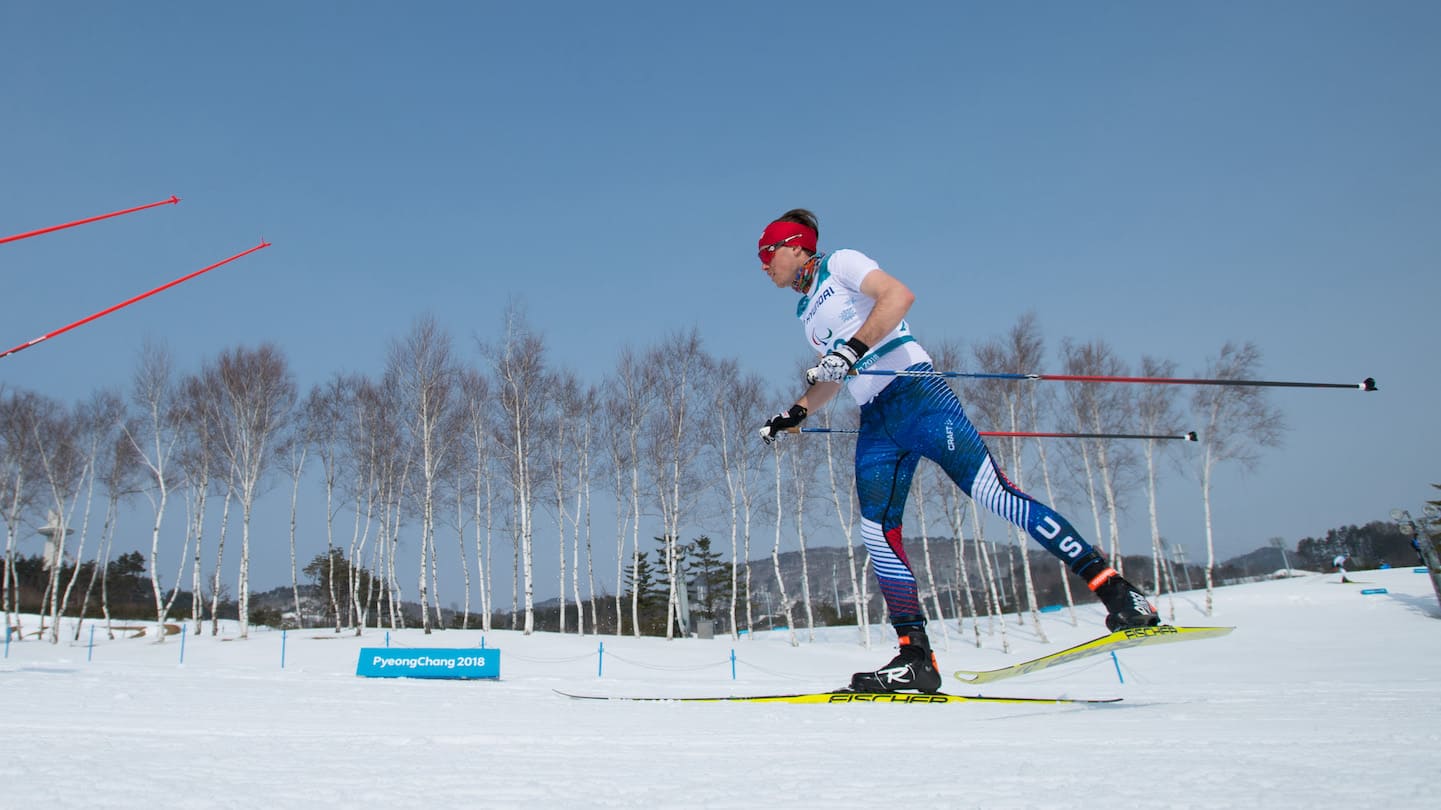 Jake Adicoff competes at the Paralympic Games PyeongChang 2018. (Photo: Mark Reis)
The world's top Para Nordic skiers had planned on spending the first few months of the new year preparing for the Paralympic Winter Games Beijing 2022.
They didn't anticipate having to compete for a world championship as well.
The coronavirus pandemic has created a bit of a dilemma for several members of the U.S. Paralympics Nordic Skiing national and development teams.
How important is it for them to do well over the next few days at the inaugural World Para Snow Sports Championships in Lillehammer, Norway, when in two months they'll get to race on an even bigger stage in Beijing?
"We are looking at this event (in Lillehammer) as a regular world cup rather than a championship event, so our main focus is doing what we need to do to be in top form for the Paralympic Games," said Eileen Carey, director of U.S. Paralympics Nordic Skiing.
The U.S. is sending seven athletes, led by Paralympic gold medalists Dan Cnossen, Kendall Gretsch and Oksana Masters, to the world championships.
The rest of the American team is made up of proven skiers — five-time Paralympian Aaron Pike and 2018 silver medalist Jake Adicoff with his personal guide Sam Wood — and rising stars Dani Aravich and Sydney Peterson.
The world championships run from Saturday to Jan. 23. The Para Nordic skiing portion begins Thursday at the Birkebeiner Ski Stadium, one of the sites of the 1994 Lillehammer Winter Olympics and Paralympics.
Lillehammer 2021, as the world championships are being called, was initially scheduled for February of 2021 before it was postponed because of the pandemic.
The event will mark the first time that the world championships for Para Nordic, Para Alpine skiing and Para snowboarding will be hosted at the same time in the same city.
Adding to the uniqueness of the event, Lillehammer 2021 will offer a preview of the Beijing Winter Paralympics, which are set to begin in two months.
Around 750 athletes are expected to compete at the world championships. Para Nordic skiing is expected to have the largest field of the three sports.
Around 200 athletes will compete in 38 Para Nordic skiing medal events — 36 individual races and two relays — in biathlon and cross-country skiing.
"We are excited about this being a multi-sport world championship. We are all fans of other athletes and sports, so we welcome any opportunity to be in the same place," Carey said. "In the past, this has only happened during the Games, and I love the move toward making a multi-sport world championship a regular event."
Lillehammer 2021 will serve as an early test for the Americans, who opened the new Para Nordic season last month at a world cup event in Canmore, Alberta.
Masters and Gretsch, who each won two gold medals at the 2018 PyeongChang Winter Paralympics, will be among the top American medal contenders in Norway.
The two sit skiers combined to win six medals over eight days in Canmore. Gretsch then won both of her races at last weekend's U.S. Paralympics Nordic Skiing Sit Ski Nationals in Bozeman, Montana.
Masters, a 10-time Paralympic medalist in Nordic skiing, cycling and rowing, was forced to miss the nationals after she and Pike tested positive for the coronavirus. Both athletes are recovering and waiting for the clearance that will allow them to travel to Norway for worlds.
"Like everyone in COVID times, we are all learning to be adaptable, accept changes in schedules and events and try to continue to do what we love to do while staying safe within our community and around the world as we travel," Carey said.
"Being able to adjust and spend energy on what we can control is a skill the best athletes train. We are just having a lot more opportunity to practice that these days."
Cnossen, like Gretsch, won both of his races at the nationals in Bozeman. The former U.S. Navy SEAL will look to qualify for his third Winter Paralympics and add to his medal count in Beijing. He has earned six Paralympics medals — a gold, four silvers and a bronze.
Pike, meanwhile, has gotten off to a promising start to the season. He earned a pair of bronzes in the biathlon at the Canmore world cup, and the world championships will be another step in his bid to medal at his sixth Winter Paralympics in March.
Alex Abrams has written about Olympic sports for more than 15 years, including as a reporter for major newspapers in Florida, Arkansas and Oklahoma. He is a freelance contributor to USParaNordicSkiing.org on behalf of Red Line Editorial, Inc.