Golden start for Adicoff and Gretsch on first day of World Para Snow Sports Championships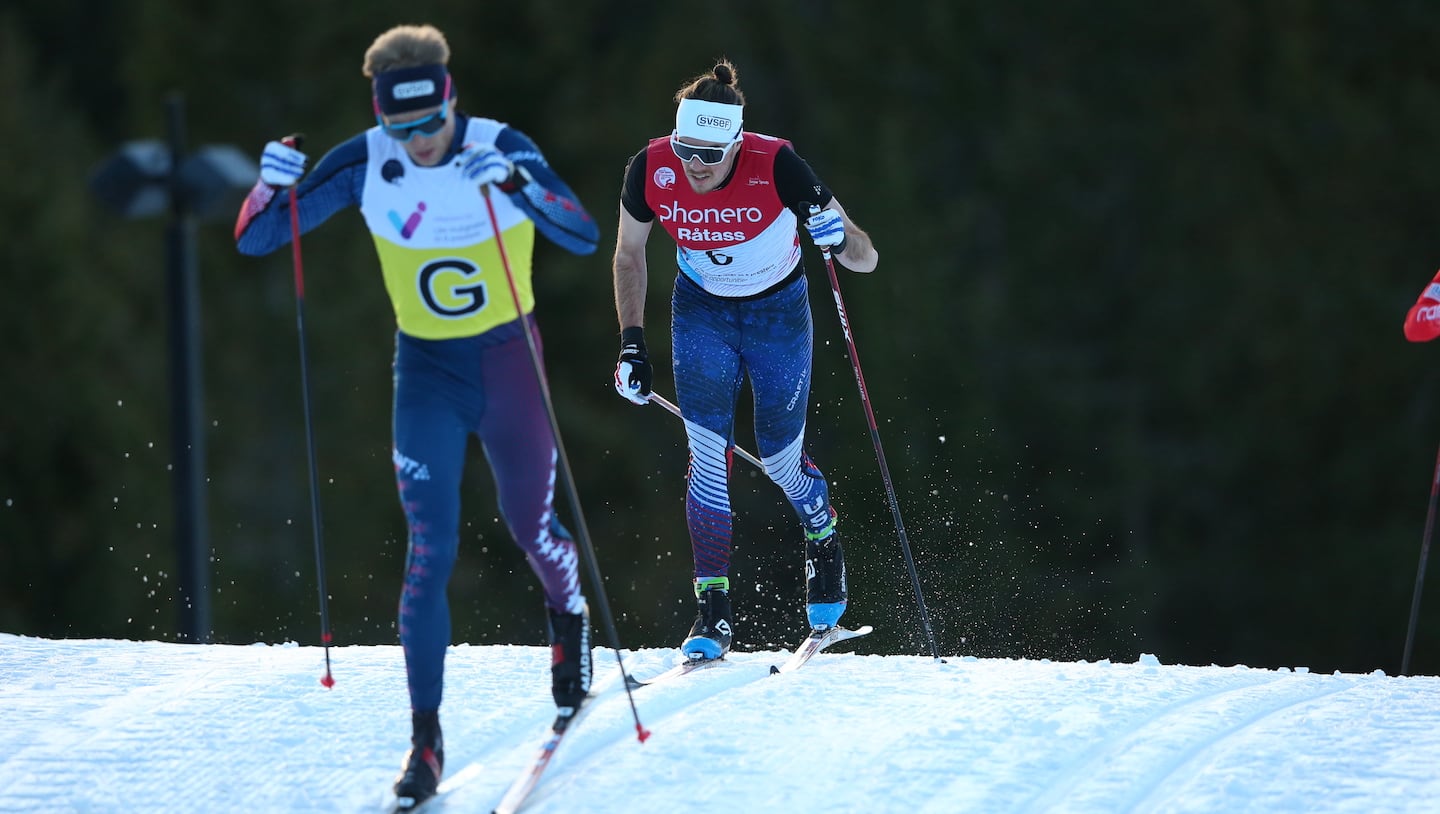 Jake Adicoff and guide Sam Wood compete on the first day of the Lillehammer 2022 World Para Snow Sports Championships. (Photo: Alex Livesey/Getty Images)
LILLEHAMMER, NORWAY– U.S. Paralympics Nordic Skiing got off to a strong start at the Lillehammer 2021 World Para Snow Sports Championships, as Paralympian Jake Adicoff (Sun Valley, Idaho), Paralympic champion Kendall Gretsch (Downers Grove, Illinois) and Sydney Peterson (Lake Elmo, Minnesota) combined for two golds and a silver in the middle-distance cross-country skiing races.
Adicoff and guide Sam Wood (Harpswell, Maine) set the tone for Team USA by clinching the competition's first championship title. The event this year is a historical first-ever combined competition in which Para Nordic, alpine and snowboard are competing concurrently.
Adicoff and Wood teamed up for gold in the men's visually impaired middle-distance cross-country race, besting silver medalist Stanislav Chokhlaev of the Russian Paralympic Committee by a factored time of 16.8 seconds.
"It feels great," Adicoff said of his performance today. "Lillehammer has been skiing really well so far, I've been having a lot of fun here. It feels great to go and get that first podium, and hopefully we can go out and get some more here."
The win today is the first world championship medal for Adicoff, who won a Paralympic silver medal in the men's visually impaired 10km cross-country race at the Paralympic Winter Games PyeongChang 2018. The 26-year-old took off in the second of five circuits in today's 12.5km competition and built his lead from there, never trailing in the second half of the race. Adicoff maintained a consistent pace throughout, building his lead over Chokhlaev and eventual bronze medalist Yury Holub of Belarus.
Adicoff made a strong case for his third Paralympic team with the win today, but it was only last February when he decided to chart a course for the Paralympic Winter Games Beijing 2022. He had retired from the sport following PyeongChang, but was training casually with friends during the COVID-19 pandemic when he was invited to take part in a camp with Team USA. At the time, he had a job working as a frontend engineer for Uber, and has been able to maintain part-time hours for the company while he trains and competes.
Adicoff participated in the camp, and hasn't hesitated since. He and Wood already took bronze and recorded a fourth-place finish in the team's first world cup races of the season. The pair will next compete on Jan. 18 in the men's visually impaired long-distance cross-country race.
Gretsch, meanwhile, continued her winning ways with a dominant gold medal in the women's sitting middle-distance cross-country race, the dual sport athlete's fifth career world championship win.
Gretsch is having one of the most successful seasons of any Team USA athlete, having won the Paralympic gold medal in Tokyo in paratriathlon over the summer along with a streak of consecutive podium performances on the snow this winter. Gretsch earned six medals in the season-opening world cup event in Canmore, Alberta, and also took double gold at the 2022 U.S. Paralympics Nordic Skiing Sit Ski National Championships earlier this month.
Today was no different as Gretsch flawlessly outpaced silver medalist Valiantsina Shyts of Belarus by a factored time of 56.8 seconds. No other competitor was within a minute of Gretsch, as German Anja Wicker, the third-place finisher, was 1:54.7 behind when she crossed the finish line.
Gretsch, who competes in both cross-country and biathlon disciplines, has a quick turnaround and will suit up again on Jan. 15 for the biathlon sprint race.
"Today was a great way to start off the races," Gretsch said. "I'm looking forward to some fast racing ahead. It's a great opportunity to learn more and get some race experience in before Beijing."
Peterson, a newcomer in the sport of Para Nordic skiing, surprised with a silver medal in her world championships debut as she edged Ukranian Liudmyla Liashenko for second place in the women's standing middle-distance cross-country race. Peterson's performance was especially impressive, given that she only has one other international race under her belt. She made her first appearance for Team USA at the recent world cup in Canmore, placing fifth in her sole competition. Her points accumulation from Canmore were enough to qualify her for the world championship team.
At just 19 years old, Peterson is a sophomore at St. Lawrence University, where she competes for the varsity Nordic skiing team. She was recruited to adaptive sport after a Minnesota-based physical therapist told Team USA development coach BethAnn Chamberlain about her.
Six-time Paralympic medalist Dan Cnossen (Topeka, Kansas) and Paralympian Dani Aravich (Boise, Idaho) also competed for Team USA on the inaugural day of competition. Cnossen took seventh in the men's sitting middle-distance race, while Aravich – another dual sport athlete who competed for U.S. Paralympics Track & Field in Tokyo – nabbed eighth in the women's standing race.
The Lillehammer 2021 World Para Snow Sport Championships, rescheduled from 2021 due to the COVID-19 pandemic, will run through Jan. 23 and features nearly 850 athletes from 42 countries. In addition to being the largest Para sport event in Norway since the 1994 Paralympic Winter Games, the event will offer medalists prize money for the first-time in history.
U.S. Paralympics Nordic Skiing athletes return to competition on Jan. 15 with the men's and women's 6km biathlon disciplines. All events will be streamed live on the U.S. Paralympics Nordic Skiing Facebook Page. Follow U.S. Paralympics Nordic Skiing on Facebook, Twitter and Instagram for daily updates from Lillehammer.
For media requests and photo inquiries, please contact Kristen Gowdy at Kristen.Gowdy@usopc.org.