Masters earns 17th career world championship medal with biathlon sprint silver in Lillehammer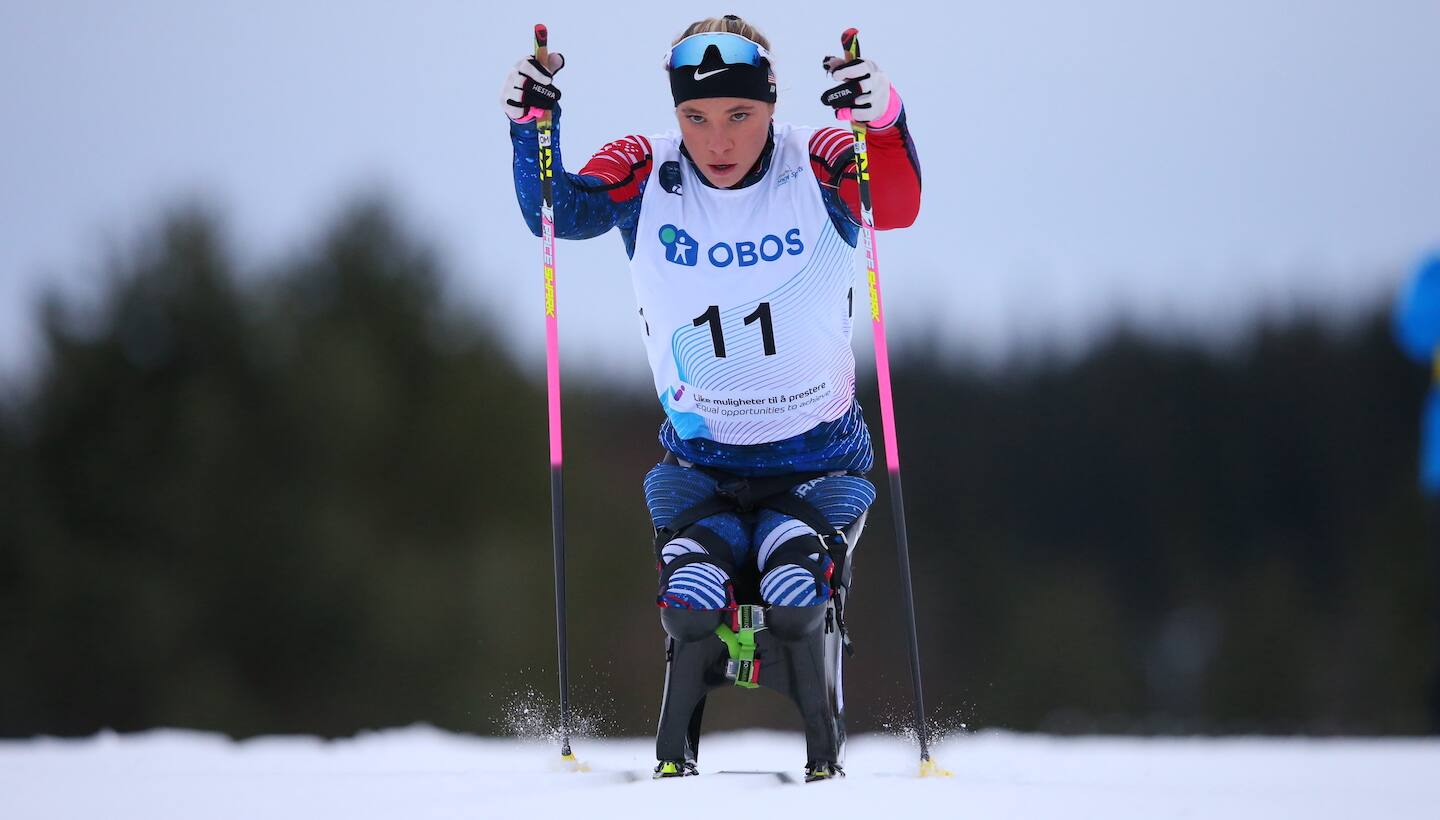 Oksana Masters competes in the women's sitting biathlon sprint race at the Lillehammer 2021 World Para Snow Sports Championships. (Photo: Alex Livesey/Getty Images)
LILLEHAMMER, Norway – Ten-time Paralympic medalist Oksana Masters (Louisville, Kentucky) led the way for Team USA on the second day of Para Nordic skiing competition at the Lillehammer 2022 World Para Snow Sports Championships. Less than 48 hours after a late arrival, Masters picked up her 17th career world championship medal,taking silver in the women's sitting biathlon sprint race.
Masters, who missed the beginning of cross-country skiing competition while recovering from a COVID-19 diagnosis, was cleared to travel in time for today's race, and is set to compete in the remaining slate of Para Nordic disciplines in Lillehammer.
In an epic battle for the gold, German skier Anja Wicker edged Masters by a factored time of 1.6 seconds in the six-kilometer race. Masters looked strong during the skiing portion of the race, but incurred several penalties during her shooting that cost her valuable time.
Masters and Wicker traded the lead for most of the race, and Masters staged major comebacks after the two shooting portions, in which she was penalized. Coming out of the second shooting section, Masters was behind Wicker by more than 22 seconds, but cut the German's lead to less than two seconds in the final ski section. She finished the course with a time of 21:52.8.
"This is a course that's really flat, so there aren't a lot of hills for me to make up time," said Masters. "It was good to see where I am, there's definitely a lot of work to be done with my shooting."
The Paralympic championhas had a blazing start to her Nordic season, winning three of four races in the season-opening world cup event in Canmore, Alberta. One of the most successful multi-sport athletes in the world, Masters is coming off double gold in Para-cycling at the Paralympic Games Tokyo 2020.
Masters said today's performance wasn't her best, but expressed gratitude that she is able to compete, and for her support system that helped get her to Lillehammer safely. This is her fifthcareer world championship silver medal and 14thcareer podium appearance on the world stage in Para Nordic skiing.
"It wasn't an ideal day for me, I'm feeling a lot of jet lag, but I'm just so happy to be here and be on the start line, considering just hours ago it was still up in the air," Masters said. "I'm excited to recover and get some sleep, and also continue to learn from this race and take it into the rest of the competition."
Five-time Paralympian Aaron Pike (Park Rapids, Minnesota), who also arrived late after his own COVID-19 recovery, made his Lillehammer debut in the men's sitting biathlon sprint racefinishing ninth best in the world.
Pike, who also competed in Tokyo over the summer for U.S. Paralympics Track & Field, took bronze in the biathlon sprint at the Prince George 2019 World Para Nordic Skiing Championships. He comes to Lillehammer seeking his second career world championship medal and his sixth Paralympic berth.
Paralympic champion Dan Cnossen (Topeka, Kansas), the other American in the men's sitting class, finished 14th with a time of 21:10.4. The six-time Paralympic medalist and retired Navy SEAL opened his world championship campaign with a seventh-place finish in Thursday's middle distance cross-country race.
Rounding out Team USA's performances on the day was Paralympian Dani Aravich (Boise, Idaho) who made her world championship biathlon debut and finished 10th. The 25-year-old competed in track and field alongside Pike in Tokyo and is aiming to make her first winter Paralympic team. She completed today's women's standing biathlon sprint race in 22:23.4.
U.S. Paralympics Nordic Skiing athletes return to competition tomorrow withthe men's and women's middle distance biathlon disciplines. All events will be streamed live on the U.S. Paralympics Nordic Skiing Facebook Page. Follow U.S. Paralympics Nordic Skiing on Facebook, Twitter and Instagram for daily updates from Lillehammer.
For media requests and photo inquiries, please contact Kristen Gowdy at Kristen.Gowdy@usopc.org.