Masters' 10th Career World Title Headlines Team USA's four long-distance cross-country medals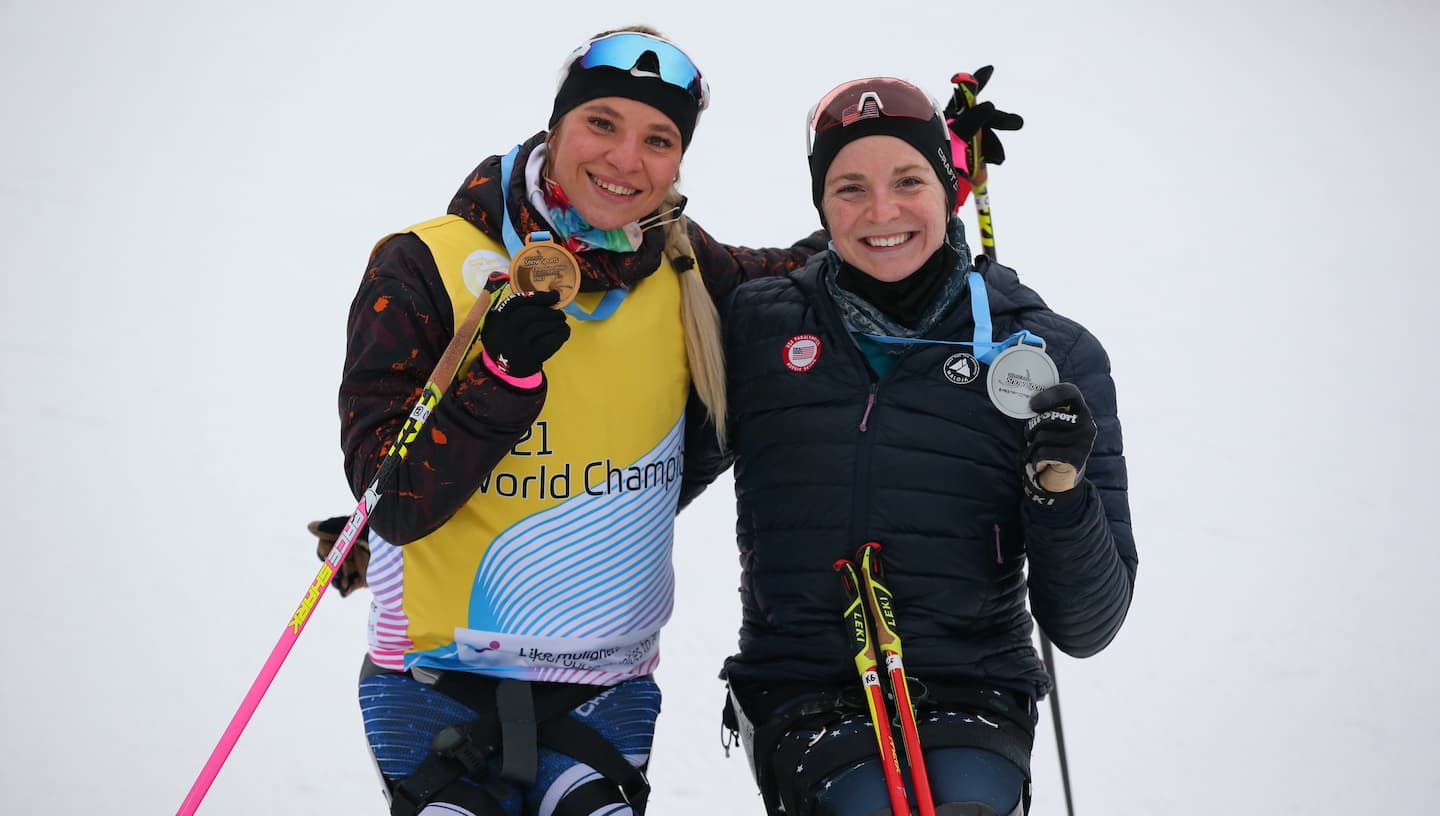 Oksana Masters and Kendall Gretsch pose with their medals after taking first and second in Lillehammer. (Photo: Alex Livesey/Getty Images)
LILLEHAMMER, NORWAY – Ten-time Paralympic medalist Oksana Masters (Louisville, Kentucky) led the field from start to finish in Tuesday's women's sitting cross-country long-distance race en route to winning her 10th career world championship title. The gold is Masters' third podium appearance at the Lillehammer 2021 Para Snow Sports World Championships.
It was the biggest day yet for Team USA at Birkebeineren Ski and Biathlon Stadium. All four Americans competing finished on their respective podiums in a strong long-distance cross-country skiing showing. Three-time Paralympic gold medalist Kendall Gretsch (Downers Grove, Illinois), already a two-time world champion in Lillehammer, earned her third medal of the competition,finishing just behind Masters for the silver medal in the women's sitting class. Paralympic medalist Jake Adicoff (Sun Valley, Idaho) teamed up with guide Sam Wood (Harpswell, Maine) for bronze in the men's visually impaired 20-kilometer race, while Sydney Peterson (Lake Elmo, Minnesota) nabbed the bronze in a tight women's standing 15-kilometer battle.
Team USA has secured10 medals in four days of cross-country skiing and biathlon competition.
Masters never trailed in the women's sitting 15-kilometer race, and her time of 46:45.2 led to her historic 10th world title. The multi-sport athlete has also won world championship medals in Para-cycling, but all of hertitles have come in Para Nordic skiing. She reminisced after the race, remembering the hope for just one world title at the beginning of her career.
"It's absolutely incredible," she said. "It feels like yesterday where I was that new athlete, never thinking that I would be a world championship athlete. So, to have 10 now ... is incredible and it's a testament to our team's hard work. It's not just me, it's the whole team."
Already a silver and a bronze medalist in Lillehammer, Masters said she was excited to focus on skiing today. Masters is the ultimate endurance athlete, having taken double gold in Para-cycling at the Paralympic Games Tokyo 2020 over the summer. Despite a relatively flat cross-country track in Lillehammer, Masters was able to utilize her strength and fitness to power through the course.
"There aren't a lot of places to get speed on this course," Masters said. "I'm an athlete that likes to climb, that's where I count on speed. I just wanted to ski it smooth and keep it consistent from start to finish, and just capitalize where those opportunities were to find speed."
Behind Masters by less than a minute was teammate Gretsch, who finished on the podium with the silver medal. Gretsch completed the course in 47:54.9, a factored time of nearly 30 seconds ahead of bronze medalist Valiantsina Shyts of Belarus. Gretsch is putting together an impressive resumé at the event, having already won the women's sitting middle-distance races in both cross-country and biathlon as she charts a course for her third Paralympic Games and second in the last six months.
The medal today is the 11th of Gretsch's career. In addition to her eight Para Nordic world championship podium appearances, she is also a three-time paratriathlon world champion.
Adicoff and Wood continued their podium streak after earning silver in the men's visually impaired middle-distance cross-country race on the opening day of competition. The team earned a tightly contested bronze today and finished just 25.8 seconds back of race winner Oleg Ponomarev of the Russian Paralympic Committee. Adicoff and Wood skied to a time of 41:41.5, and while the podium was decided by mere seconds, the Americans were more than three minutes ahead of fourth-place finisher Anthony Chalencon of France.
The Paralympic silver medalist in the 10-kilometer cross-country race, Adicoff is in his first season back sincethe 2018 Paralympic season. He planned to retire after the PyeongChang Games but missed competitive skiing and the camaraderie of the U.S. team, particularly during the COVID-19 pandemic.
Despite the time off, Adicoff has proven that he still ranks among the top men's visually impaired skiers in the world. He earned his first career world championship title in the middle-distance cross-country race to open his competition.
"Spending some time away and coming back gives you a perspective on racing," Adicoff said. "I'm remembering how much fun it really is. It's a blast to be out here and to be racing well. I'm bummed we couldn't get that top spot today, but it was a great race."
In the closest race of the day, Peterson showed poise beyond her 19 years, battling with Paralympians Liudmyla Liashenko and Vilde Nilsen for podium positions and finishing the race just seconds behind the two experienced athletes.
In third place and just 6.3 seconds out of first place at the 5-kilometer mark, Peterson maintained a consistent pace throughout the 15-kilometer contest, earning the bronze and staving off a late surge from fourth-place finisher Oleksandra Kononova. Peterson's factored time of 36:30.5 was just 13.3 seconds behind Liashenko, who won the race.
Peterson, in her world championship debut, also snagged the middle-distance cross-country silver medal in her first event last week.
"It was a really fun race," Peterson said. "I didn't really know what to expect coming into world championships, I just wanted to gain experience. But it's been a lot of fun."
Para Nordic competition resumes on Jan. 20 with the long-distance biathlon competition. All events will be streamed live on the U.S. Paralympics Nordic Skiing Facebook Page. Follow U.S. Paralympics Nordic Skiing on Facebook, Twitter and Instagram for daily updates from Lillehammer.
For media requests and photo inquiries, please contact Kristen Gowdy at Kristen.Gowdy@usopc.org.