U.S. women place fourth in mixed relay to conclude world championships in Lillehammer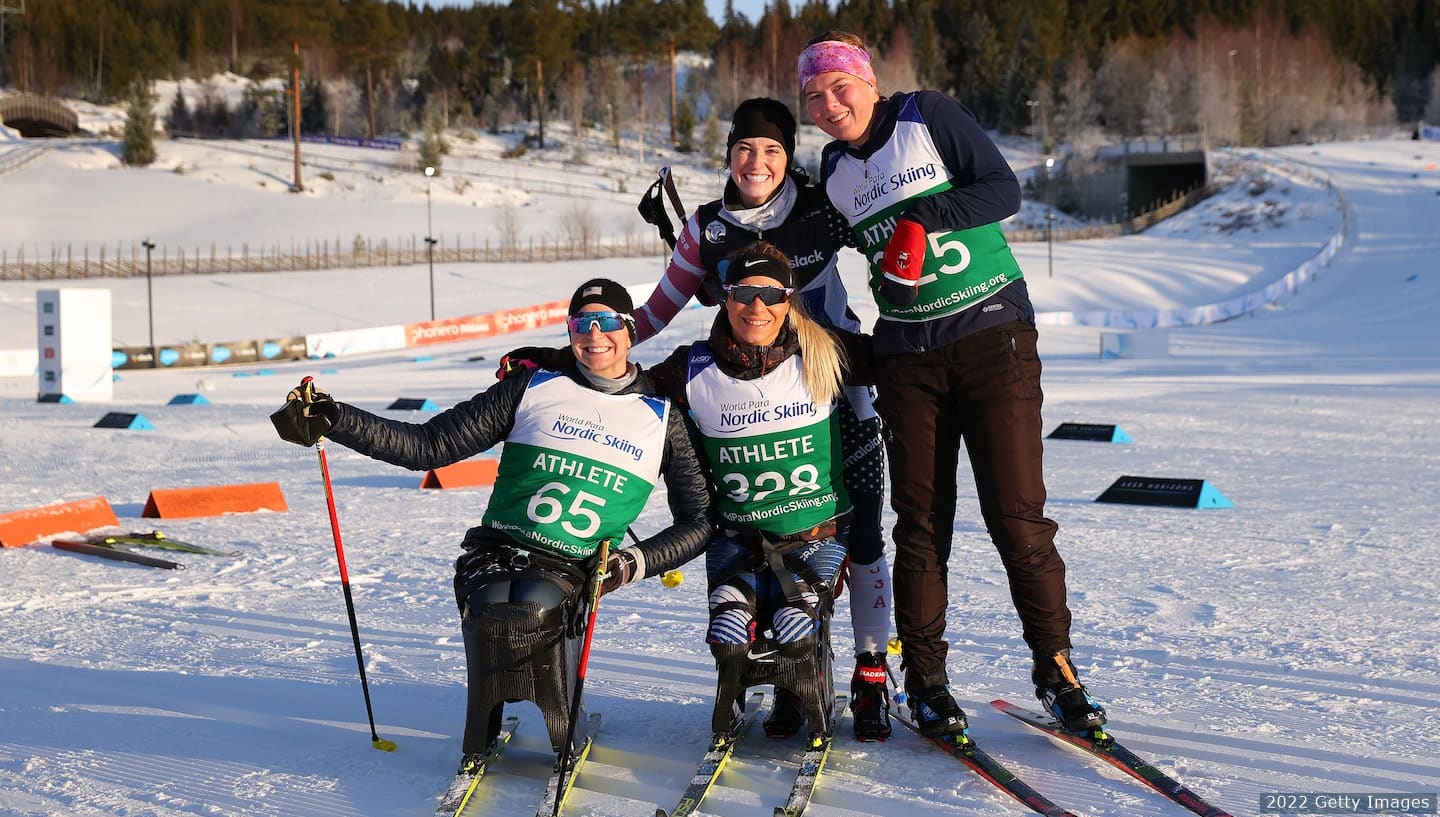 Kendall Gretsch, Oksana Masters, Dani Aravich and Sydney Peterson pose for a photo after the mixed relay competition. (Photo: Alex Livesey/Getty Images)
LILLEHAMMER, NORWAY – All four American women who competed in Para Nordic at the Lillehammer 2021 Para Snow Sports World Championships came together as a team on the final day of competition to finish fourth in the cross-country mixed relay event. Ten-time Paralympic medalist Oksana Masters (Louisville, Kentucky) and two-time Paralympic champion Kendall Gretsch (Downers Grove, Illinois) were joined by Beijing hopefuls Dani Aravich (Boise, Idaho) and Sydney Peterson (Lake Elmo, Minnesota) as one of two all-female teams in the competition.
The American men's team of Aaron Pike (Park Rapids, Minnesota), Dan Cnossen (Topeka, Kansas) and Jake Adicoff (Sun Valley, Idaho) and his guide Sam Wood (Harpswell, Maine) finished fifth in the cross-country open relay competition, but incurred a 30-second penalty for one of their changeovers that dropped them to sixth.
Relays were structured so that each athlete was assigned points based on their classification and gender, and the sum of each team's total points could not exceed 335 for the mixed relay and 375 for the open relay. From there, it was head-to-head racing, and factored times did not come into play.
Masters, Aravich, Gretsch and Peterson joined forces for fourth in the mixed relay despite having the lowest number of total points, which theoretically would have put them at a speed disadvantage compared to other teams. Not for the powerhouse American crew though, which finished ahead of two countries – Poland and Germany – that each exceeded Team USA's point total by more than 20 team points. The event's podium, which consisted of Ukraine, the RPC and Belarus in that order, each had at least 35 more points than the Americans.
Leading off for Team USA, Masters kept pace with Belarus' male sit skier Arkadz Shykuts to keep her team in podium contention. Peterson took over for Masters on the second leg with the Americans in third place and powered to a 7:18.9-lap before handing the reins off to Gretsch, who completed her lap in 8:49.4 to keep Team USA in fourth place. Aravich anchored the squad, clocking a final lap of 7:55.0. The U.S. combined for a total time of 31:41.5in the 10-kilometer race.
"We didn't know until yesterday how we were going to do the relays, so when our coaches told us it was all women, we were really excited," Aravich said. "When we looked at the points and how it was stacked up, we probably shot ourselves in the foot a bit because we didn't come close to maximizing the points we could have had in the race. We set our expectations to have fun and end this trip on a high note, which we did."
A relative newcomer to Para Nordic, Aravich said she has learned from veterans like Masters and Gretsch, which made racing alongside them today even more special. Aravich, who competed for U.S. Paralympics Track & Field in Tokyo, has finished in the top-10 in each of her races during her world championships debut as she looks to make her second Paralympic appearance in six months.
"It's really exciting to now have so many great women in this program and for me, still being pretty new to it, to be surrounded by good role models is important," Aravich said. "I have to be gentle on myself, knowing that I may not podium at these bigger competitions. That's something that Oksana has talked a lot about to me – it'd be nice to have immediate success in this sport, but by having to go through these times when I'm not finishing as well as I want, in the years to come I'll be able to look back and value them."
Meanwhile, Pike's lap of 7:42.4 kicked off competition for Team USA in the 10-kilometer open relay competition, which featured nine teams. Adicoff and Wood took the second leg in a speedy 5:16.1 that surged the U.S. up to second place. Cnossen kept the team in podium contention with a 7:31.5-lap before Adicoff and Wood anchored the team to fifth in the fourth and final leg. The Americans were dealt a 30-second penalty for one of their relay exchanges, which put them behind Ukraine for sixth.
U.S. Paralympics Nordic Skiing athletes experienced plenty of success in Lillehammer, combining for 16 medals, including six gold. Masters and Gretsch led the charge with five and four medals respectively, while Peterson, as well as the team of Adicoff and Wood, each took home three. Pike rounded out the medal haul with silver in the men's sitting individual biathlon.
Team members will next head to Östersund, Sweden, for the final European world cup event of the season, which runs from from Jan. 27 – Feb. 1. The Paralympic team will be named on Feb. 1 following the conclusion of the races in Sweden, and the Paralympic Games Beijing 2022 begin March 4.
For media requests and photo inquiries, please contact Kristen Gowdy at Kristen.Gowdy@usopc.org.