Fourteen Para Nordic athletes nominated to 2022 Paralympic Team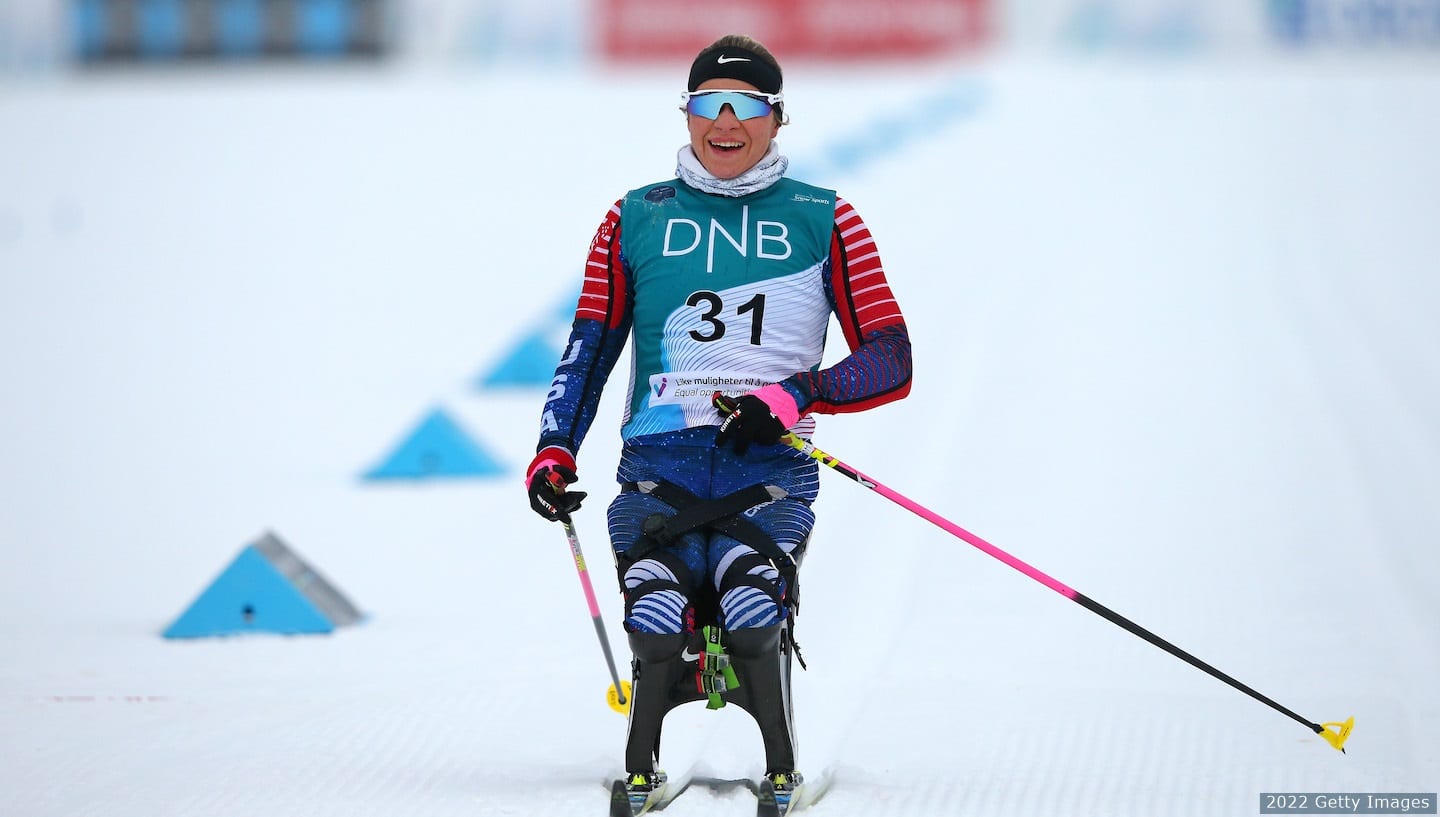 Oksana Masters crosses the finish line of a race in Lillehammer, Norway. (Photo: Alex Livesey/Getty Images)
COLORADO SPRINGS, COLORADO ­­­– Following a stellar world championships performance that saw Team USA earn 13 medals in Para Nordic disciplines, U.S. Paralympics Nordic Skiing today announced the six women, seven men and one guide who have been nominated to compete at the Paralympic Games Beijing 2022 in March.
Veteran athletes will lead the way in Beijing as Team USA looks to build on the 16 Paralympic medals won at the Paralympic Games PyeongChang 2018. Headlined by multi-time Paralympic medalists Oksana Masters (Louisville, Kentucky), Kendall Gretsch (Downers Grove, Illinois) and Dan Cnossen (Topeka, Kansas), the athletes nominated to the 2022 team sport a combined career total of 21 Paralympic medals. Of the 14 athletes, nine have previous Paralympic experience while five athletes will make their Paralympic debut.
"We have many athletes who thrive in these high-stakes competitions, who know what it means to represent Team USA as a Paralympian," Eileen Carey, director of U.S. Paralympics Nordic Skiing, said. "We are looking to them, as well as our experienced coaching staff, to lead the newer athletes into Beijing 2022. We are motivated by the combination of experience and the high quality of our Paralympic rookies as a testament to the growth and bright future of our program; their success this Paralympic quad has shown us that we can reach new heights in March."
A 10-time Paralympic medalist and recently crowned 10-time world champion, Masters is set to make her sixth Paralympic appearance. After winning double gold in Para-cycling at the Paralympic Games Tokyo 2020, Masters has continued her success on the snow, earning a medal in every world cup competition in which she has competed, as well as five medals at the recent Lillehammer 2021 World Para Snow Sports Championships. In Lillehammer, the multi-sport phenom earned her ninth and 10th career world championship titles and will look to put an exclamation point on her already historic 2021-22 season on the world's biggest stage.
Gretsch, who is putting together a world-class resumé herself this season, also won gold in Tokyo in paratriathlon. She led Team USA in Lillehammer with three world championship titles and also added a silver as she looks to repeat the double gold she won in PyeongChang. The 13-time world championship medalist is headed into Beijing as a heavy favorite in the biathlon discipline, having won both titles in the Para biathlon events in which she competed in Lillehammer.
A six-time Paralympic medalist and retired Navy SEAL, Cnossen earns his third Paralympic team nomination in 2022. All six of Cnossen's Paralympic medals came in PyeongChang, where he dominated in both cross-country skiing and biathlon. Cnossen is at his best on the Paralympic stage, where he will look to repeat his success come March.
Paralympic silver medalist Jake Adicoff (Sun Valley, Idaho) will team up with longtime friend and guide Sam Wood (Harpswell, Maine) to lead the U.S. in the men's visually impaired class for his third Paralympic appearance. After taking several years off following his podium performance in PyeongChang, Adicoff accepted an invitation to join the team for a training camp last February, and hasn't faltered since. He and Wood enter Beijing as one of the top podium contenders in the men's visually impaired field. The duo have been putting together Adicoff's best racing of his career, having recently combined for three medals ­­– one of each color ­– in Lillehammer.
Paralympians Aaron Pike (Park Rapids, Minnesota) and Josh Sweeney (Glendale, Arizona) round out the men's sitting class for Team USA. Pike, who recently won his second career world championship medal, a silver in the men's individual biathlon, makes his sixth career Paralympic team. Also a prolific wheelchair racer and marathoner, Pike is peaking at the right time, having been in the podium mix in nearly all of his races this season. He is seeking his first career Paralympic medal in Beijing.
Sweeney, meanwhile, makes his first Paralympic team in Para Nordic skiing, having transitioned to the sport following a 2014 Paralympic gold medal appearance in sled hockey. The 2014 Pat Tillman Award for Service winner and retired U.S. Marine Corps Sergeant picked up skiing through the Challenged Athletes Foundation.
The final sit skiers on the 2022 roster, Erin Martin (Seattle, Washington) and Lera Doederlein (San Diego, California) are set for their Paralympic debuts. A former rock climber, Martin found Para Nordic skiing after sustaining a T4 spinal cord injury while climbing. She is also a registered nurse care manager who has served during the COVID-19 pandemic. Doederlein, meanwhile, also competes in sled hockey and Para-cycling. At just 18 years old, Doederlein, who was adopted from Russia, has found a mentor in the Ukraine-born Masters.
Standing skiers Grace Miller (Palmer, Alaska), Ruslan Reiter (Manchester, Maine) and Dani Aravich (Boise, Idaho) also bring Paralympic experience to the team. Miller and Reiter competed in PyeongChang, where Reiter's best finish was seventh in the cross-country mixed relay, while Miller finished 10th in the 15-kilometer cross-country skiing race. Aravich made her Paralympic debut as a track and field athlete in Tokyo and along with Masters, Gretsch and Pike, will compete in her second Paralympic Games in six months.
Making their first Paralympic appearances and rounding out Team USA's roster is standing skier Drew Shea (Vienna, Virginia), and visually impaired athlete Max Nelson (Mahtomedi, Minnesota).
Relatively new to Para Nordic skiing, Shea recently moved to Bozeman, Montana, to pursue the sport competitively with Crosscut Mountain Sports Center, his club team. A rising star in the sport, the 17-year-old Nelson made history as a high school junior last year when he became the first visually impaired Nordic skier to win an individual conference title in Minnesota.
The Paralympic Games begin on March 4, and Para Nordic skiing competition kicks off on March 5. Following record-breaking coverage of the Tokyo Paralympic Games, NBC has announced a historic broadcast schedule for its Winter Paralympic programming, which features more than 230 hours of coverage across NBC, Peacock, USA Network, the Olympic Channel, NBCOlympics.com and the NBC Sports App. NBC's scheduled programming also includes the first-ever Winter Paralympic Games primetime coverage.
For media requests and photo inquiries, please contact Kristen Gowdy at Kristen.Gowdy@usopc.org.
2022 U.S. Paralympics Nordic Skiing Paralympic Team
Women:
Dani Aravich, women's standing
Lera Doederlein, women's sitting
Kendall Gretsch, women's sitting
Erin Martin, women's sitting
Oksana Masters, women's sitting
Grace Miller, women's standing
Men:
Jake Adicoff (with guide Sam Wood), men's visually impaired
Dan Cnossen, men's sitting
Max Nelson, men's visually impaired
Aaron Pike, men's sitting
Ruslan Reiter, men's standing
Drew Shea, men's standing
Josh Sweeney, men's sitting