Pearl Outlaw Is Looking To Be The Next Great Rower To Shine As A Nordic Skier Too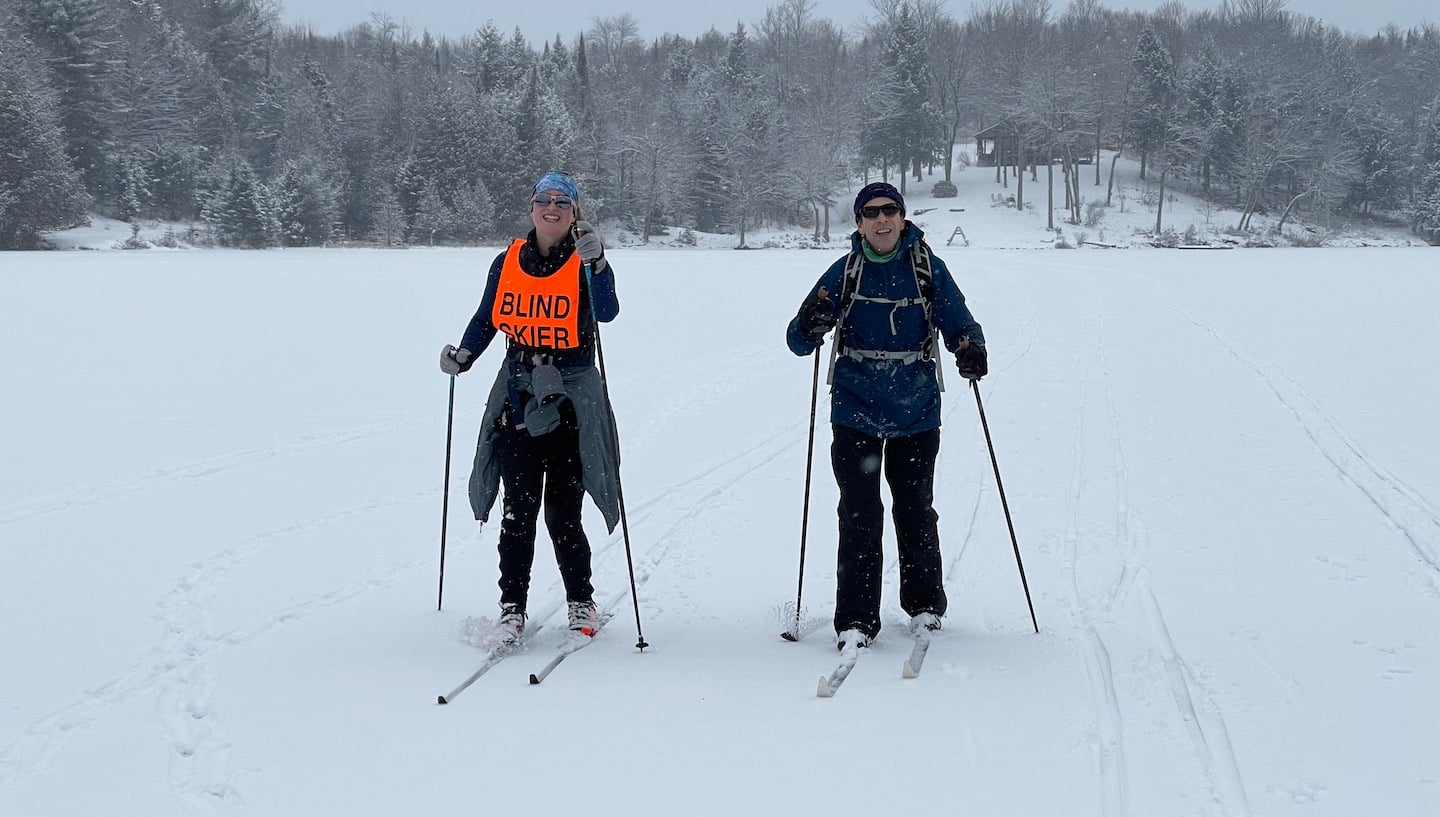 Pearl Outlaw smiles for the camera while on skis alongside her guide. (Photo courtesy of Pearl Outlaw)
Pearl Outlaw was motivated to send an email to U.S. Paralympics Nordic Skiing while writing a college paper on downhill skiing.
Outlaw was already an accomplished rower who had competed for Ithaca College in New York. She was a member of the U.S. Rowing national team and a Paralympic hopeful, but she was interested in getting more involved in Nordic skiing.
So Outlaw, a native of Charlottesville, Virginia, decided on a whim to send an email to BethAnn Chamberlain, the national development coach for U.S. Paralympics Nordic Skiing.
"I just sent BethAnn an email that was like, 'Hey, I'm a rower. I'm on the national team for rowing and I just got into skiing, and I'd really like to get better at it and do some competing. What do you think about that?'" Outlaw said. "And it just kind of snowballed."
The 24-year-old Outlaw is now looking to follow a similar path from rowing to Nordic skiing that 17-time Paralympic medalist Oksana Masters navigated a few years before her.
Masters won a bronze medal in rowing at the Paralympic Games London 2012 before transitioning to Nordic skiing and cycling.
Outlaw, who's visually impaired, first tried Para Nordic skiing a few years ago, and this past winter she spent three weeks training in Nordic skiing at the Craftsbury Outdoor Center in Craftsbury, Vermont. She plans to devote this upcoming winter to getting better at the sport.
Rowing remains the primary focus for now, and in March she moved to Portland, Oregon, to train with her rowing partner for the 2024 Paris Paralympics. However, she said she's already thinking about attempting to qualify for the 2026 Winter Paralympics in Milano Cortina as a Nordic skier.
"2026 is definitely on my mind. I know that I'm still definitely a novice. I've only competed in one (Nordic skiing) race, and it was a casual, have-fun kind of thing," said Outlaw, who's working toward earning a master's degree in sports psychology from Ithaca. "So I know I have to put in a lot of work to get there, but it's definitely on my radar for sure."
Outlaw said rowing and Nordic skiing work the gluteal muscles on the back of the hips. Both sports also require athletes to use one part of their bodies while trying to relax and be more efficient with another part.
"The only big difference (with Nordic skiing) that I had to adjust to was the element of balance and weight, like transferring your weight in skiing from one foot to the other," Outlaw said. "With rowers, we have a running joke that we're not agile and we are not balancing because we're just sitting. We're sitting in a boat, and we're strapped in."
Outlaw was born with retinitis pigmentosa (RP), a genetic condition that causes cells in the retina to gradually break down, resulting in vision loss.
She said she started noticing a change in her vision at age 9. She had difficultly seeing in the dark or reading small print by the time she reached middle school, and at around age 16 she started using a cane to help her get around.
Outlaw said she got interested in rowing while in high school. Once she got into the boat, she didn't feel she was at a disadvantage because of her vision loss or that she would somehow let down her teammates like she did when she played soccer and volleyball.
"I felt like I was constantly stressed out, and I just felt really bad because I didn't want people to be upset with me if I was in the wrong place or if I didn't know what to do or I lost the ball," Outlaw said. "That was really stressful.
"I'd get really anxious that I'd lose the ball and not know what was going on, so it was kind of overwhelming. I don't think I realized that until I picked up rowing and got in the boat and realized, 'Oh wow, sports can be really fun.'"
Outlaw's vision continued to deteriorate, though, and it started to go rapidly in 2018 during her sophomore and junior years at Ithaca. She was pretty much blind by the end of the year. She still has a little bit of light perception.
Outlaw took off a semester of college to attend a school for the blind and relearn how to do things for herself. While there, one of her teachers invited her to go on a ski trip in New Hampshire with Ski for Light, a nonprofit organization that introduces individuals with visual impairments to cross-country skiing.
"I had literally never even touched a pair of skis at that point," Outlaw said.
Her parents had been big into cross-country skiing when they were younger, and she was excited to give the sport a try. As soon as she got on snow, she loved it.
"I just got totally hooked, and so then I went on the next trip with them up to Vermont," Outlaw said. "It was on that trip that one of my ski guides was like, 'If you practiced, you might be able to do some competing.' And I didn't really think anything of it. I was like, 'Oh yeah, sure, whatever.'"
Outlaw said she's now learning to juggle both rowing and Nordic skiing. She also looks for any opportunity to get on snow.
"All my rowing coaches, when I told them I wanted to take the winter to focus on skiing, were like, 'Yes, absolutely, go do that!" Outlaw said.
Alex Abrams has written about Olympic sports for more than 15 years, including as a reporter for major newspapers in Florida, Arkansas and Oklahoma. He is a freelance contributor to USParaNordicSkiing.org on behalf ofRed Line Editorial, Inc.