Roundup: Oksana Masters And Aaron Pike Enjoy Their Shining Night At The ESPYs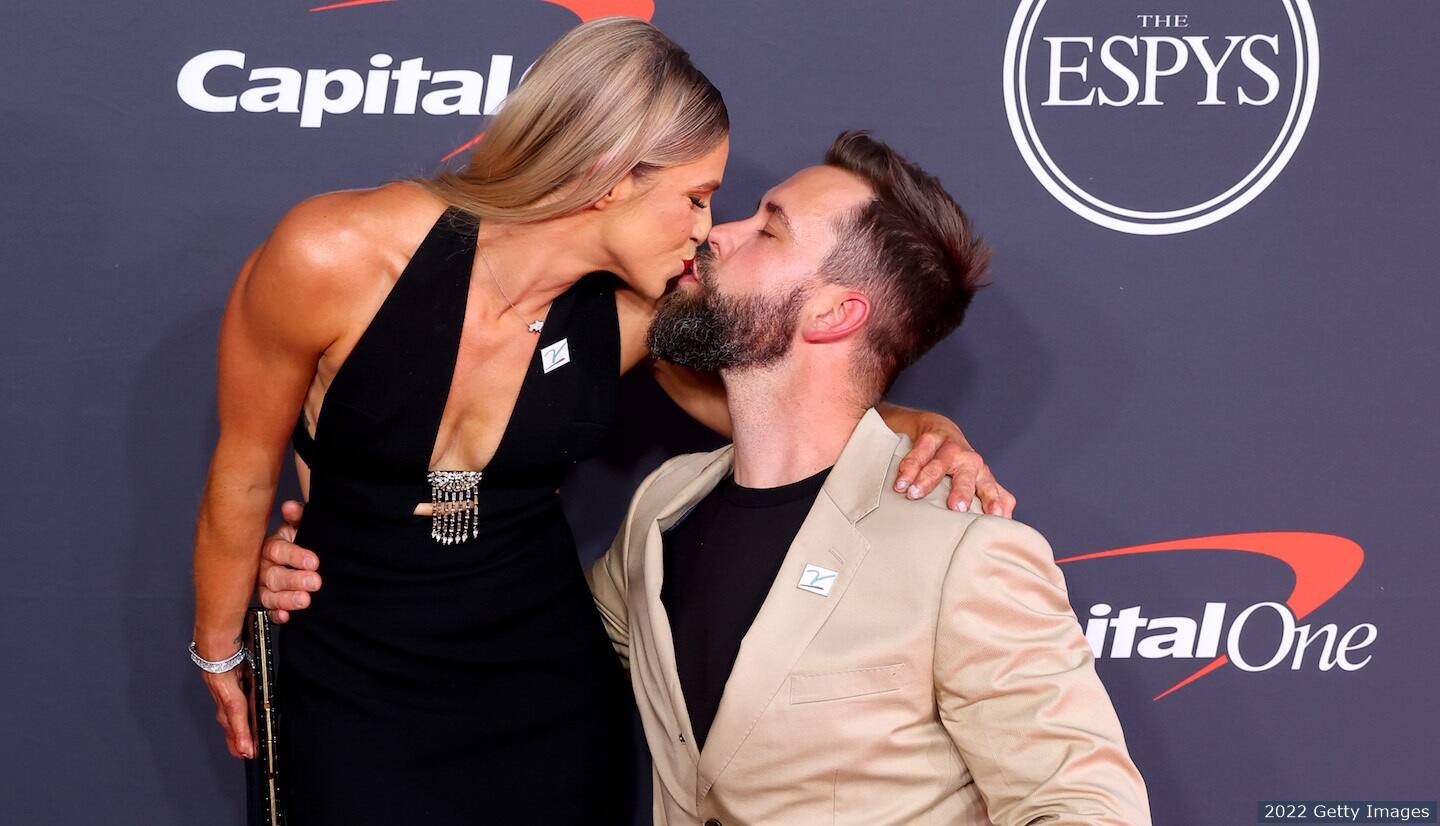 Oksana Masters and Aaron Pike on the red carpet at the ESPYs. (Photo: Getty Images)
Every other week we scour the web for the latest going on in the world of U.S. Para Nordic skiing. Here's what you missed!
Memorable Night For ESPYs Nominee Oksana Masters
Oksana Masters and Aaron Pike got dressed up and enjoyed a celebrity-filled night July 20 at the 30th ESPYS ceremony in Los Angeles.
Masters was nominated for three ESPY awards, including in the Best Athlete, Women's Sports category. She attended the ceremony with Pike, her longtime boyfriend and teammate on the U.S. Paralympics Nordic Skiing National Team.
Masters didn't win an ESPY, but she shared on Instagram that she's "still at a loss for words" after being the first Para athlete to ever be nominated in the Best Athlete, Women's Sports category.
"Although I am not taking home an ESPY my heart is full knowing the world got to see the word 'Paralympics' and see my sports that are often overlooked of @usparacycling & @usparanordicski," Masters wrote on Instagram.
Masters posted several photos of Pike, a six-time Paralympian like Masters, helping her get ready for the ESPYS.
"To those who feel you're not good enough, not worthy enough, don't belong……remember; Winning an award(s) is NOT what validates your worth or achievements," Masters wrote. "And not winning an award(s) does NOT diminish your achievements & accomplishments."
U.S. Paralympics Cycling announced last week that Masters was selected to compete in August at the 2022 UCI Para-Cycling Road World Championships in Baie-Comeau, Quebec.
Masters won a pair of gold medals in cycling at last summer's Paralympic Games Tokyo 2020. Six months later, she medaled in all seven of her events at the Paralympic Winter Games in Beijing to become the most decorated U.S. Winter Paralympian of all time.
Doederlein Ready For Sled Hockey Challenge
Lera Doederlein is excited to play sled hockey again.
Doederlein will return to the ice in late August as a member of the U.S. women's national sled hockey team that'll compete at the inaugural Women's Para Ice Hockey World Challenge in Green Bay, Wisconsin.
Canada and Great Britain, along with a world team consisting of athletes from different nations, are also scheduled to take part in the round-robin tournament, which runs from Aug. 26-28.
"I am beyond stoked and proud to represent this team and nation, as well as grow the sport of women's sled hockey and its future towards the Paralympics," Doederlein wrote on Instagram.
Doederlein competed in a sled hockey tournament with the San Diego Ducks only a few weeks after making her Paralympic debut this year as a Nordic skier in Beijing. She has been a member of the Ducks of the Pacific Sled Hockey League since 2018.
This has been a busy summer for Doederlein.
On June 30, she was named one of six members of the U.S. Paralympics Nordic Skiing Development Team. The announcement came not long after the 19-year-old graduated from her high school, Classical Academy, in her hometown of Escondido, California.
Offseason Training Rolls On
Para Nordic skiers have continued to train this offseason, even though there's no snow on the ground.
Several Paralympians are taking part in a training camp in Duluth, Minnesota.
They've been preparing for the upcoming season by roller skiing and practicing their rifle shooting for the biathlon.
Hanging With Skateboarder Tony Hawk
Masters and Pike hung out with other star athletes and entertainers at the ESPYS ceremony and then as guests at The Players' Tribune's annual Players' Night Out celebration.
The Players' Tribune went Hollywood on Tuesday night for its annual Players' Night Out celebration. An exclusive list of athletes and entertainers attended, including @tkelce, @sunisalee_ , @MikaelaShiffrin and @Miles_Teller. The evening ended with a performance by @RickRoss. pic.twitter.com/nKfECSxgIp

— The Players' Tribune (@PlayersTribune) July 21, 2022
For Pike, one of the highlights came when he got to spend time with skateboarding legend Tony Hawk and skateboarder-turned-radio personality Jason Ellis.
"When your morning starts with @tonyhawk and @wolfmate you can't expect the day to get much better," Pike wrote on Instagram.
Alex Abrams has written about Olympic sports for more than 15 years, including as a reporter for major newspapers in Florida, Arkansas and Oklahoma. He is a freelance contributor to USParaNordicSkiing.org on behalf of Red Line Editorial, Inc.