How Crosscut Mountain Sports Center Became The Home Base For U.S. Para Nordic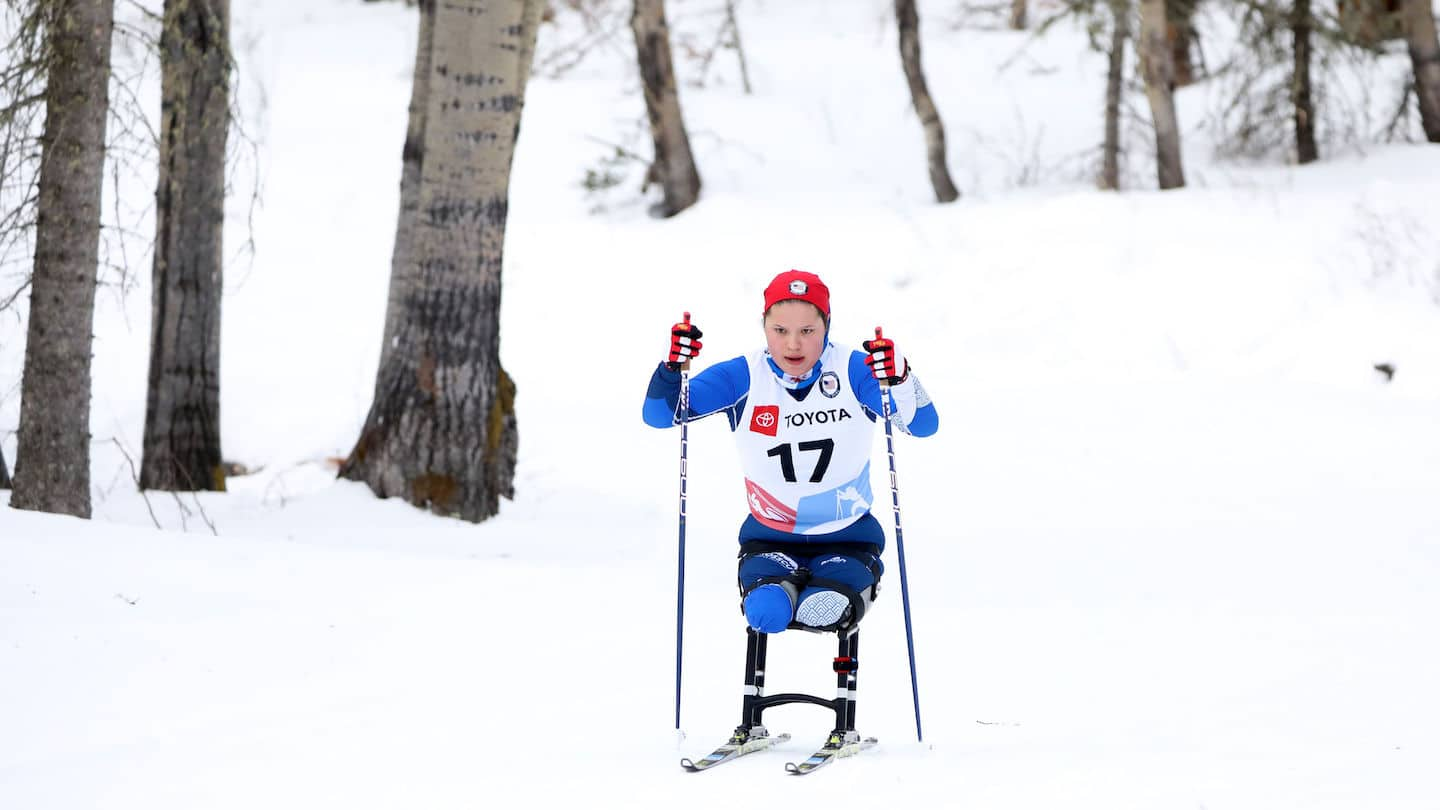 Lera Doederlein competes at Sit Ski Nationals at Crosscut Mountain Sports Center in January. (Photo: Crosscut Mountain)
A few years ago, officials with U.S. Paralympics Nordic Skiing were looking for a city where they could establish a permanent home base for their athletes to train.
They had grown tired of traveling from one location to another throughout the winter — and each time having to set up everything needed to host a training camp.
Bozeman, Montana, seemed like an ideal place to call home.
What began as a test run during the winter of 2015-16 has since grown into a symbiotic relationship between U.S. Paralympics Nordic Skiing and Crosscut Mountain Sports Center, which covers 533 acres around Bozeman.
Crosscut has quickly turned into a place where Para Nordic skiers can train year-round. They navigate its 45 kilometers of snow-covered trails during the wintertime, and once the temperature warms up, they make their way around its kilometer of paved loops on roller skis.
"We have kind of grown with them, and … I would say we're very committed to one another," said Eileen Carey, director of U.S. Paralympics Nordic Skiing. "We contribute to the community, and they're incredibly supportive of us, building obviously these world-class facilities.
"And we're constantly in conversation about how as this venue grows what does it need to look like to be able to support all members of our community. That includes our team, but it also includes, more generally, what does accessibility look like? How we can make it possible for everyone to show up and ski regardless if they have never been on skis before? If they use a wheelchair to get there, what does that look like?"
Jennifer Beaston, Crosscut's chief executive officer, said the center came about thanks to a series of fortunate events.
In 2016, two properties located next to each other were put up for sale at the same time — the Bohart Ranch and the Crosscut Ranch. Both properties had been used for Nordic skiing, but Beaston said developers were considering building condominiums or hotels on the Crosscut Ranch.
Beaston said the two properties were purchased and converted into Crosscut Mountain Sports Center, a fitting venue for a city with a strong history of supporting skiers of all abilities.
"I think it was serendipitous that a lot of their (Team USA) athletes were looking to come and train in Bozeman at the same time we were able to purchase both properties and combine them, and (we) have really grown up together as more and more of their athletes have called Crosscut in Bozeman home," Beaston said.
Carey said only one or two athletes with U.S. Paralympics Nordic Skiing spent some of that first winter in 2015-16 in Bozeman. Since then, 6-7 athletes — including two-time Paralympians Ruslan Reiter and Dani Aravich — have moved to the area to train year-round at Crosscut.
Even more athletes on the U.S. national and development teams are winter residents or regularly travel to Bozeman and take part in training camps at Crosscut.
"Our athletes are a part of this community. They're now students at Montana State University, which is right in town, and they're part of the Crosscut team before maybe they make our national teams," Carey said.
"So there's a real sense of community within our team being based in the same place, also being enmeshed in this community of Crosscut and the community of Bozeman. You can't really quantify that kind of benefit, but it has been really huge for us and it has been really amazing for our team dynamic."
Beaston said Crosscut launched a capital campaign last summer to complete its "Phase 1" improvements to the center. It was a $3.6 million project that included building a new cross-country skiing stadium and a 30-point biathlon shooting range that could someday host a world cup event.
The range includes 15 targets for Para Nordic skiers.
In addition, Crosscut built a small structure for U.S. Paralympics Nordic Skiing where its coaches and athletes can store ski equipment, wax skis and stay warm in between training sessions.
Beaston said the number of people who visit Crosscut and use its facilities has grown 25 percent every year. She said some of that growth is a result of Bozeman becoming a more popular destination for skiers, and some of it is because of Crosscut's outreach efforts.
As part of that outreach, Crosscut has developed a school program for children in Gallatin County, which includes Bozeman, and a few other counties around Montana to visit the center.
Kids get on snow and learn about cross-country skiing, the ecology of the Bridger Mountain Range in the area and indigenous people.
"We want it to be a place where the community always feels welcomed, and we can connect people with nature," Beaston said. "But we also see that having the U.S. Paralympic team and our elite team training here, it adds a lot to the community so that they can see these extraordinary athletes and get to know them and understand the level of performance that they have."
Alex Abrams has written about Olympic sports for more than 15 years, including as a reporter for major newspapers in Florida, Arkansas and Oklahoma. He is a freelance contributor to USParaNordicSkiing.org on behalf of Red Line Editorial, Inc.