His Nordic Career Now Soaring, Ruslan Reiter Turns Attention To Flight School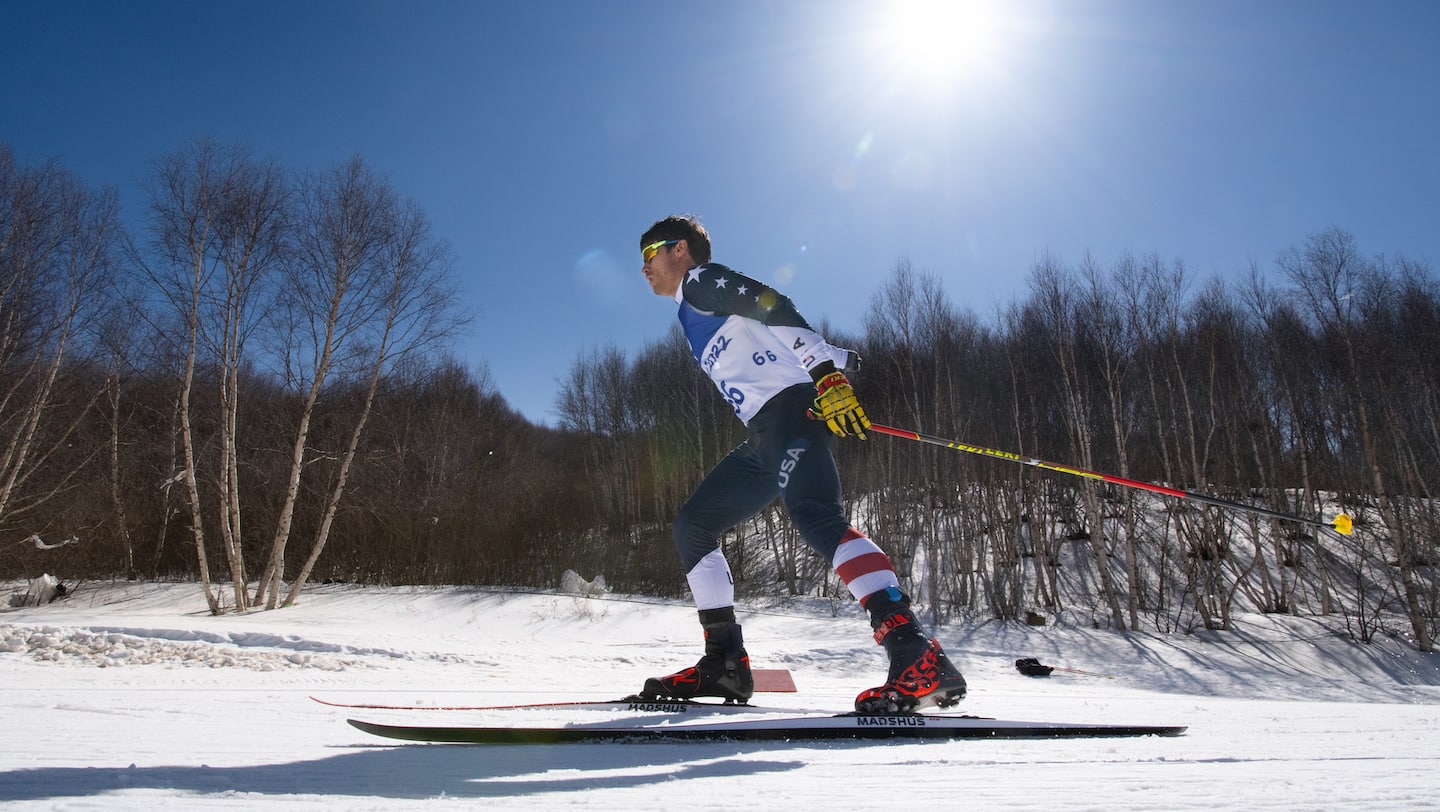 Ruslan Reiter competes in biathlon at the Winter Paralympic Games Beijing 2022. (Photo: Mark Reis)
Ruslan Reiter started to get interested in aviation when he was in the sixth grade.
He enjoyed flipping through his father's books about the history of flight and the evolution of aircrafts. He then built styrofoam gliders and model airplanes for fun.
When Reiter was a junior in high school, he got a remote-control plane like he always wanted. One day he went to a field to fly it for the first time.
"It was pretty windy, really hard conditions to fly in," Reiter said. "And I took off by myself, came around and landed it on the first try without crashing it. I was like, 'That wasn't so bad.' I was like, 'Wow, this is such a cool hobby.' And I got hooked since then."
Reiter is already a two-time Paralympian in Nordic skiing. His dream is to someday be a pilot, perhaps carrying freight for FedEx or UPS.
Reiter said his focus over the next two years is to attend flight school and earn an associate's degree in aviation. If everything goes according to plan, he'll graduate and then resume training for his third Winter Paralympics in Milano Cortina in 2026.
This is what the native of Manchester, Maine, had in mind when he moved to Bozeman, Montana, in the spring of 2019 to train year-round with U.S. Paralympics Nordic Skiing.
"Out of high school, I wanted to start my aviation career and start (flight) school right out of high school, but I also wanted to ski as well with the Paralympic team," said Reiter, who turned age 23 on April 5.
"I did some research to see what places had a flight school and I could train for skiing, too. And (U.S. Paralympics Nordic Skiing Director) Eileen (Carey) did a bunch of research, and Bozeman, Montana, was the best result out of all the research."
In March, Reiter, a standing skier, competed in his second Winter Paralympics in Beijing. He earned a pair of top-10 finishes, placing ninth in the cross-country skiing open relay and 10th in the cross-country skiing middle-distance race.
Reiter said he didn't feel nearly as nervous racing in Beijing as he did four years earlier when he made his Paralympic debut in PyeongChang. His best finish in South Korea was seventh as a member of the U.S. cross-country skiing mixed 4x2.5-kilometer relay team.
"This time around I wasn't as nervous. In fact, I was more of a mentor for the first-timers … because they had a lot of questions about what is the Opening Ceremony like, what are the races like and things like that," Reiter said about his new U.S. Paralympics Nordic Skiing teammates.
"And so yeah, I just explained what my experience was from the first Games (in PyeongChang), and I think that helped, hopefully helped, other first-timers be a little bit more calm."
Reiter was born in Russia with no fingers on his right hand. At age 4, he moved to the U.S. after being adopted from an orphanage in Yekaterinburg, Russia.
Growing up in Maine, Reiter played basketball until the sixth grade. One of his friends from church then invited him to give standing skiing a try.
"My mom is basically the one who kind of pushed me to find another sport, so that's when my friend asked me about skiing because his dad was a coach for the middle school," Reiter said. "And I was like, 'Sure, yeah."
During his first ski camp in Maine, Reiter said he fell in love with the sport after about only five minutes of being on snow with his guide. It didn't matter that it was awkward at first for him to ski with only one pole because of his underdeveloped right hand.
Reiter eventually caught the attention of the U.S. Paralympics Nordic Skiing coaches. He was invited to attend a training camp in Bend, Oregon, during his junior year of high school.
At the time, he didn't know anything about the Winter Paralympics.
"I was like, 'Wow, I had no idea this existed,'" Reiter said. "Once I found out about it, I just kept thinking about all the opportunities this could bring for me, and yeah, I just wanted to pursue it there and where that leads me."
Reiter was the first Para athlete to move permanently to Bozeman to train at the new headquarters for U.S. Paralympics Nordic Skiing. Since then, the city has become the major training location in the U.S. for Para Nordic skiers.
And the sport could eventually help lead to him flying the friendly skies.
Reiter said he gained some flying experience while enrolled in the Civil Air Patrol program in high school. He's now working toward earning his commercial pilot's license.
"For the next two years, I'm going to not completely stop skiing but I'm just going to put it aside for now," Reiter said. "… My primary focus for the next couple of years is flight school."
Alex Abrams has written about Olympic sports for more than 15 years, including as a reporter for major newspapers in Florida, Arkansas and Oklahoma. He is a freelance contributor to USParaNordic.org on behalf of Red Line Editorial, Inc.