U.S. Paralympics Nordic Skiing names seven athletes to 2022-23 National Team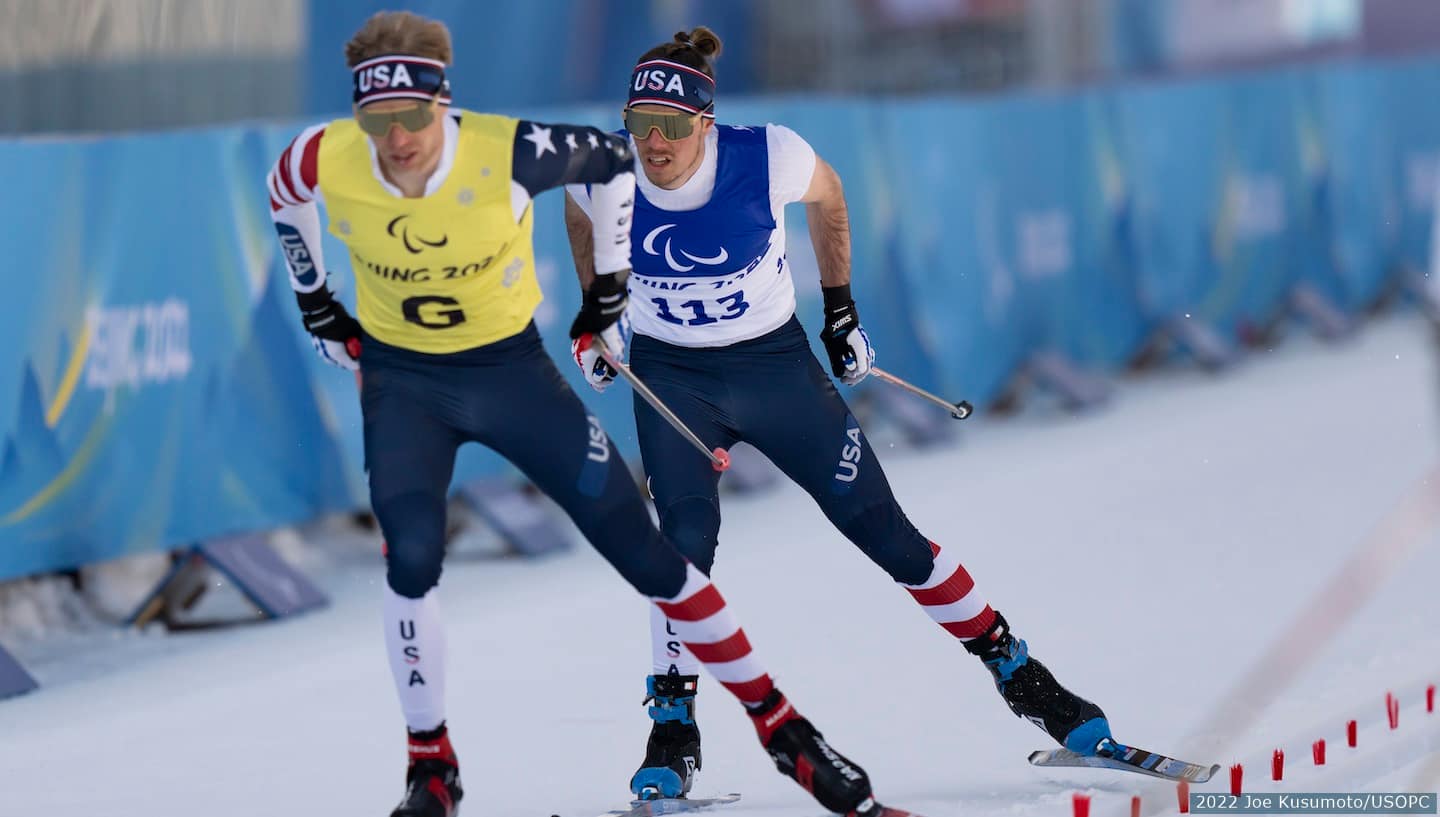 Jake Adicoff and guide Sam Wood compete at the Paralympic Winter Games Beijing 2022. (Photo: Mark Reis)
COLORADO SPRINGS, COLORADO – Seven athletes have been named to the U.S. Paralympics Nordic Skiing national team for the 2022-23 season, the organization announced Thursday. An additional six, all of whom were 2022 Paralympians, have been named to the development roster.
After a stellar showing at the Paralympic Games Beijing 2022, at which Team USA's Para Nordic skiers brought home 14 medals, the depth of the national and development teams reflects the continued growth of the program, director of U.S. Paralympics Nordic Skiing Eileen Carey said.
"Every one of these athletes has Paralympic experience, which is going to be incredibly valuable as we push forward into major competitions such as the 2023 Para Snow Sports World Championships," Carey said. "They all know what it is to compete on the biggest stage in the world and will be able to draw on that experience as we begin this next Paralympic quad. We are extremely excited about not just the accolades, but the character and dedication of this team."
Led by 17-time Paralympic medalist Oksana Masters (Louisville, Kentucky), who nabbed a historic seven medals in seven events in Beijing and became the most decorated U.S. Winter Paralympian of all time, the National A team also features Beijing gold medalists Kendall Gretsch (Downers Grove, Illinois), Jake Adicoff (Sun Valley, Idaho) and Sydney Peterson (Lake Elmo, Minnesota), as well as six-time Paralympian Aaron Pike (Park Rapids, Minnesota).
Gretsch made history of her own in Beijing after claiming gold in Paratriathlon at the Tokyo Paralympic Games. Like Masters and Pike, who competed in para-cycling and Para track and field respectively, Gretsch went on to make her second Paralympic appearance in six months in Beijing. She brought home three medals in Beijing.
Adicoff came out of retirement ahead of the 2021-22 season to claim his first Paralympic title and will return to the national team. In Beijing, the three-time Paralympian competed alongside guide Sam Wood (Harpswell, Maine), and the duo collected four medals in a dominant showing.
Peterson, meanwhile, had a stellar debut season, bringing home a medal of each color in Beijing. She and Pike, who brought home silver at the 2021 Para Snow Sports World Championships in Norway, round out the roster for the National A team.
Former Navy SEAL and Beijing gold medalist Dan Cnossen (Topeka, Kansas) earns his spot on the National B Team. The seven-time Paralympic medalist returns eyeing his sixth world championships berth.
Two-time Paralympian Dani Aravich (Boise, Idaho), another dual-sport athlete who raced in track and field and Nordic Skiing in back-to-back Games, earns her first national team nod. Aravich recently announced that she is retiring from track and field to focus solely on her Nordic career.
The 2022-23 Development Team is made up of 2022 Paralympians Lera Doederlein (Escondido, California), Erin Martin (Seattle, Washington), Grace Miller (Palmer, Alaska), Max Nelson (Mahtomedi, Minnesota), Ruslan Reiter (Manchester, Maine) and Josh Sweeney (Glendale, Arizona).
For media requests and photo inquiries, please contact Kristen Gowdy at Kristen.Gowdy@usopc.org.
National A Team
Jake Adicoff
Kendall Grestch
Oksana Masters
Sydney Peterson
Aaron Pike
National B Team
Dan Cnossen
National C Team
Dani Aravich
Development Team
Lera Doederlein
Erin Martin
Grace Miller
Max Nelson
Ruslan Reiter
Josh Sweeney