Para Sport 101: A Beginner's Guide To Biathlon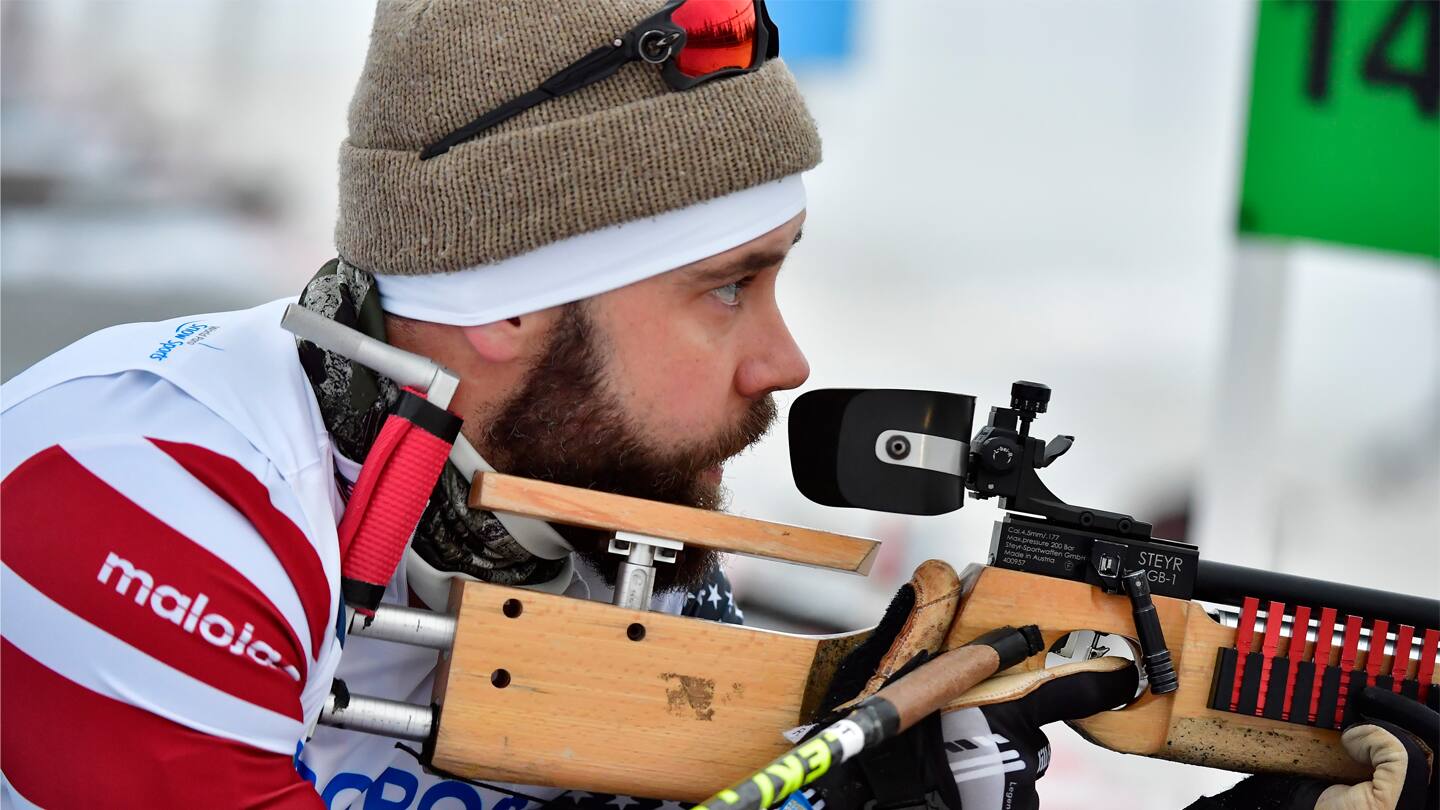 Aaron Pike competes in the Lillehammer 2021 Para Snow Sports World Championships. Credit: Luc Percival
Aaron Pike tries to explain the biathlon in the simplest terms.
The six-time Paralympian typically tells people that competing in the winter sport — which combines the endurance of cross-country skiing with the precision of rifle shooting — is like going for a long run.
And then when you're done running and out of breath, you must stop your hands from shaking and steady them long enough to use them.
"For biathlon, coming in with a high heart rate and then you're dropping down on the mat, you're trying to shoot a target that's the size of a dime," Pike said. "That's essentially what I tell them."
If Pike really wanted to confuse people, he could tell them that he hopes to do more "cleaning" than "dirtying" in a few days at the Paralympic Winter Games Beijing 2022.
However, there's already enough confusion when it comes to the biathlon. It's a sport that combines multiple disciplines and uses terms that might be unfamiliar to casual sports fans, such as prone and sight picture.
Dani Aravich recently posted a long explanation of the biathlon on Instagram to help her more than 5,000 followers understand the sport as she prepared to head to Beijing to make her Winter Paralympic debut.
"I didn't know anything about biathlon until I started the sport two years ago & I feel like I'm constantly explaining what it is to other people, so let's learn together!" Aravich wrote.
Even the basics of the biathlon have a way of confusing people.
When Pike tells strangers that he skis in the biathlon, they often assume he's referring to alpine skiing and that he's racing down a snow-covered mountain in a sit ski.
"If you just say skiing, they're just going to think you mean downhill, so you kind of have to say Nordic skiing, not using a chair lift, doing more climbing than going downhill" said Pike, who earned a pair of top-10 finishes in the biathlon at the 2018 PyeongChang Winter Paralympics.
"Or you just tell them you use your arms all the time. Otherwise, you can just see it. … It's not clicking. Nordic skiing is definitely not like a huge sport in the U.S. at all."
In the Paralympics, men and women each race at three distances. Within each distance is a separate competition for sitting, standing and visually impaired skiers.
After cross-country skiing, standing and sit skiers pull into a shooting range — often referred to as simply "the range" — and attempt to hit five targets with an air rifle. Visually impaired athletes use an audio system that's similar to a laser gun to hit targets.
Paralympians shoot while in a lying-down position called prone, while Olympians shoot in the prone position as well as standing. Olympians also use .22 rifles instead of air rifles and laser guns.
If athletes miss their targets, they must ski around a loop known as the penalty loop.
"One thing that's different on the Para side is that all of our shooting is prone. We don't have stand shooting, although I've tried it before," three-time Paralympic gold medalist Kendall Gretsch said during the 2022 Team USA Media Summit in October. "It doesn't quite work in a sit ski, but yes, so all of our shooting is prone."
As two-time Olympian Clare Egan put it, "If you want to impress your friends, you can talk about the prone shooting."
Athletes who compete in the biathlon regularly talk about "cleaning" or "dirtying" during the shooting portion of the race. It's their way of saying if they missed targets.
It has nothing to do with them tidying up their area in the shooting range.
"When we say we 'cleaned' something, we didn't clean our mat that we're shooting at. We 'cleaned' means you hit all five shots," Pike said. "And then if you say you 'dirtied' a stage, that would mean you missed all five."
Gretsch said, "Hopefully, no one dirties."
To get more technical, Pike explains to people that the front sight is the sight on the end of the barrel on his air rifle. The rear sight is the one by his face.
Sight picture is the term used when the rear sight and front sight line up perfectly with the target.
Aravich admitted the biathlon is "extremely frustrating but exciting to compete in." It can be almost as difficult to explain.
When asked if a random person typically knows what Pike is talking about when he says he competes in the biathlon, he didn't hesitate to answer.
He said no.
Alex Abrams has written about Olympic and Paralympic sports for more than 15 years, including as a reporter for major newspapers in Florida, Arkansas and Oklahoma. He is a freelance contributor to USParaNordicSkiing.org on behalf of Red Line Editorial, Inc.