Masters Wins Fifth Gold, Gretsch Takes Bronze in Biathlon Sprint to Begin 2022 Games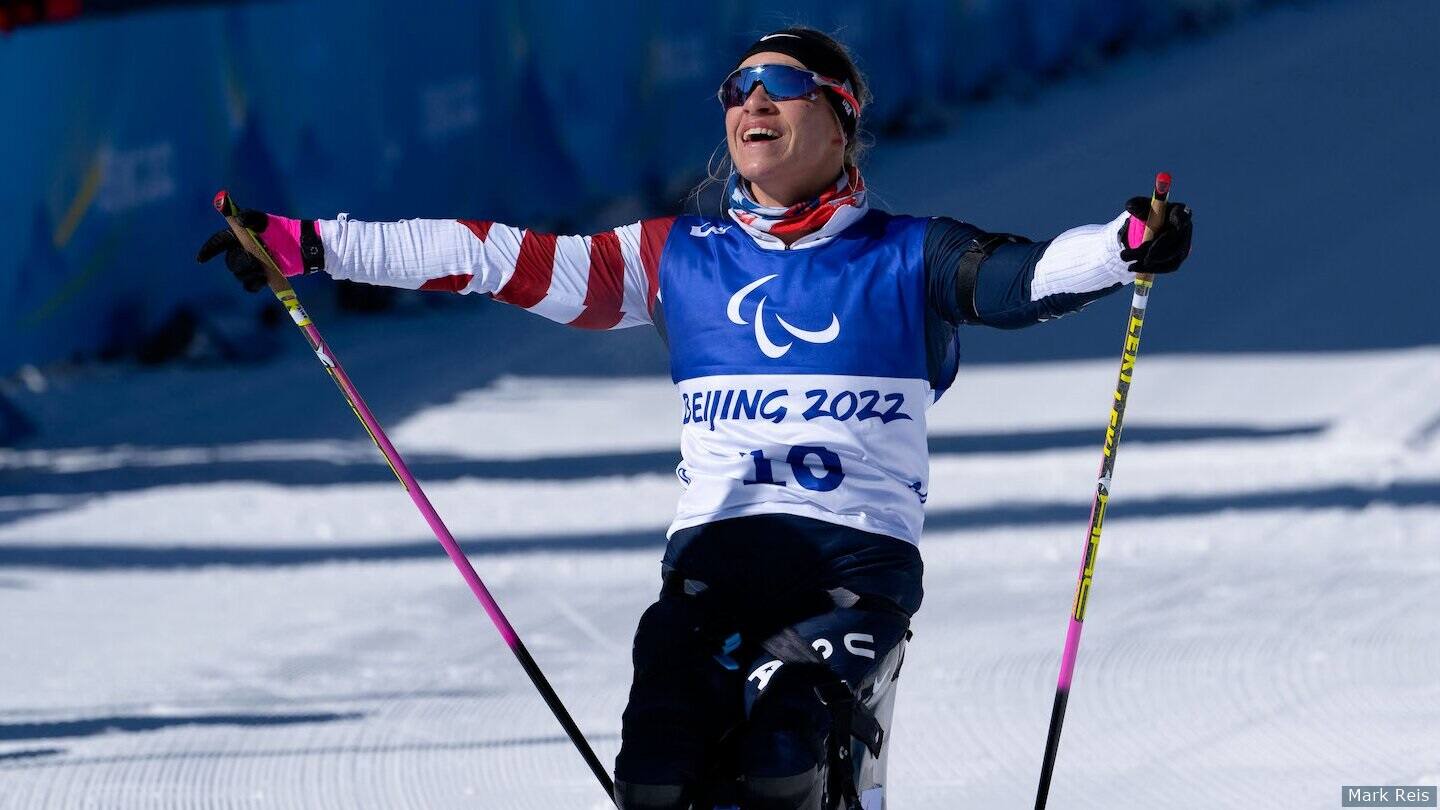 ZHANGJIAKOU, China — Oksana Masters (Louisville, Kentucky) won the first gold medal for the U.S. at the Paralympic Winter Games Beijing 2022 on Saturday in the women's sitting biathlon sprint while teammate Kendall Gretsch (Downers Grove, Illinois) earned bronze on a cold, breezy day that included racing in the men's and women's biathlon sprint in the sitting, standing and vision impaired categories.
Masters, a biathlete and cross-country skier, won her fifth career Paralympic gold medal and 11th overall medal between the Summer and Winter Paralympic Games. Saturday's gold was her first in biathlon; she won two silvers at the Paralympic Winter Games PyeongChang 2018 in the 6k and 12.5k biathlon.
"I can't believe it, this is so amazing," Masters said. "To be able to start off the Paralympic Games in Beijing and bring home a gold medal for Team USA is absolutely incredible. And it's incredible because I get to do it with my teammate on the podium by my side again."
"I think this just shows that there's amazing stuff that's going to happen for Team USA in the Para Nordic program."
Masters now owns Paralympic gold medals in biathlon, cross-country skiing and Para-cycling. She won two cycling golds at the Paralympic Games Tokyo 2020 six months ago.
Masters finished the 6k sitting biathlon sprint race in a time of 20:51.2. China's Yilin Shan finished 15 seconds back with a time of 21:06 to earn the silver.
Gretsch — who also won gold at the Paralympic Games in Tokyo six months ago, in paratriathlon — earned the bronze, with a time of 22:47. The medal is the fourth of her Paralympic career. At PyeongChang 2018, Gretsch won gold in the 6k biathlon and 12k cross-country events.
"That was a tough race. The sprint is so short and you're kind of going all-out the whole time. I'm happy to have the first race done and hopefully just build off today for the rest of the races," said Gretsch, who also races the cross-country events. "It's crazy [being back at the Paralympics six months after competing in Tokyo] and it's feeling very different than Tokyo conditions today. I'm trying to channel how warm I was there. It's always exciting to be at the Paralympics."
Eighteen-year-old Lera Doederlein (San Diego, California) made her Paralympic debut on Saturday, also competing in the women's sitting biathlon sprint, finishing ninth. It was Masters who encouraged Doederlein, who had been competing in sled hockey, to give Para Nordic skiing a try in 2019.
"It's a pretty incredible experience for me to race [with Masters and Gretsch] especially since I'm only 18 years old and it's my first Paralympics. It was incredible to experience this with them," Doederlein said.
Dan Cnossen (Topeka, Kansas), former Navy SEAL who won six medals in PyeongChang, led Team USA's men on Saturday in the sitting biathlon sprint, placing fourth.
"I dug deep as far as I could, and this is perhaps the best biathlon race I've ever had. I know it may not have been my best result, but for me, it's more about effort and I really think I put a complete race together today," Cnossen said.
"Biathlon is a really challenging sport in the sense that you can always ski a little bit faster into the range or you can always try to take your first shot a little bit quicker, or the shots two, three, four, five a little bit quicker. I've got to be happy with how I raced today. I'm also happy to be out there with my teammate Aaron [Pike] and our women who had an awesome day. I would also say I'm really happy to see the Ukraine athletes out here today getting after it. With everything they're going through, it's inspiring to me to see them compete. I was thinking about them today when I was out there."
Pike (Park Rapids, Minnesota) finished eighth. A constant in the Paralympics over the past decade, Pike is competing in his sixth Paralympic Games. He raced in Tokyo for U.S. Paralympics Track & Field, competing in the marathon.
In addition, Team USA had three athletes competing in the standing biathlon sprint.
Dani Aravich (Boise, Idaho), who also competed in track and field in Tokyo, placed 13th in her first race as a winter Paralympian.
In the men's standing biathlon race, Ruslan Reiter (Manchester, Maine) placed 12th and Drew Shea (Vienna, Virginia) took 14th. Reiter is competing in his second Winter Paralympics, while Shea is making his Paralympic debut.
No U.S. athletes competed in the visually impaired category.
U.S. Paralympics Nordic Skiing athletes return to competition on Sunday, as cross-country action takes the stage with the men's and women's sitting long-distance races.
Follow and watch U.S. Paralympics Nordic Skiing competition from Beijing 2022 on NBC, which features more than 230 hours of coverage across NBC, Peacock, USA Network, the Olympic Channel, NBCOlympics.com and the NBC Sports App. All events will be streamed live on NBC's Peacock. Follow U.S. Paralympics Nordic Skiing on Facebook, Twitter and Instagram for daily updates from Beijing.
For media requests, please contact Stephen Meyers at Stephen.Meyers@usatriathlon.org.