Oksana Masters adds to Medal Collection with Silver in Long-Distance Cross-Country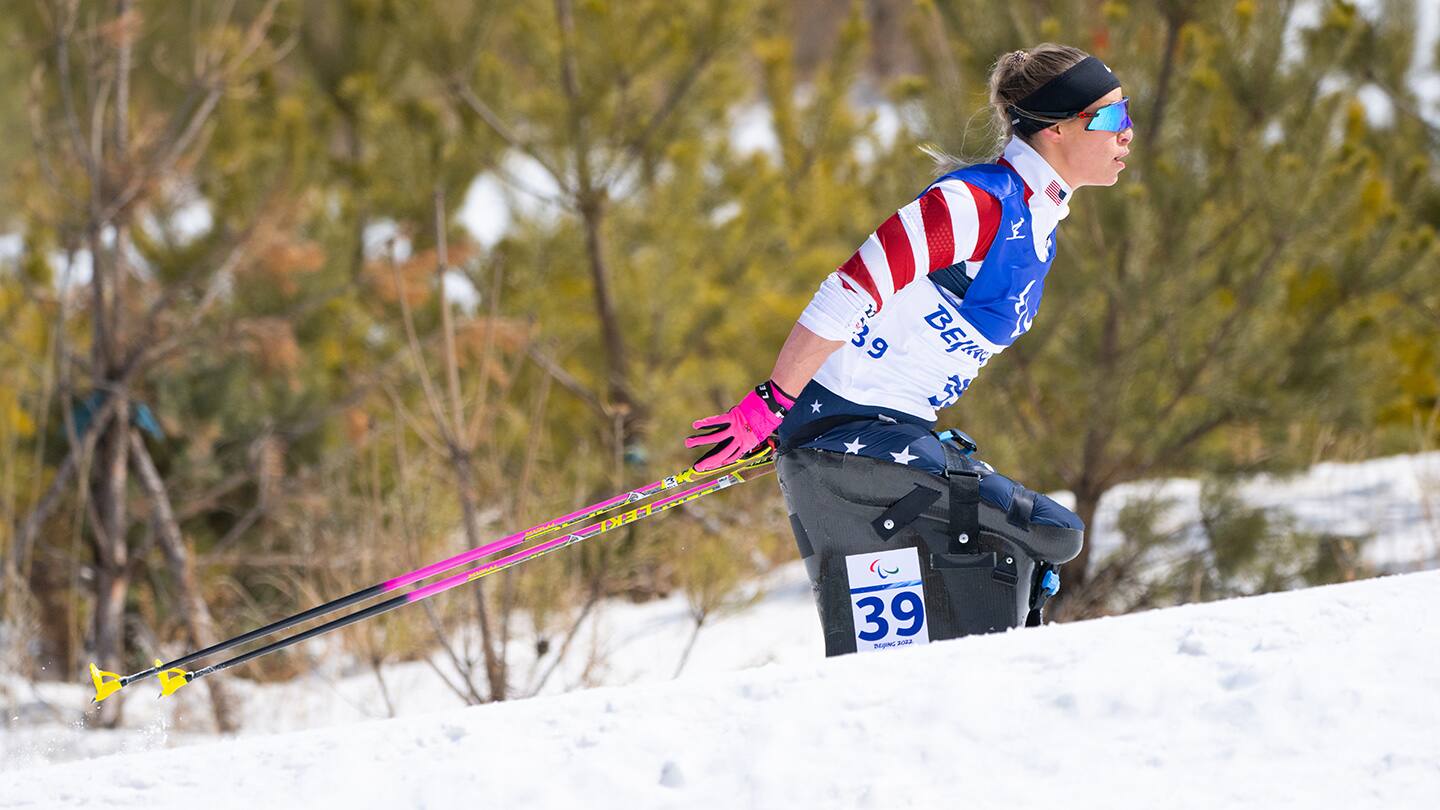 Oksana Masters competes in the cross-country long-distance competition on the second day of Beijing 2022.
ZHANGJIAKOU, China — U.S. Para Nordic star Oksana Masters (Louisville, Kentucky) won silver in the women's sitting long-distance cross-country race on Sunday, her second medal of the Paralympic Winter Games Beijing 2022. Masters, a cross-country skier and biathlete, also won gold in the women's sitting biathlon sprint on Saturday and now has 12 career Paralympic medals between the winter and summer Paralympic Games. Sunday's silver medal comes six months after winning double gold in Para-cycling at the Paralympic Games Tokyo 2020.
The 2022 world champion in long-distance cross-county, Masters raced the 15-kilometer course at the Zhangjiakou Biathlon Center in a time of 43:38.8 — just 32 seconds behind China's Hongqiong Yang, who won the gold with a factored time of 43:06. China's Panpan LI finished with the bronze in 45:17.
Master's silver medal matches the silver she won in long-distance cross-country at the Paralympic Games Sochi 2014.
"I was trying so hard to get the gold," said Masters, who admits she could have raced faster from the start. "I was trying to upgrade from silver in Sochi and the PyeongChang bronze, but I'm just so happy to be able to fight my way onto the podium.
"I can't wait to see the U.S. flag being raised today at the medal ceremony [for biathlon sprint]. I was trying to not do my classic 'go out hard and then die.' Looking back maybe I was too reserved in the first few laps and then got to a spot where I didn't have enough space to make up. This course is not really technical so there's not a lot of places to make up time either. I wish there was more elements of skiing in it, but I think it challenged me in a really different way and I'm excited to see what the next few races have."
Teammate Kendall Gretsch (Downers Grove, Ill.) finished just off the podium, in fourth, with a time of 46:26. She finished second, behind Masters, in long-distance cross-country at the Lillehammer 2022 World Para Snow Sports Championships in January. She won the bronze medal in Saturday's sitting biathlon sprint.
Dan Cnossen (Topeka, Kansas) led the U.S. men in the sitting category, placing sixth with a time of 49:22. Former sled hockey champion turned Nordic skier Josh Sweeney (Glendale, Arizona), placed 16th in his Nordic debut. For Cnossen, Sunday's long-distance race offered a new personal challenge.
"I don't care what the result was today," Cnossen said. "For me, this was a personal test. In my opinion, this is the hardest race that we do in the cross-country discipline at 18 kilometers. In the last Games we had in 2018, it was a 15-kilometer race."
"I've never done an 18-kilometer, and I just wanted that personal challenge. There's a battle going on in your head [during the race]. And it's against the part of me that wants to go a little easier or softer, to kind of not challenge myself as much. And so, it's a personal test to see what I could do and I'm happy with that. I executed my race plan really well. I had gas in the tank on the last lap, which was the plan. So, success for me."
A newcomer to Para Nordic skiing, Sweeney isn't new to the Winter Paralympics. The retired Marine Corps sergeant earned a gold medal as a member of the U.S. sled hockey team at the Paralympic Winter Games Sochi 2014. After retiring from sled hockey, Sweeney competed for a few years in elite paratriathlon before transitioning to Para Nordic skiing in 2021 through the Challenged Athletes Foundation. He notes his experiences from the different sports aids him on the Nordic course.
"Having the different sport experience is [helpful]. Knowing, especially in the triathlon world, what good pacing can do for you and not getting too carried away with what everyone else is doing is big," Sweeney said. "I've learned over all these sports that you have to trust yourself and your coaches, respect the process and just put in the work and you'll be alright."
China's Peng Zheng and Zhongwu Mao, won gold and silver, respectively, and Canada's Collin Cameron won bronze.
Racing continues Monday in Zhangjiakou with the men's and women's long-distance cross-country in the standing and vision impaired categories. Watch U.S. Paralympics Nordic Skiing competition from the 2022 Beijing Paralympics on NBC, which features more than 230 hours of coverage across NBC, Peacock, USA Network, the Olympic Channel, NBCOlympics.com and the NBC Sports App. Follow U.S. Paralympics Nordic Skiing on Facebook, Twitter and Instagram for daily updates from Beijing.
For media requests, please contact Stephen Meyers at Stephen.Meyers@usatriathlon.org.