Sydney Peterson's Fast Rise In Nordic Has Her Headed To The Winter Games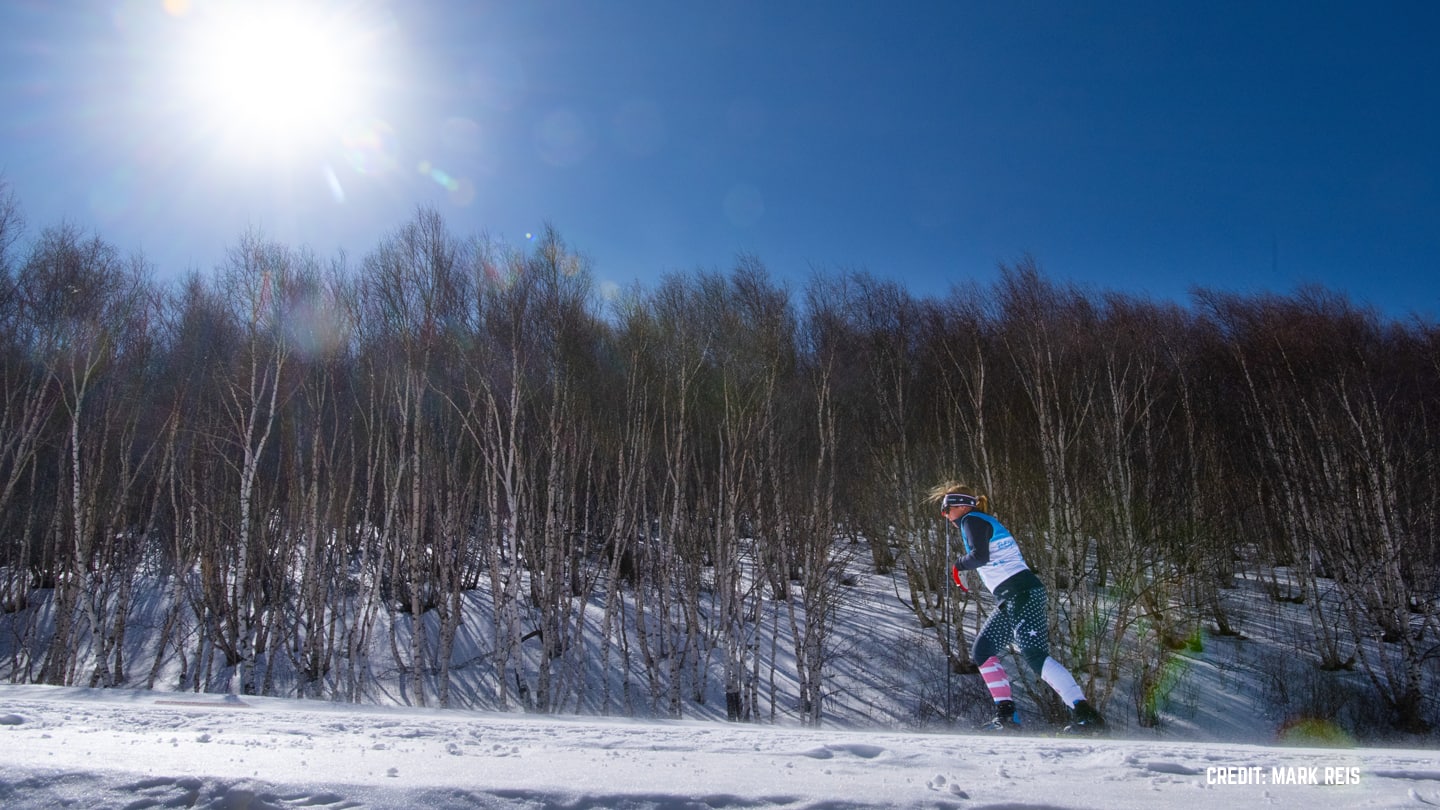 Sydney Peterson skies at a cross-country competition.
Sydney Peterson had just returned to her car on Feb. 11 when she received a phone call from Eileen Carey, director of U.S. Paralympics Nordic Skiing.
If this were a typical winter, Peterson would've been either in class at St. Lawrence University in New York or preparing for another collegiate race when Carey called.
However, the past few months have been anything but normal for Peterson.
As a result, she had just finished skiing in Bozeman, Montana, when she got the news she had been waiting for several weeks to hear.
Carey informed Peterson that she had received a special invitation from World Para Nordic Skiing and the International Paralympic Committee to compete at the Paralympic Winter Games Beijing 2022 in early March.
The news came six days before her 20th birthday.
"I can't really control what the other skiers do. I just want to show up and have fun and ski fast and gain this incredible experience," said Peterson, a Lake Elmo, Minnesota, native. "And hopefully, that will be reflected in the results. But no matter what, it will just be amazing to be there."
Peterson said it hasn't fully sunk in yet that she'll soon make her Paralympic debut in Beijing. She hadn't raced for U.S. Paralympics Nordic Skiing before this season, and she has been skiing with one arm for only a few months.
It has been one unexpected thing after another for Peterson this winter.
She's a sophomore at St. Lawrence and a member of its Nordic skiing team. However, because of a neurological disorder that affects the left side of her body, she was eligible to compete for U.S. Paralympics Nordic Skiing at a world cup in Canmore, Alberta, in December.
Peterson went there to get classified as a Para Nordic skier. As it turned out, she recorded a fast enough time in the one race she entered to qualify for the World Para Snow Sports Championships in January in Lillehammer, Norway.
"I really just went there to try and get classified. I didn't even know that the world championships were going to happen in Norway," Peterson said. "I had zero expectations. I didn't have anything about Beijing on the radar.
"Yeah, I just went to get classified and thought it would be a cool experience."
Peterson said she wasn't trying to overthink while competing at the world championships, her first major international competition. Her carefree approach led to an impressive showing in Lillehammer.
Peterson earned a silver medal in the women's standing 10-kilometer cross-country race on Jan. 13. She captured her second silver at the world championships in the cross-country sprint, and she took the bronze in the cross-country long distance race.
Despite being new to Para Nordic skiing, Peterson was one of the most decorated Americans at the world championships with three medals. Only Paralympic gold medalists Oksana Masters and Kendall Gretsch had more medals than Peterson with five and four medals, respectively.
"I was really surprised. I didn't expect anything," said Peterson, who's a neuroscience major at St. Lawrence. "When we're racing, a lot of times coaches will give you splits, so you know where you are relative to other competitors.
"And I was kind of shocked when I got some of the first splits because just barely qualifying for Norway I didn't think I'd get anywhere near that (time)."
Since Peterson hasn't held a WPNS license long enough to qualify for the Winter Paralympics like a traditional athlete, she had to get approval through the Bipartite Commission Invitation Allocation to earn a spot in Beijing.
Peterson was approved only three weeks before the start of the Winter Paralympics.
"It was kind of just a big relief to know that things had worked out," she said. "I was super excited."
When Peterson was 13, she started having neurological problems with her left arm. It became painful, and she had limited use of her arm. Peterson was diagnosed with dystonia, which is a disorder in which a person's muscles contract involuntarily. It affects mostly her arm, but it also impacts the entire left side of her body, including her left leg.
Peterson's arm began to feel better after she tried a variety of different treatments. However, the problem returned during her junior year of high school.
Since then, Peterson has struggled with moving her arm. She now skis with one pole, and she also has a brace in her boot to support her foot and keep it turned the right way when she's on snow.
"It has been a gradual change. For a lot of years, I kind of had to like strategize training around what I was able to do with my arm," Peterson said. "So, now in some ways it's easier to just go out and ski with one pole rather than having to worry about if I'm able to complete the workout.
"But I definitely do miss the feeling of skiing with two poles."
This time a year ago, Peterson was in the middle of her collegiate ski season and racing every weekend. However, she planned to spend her birthday on Thursday skiing in Bozeman and preparing for the Winter Paralympics.
It has been that kind of year for her.
"I've read about and seen other skiers do so well," Peterson said. "It's weird to kind of be on the receiving end of that now."
Alex Abrams has written about Olympic and Paralympic sports for more than 15 years, including as a reporter for major newspapers in Florida, Arkansas and Oklahoma. He is a freelance contributor to USParaNordicSkiing.org on behalf of Red Line Editorial, Inc.