Jake Adicoff Wins Second Paralympic Medal and Sydney Peterson Wins First in Paralympic Debut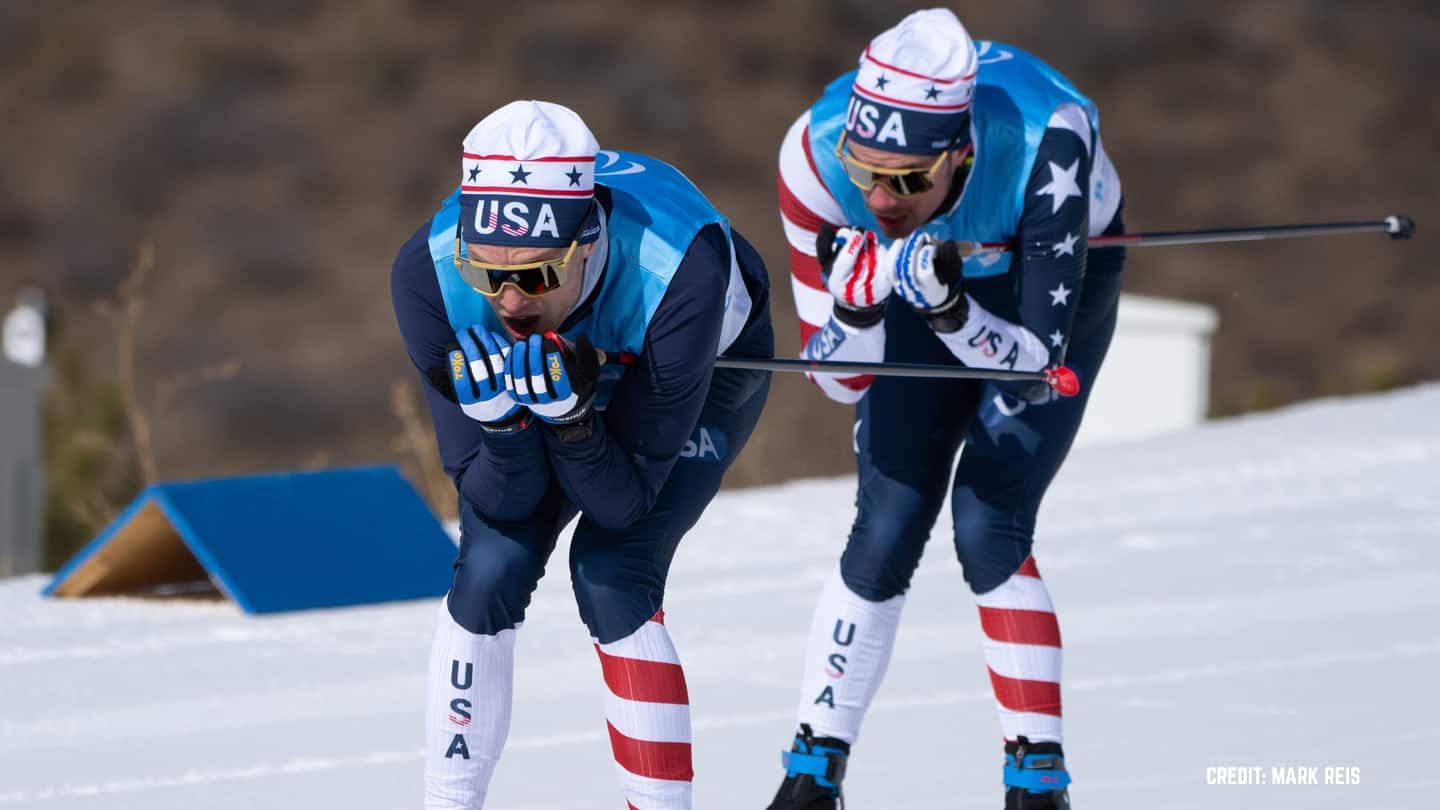 Jake Adicoff and guide Sam Wood compete at the 2022 Winter Paralympics
ZHANGJIAKOU, China — Three-time Paralympian Jake Adicoff (Sun Valley, Idaho), alongside guide Sam Wood (Harpswell, Maine), won the silver medal in the men's visually impaired long-distance cross-country race on Monday, while Paralympic newcomer Sydney Peterson (Lake Elmo, Minnesota) won the silver in the women's long-distance cross-country race in another banner day for the U.S. Para Nordic team at the Paralympic Winter Games Beijing 2022.
The U.S. Para Nordic team has now collected five medals through three days of cross-country skiing and biathlon competition at Beijing 2022, with five more days of racing to go at the Zhangjiakou Biathlon Center.
Adicoff's strong performance in the 20-kilometer cross-country race on Monday gives him his second Paralympic medal, adding to the silver he won in the 10k cross-country at the Paralympic Winter Games PyeongChang 2018.
Adicoff retired from the sport following those Games, but got the itch to compete again during the early months of the coronavirus pandemic in 2020. With months of dedicated training under his belt, the Sun Valley, Idaho, resident accepted an invitation to join the U.S. Para Nordic team for a training camp in February of 2021.
Paired with his longtime friend Wood as his guide, the 26-year-old came to Beijing as one of the top podium contenders in the men's visually impaired field after the two combined for three medals at the Lillehammer 2022 World Para Snow Sports Championships in January.
On Monday, Adicoff and Wood completed the 20k course in a time of 58:54 solidly in silver position ahead of Sweden's Zebastian Modin and his guide Emil Joensson Haag who finished in 1:00:05. Canada's Brian McKeever, with guide Russell Kennedy, won the gold in a time of 55:36.
"It feels good," Adicoff said. "I'm happy to be on the medal stand today and we'll do everything we can to get the gold medal next."
"It's great to represent Team USA. We just love skiing with this team. It's so much fun to be surrounded by people who are so dedicated and athletes who are so strong. It's sweet to be a part of that."
Wood echoed that sentiment and pointed out the U.S. Para Nordic team's strong culture and commitment to excellence.
"The teammates that we have here are some of the best, most committed athletes in the world. For us to be able to use that to get fired up and get faster, that's the best thing you can have as an athlete. We have a great support system and teammates," Wood said.
In the women's long-distance cross-country race, 20-year-old Peterson completed the 15k course in a factored time of 49:00, fast enough to capture the silver medal in her Paralympic debut. Canada's Natalie Wilkie (48:04) and Brittany Hudak (49:27) won gold and bronze, respectively.
Peterson, a standing skier who is a sophomore at St. Lawrence University, said her silver medal "hasn't sunk in yet." Her entire Paralympic experience has been a whirlwind, she said.
It wasn't until mid-February that she received an official bipartite invitation to earn a spot at the Paralympic Winter Games in Beijing. New to adaptive sports, Peterson raced in only one world cup event this season before traveling to Lillehammer for the world championships. There, she won two silvers and a bronze. Despite the strong performance on the world stage, Monday's race came as a surprise to the Lake Elmo, Minnesota, native.
"I didn't really expect to ever be here. It's all happened really fast. It feels kind of surreal to be here," Peterson said. "I'm pretty excited [to win the silver medal]. I really didn't have many expectations. There are so many strong skiers in this field, and I didn't know where things would stack up today. I felt pretty good [on the course.] I tried to ski smooth throughout the race. It was definitely a very hard race and physically exhausting."
Grace Miller (Palmer, Alaska) also competed in women's long-distance cross-country placing ninth to round out the U.S. team's performances. On Tuesday, biathlon competition resumes in Zhangjiakou, as biathletes will compete in the men's and women's middle-distance in the sitting, standing and visiually impaired classifications.
To follow and watch U.S. Paralympics Nordic Skiing competition from the 2022 Beijing Paralympics, tune in to NBC, which features more than 230 hours of coverage across NBC, Peacock, USA Network, the Olympic Channel, NBCOlympics.com and the NBC Sports App. Follow U.S. Paralympics Nordic Skiing on Facebook, Twitter and Instagram for daily updates from Beijing.
For media requests, please contact Stephen Meyers at Stephen.Meyers@usatriathlon.org.