Super Sprint Day for Team USA as Three More Medals Collected in Beijing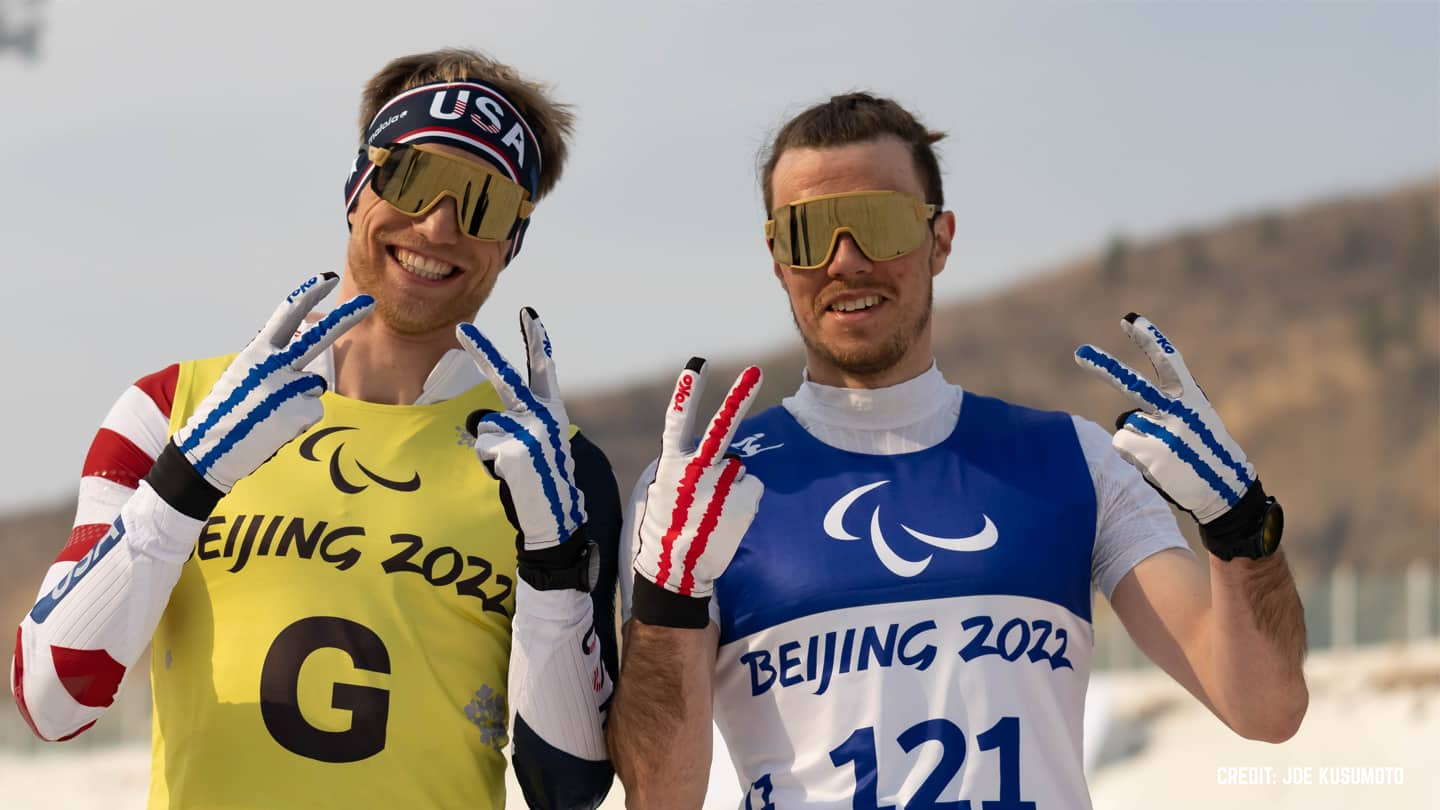 Jake Adicoff and guide Sam Wood smile to the camera at the finishing line at the Beijing 2022 Winter Paralympics.
ZHANGJIAKOU, China — Team USA Para Nordic skiers Oksana Masters (Louisville, Kentucky) and Jake Adicoff (Sun Valley, Idaho), alongside guide Sam Wood (Harpswell, Maine) each won silver medals, and Sydney Peterson (Lake Elmo, Minnesota) took bronze in an exciting, fast-paced day of cross-country sprint racing at the Paralympic Winter Games Beijing 2022.
Through five days of competition, the U.S. Para Nordic team has collected 10 medals in cross-country and biathlon at Beijing 2022, with three more days of racing to go at the Zhangjiakou Biathlon Center.
Masters has won four medals — in all four races — at Beijing 2022 and now has won 14 medals in her Paralympic career. Masters, the 2021 world champion and 2018 cross-country sprint gold medalist from PyeongChang, finished just 1.7 seconds away from gold on Wednesday.
The cross-country and biathlon star powered up the hills on the 1-kilometer course and sprinted down the finish chute to nearly catch China's Hongqiong Yang who won gold with a time of 3:18.2. Masters finished in 3:19.9 and Panpan Li of China earned the bronze in 3:31.0.
Team USA's Kendall Gretsch (Downers Grove, Ill.) placed fifth, in 3:37.3.
Adicoff and Wood won their second silver medal of Beijing 2022 in the men's visually impaired category, just 0.8 seconds away from gold. The duo hammered the sprint cross-country course in a time of 3:20.3, just behind Canada's Brian McKeever, guided by Russell Kennedy. Sweden's Zebastian Modin, guided by Emil Joensson Haag, took the bronze in a time of 3:37.8.
The silver is Adicoff's third medal of his Paralympic career — and he's gunning for two more cross-country medals in Beijing.
"I said it before, but I'll say it again — 'We're going to gun for gold,'" said Adicoff who is a three-time Paralympian who won silver in the 10k cross-country at the 2018 Paralympic Games in PyeongChang.
"Two more to go. We're hoping for four for four (on the podium) so we're right on schedule," Wood said.
Adicoff said the fun of cross-country sprints is the opportunity to cheer on his fellow U.S. Para Nordic teammates. The entire team raced on Wednesday, which began with qualification rounds, a round of semifinals and the final to determine the Paralympic medalists.
"Being with this team is so much fun. Especially on sprint day. Sprint days are the best. You get to watch everyone and it's an absolute blast," said Adicoff. "The team had a good day, so we're psyched."
Peterson, who is competing in her first Paralympic Games, won her second medal of Beijing 2022, adding to the silver she won in long-distance cross-country. She completed the sprint cross-country in 4:12.1, behind Canada's Natalie Wilkie (4:05.1) and Norway's Vilde Nilsen (4:08.1).
"It was a super challenging race. There were a lot of components to it going throughout the day, but I'm super excited about how it all stacked up," Peterson said. "I had a ton of people that were out there helping and cheering and it wouldn't have been possible without all their support."
A total of 14 U.S. athletes competed in the day's events. For the women's sitting sprint, Lera Doederlein and Erin Martin finished 14th and 16th respectively while Grace Miller took 14th in the women's standing. In the men's sitting competition, Dan Cnossen finished just outside a qualifying spot with a 13th place finish while Josh Sweeney finished 19th. Max Nelson took 14th place in the men's visually impaired qualification round while Drew Shae covered the course in first round of the men's standing for 21st.
American teammates Dani Aravich, Ruslan Reiter and Aaron Pike made their way to the semifinal round finishing the sprint competition in 8th, 12th and 12th respectively.
Nordic athletes will enjoy a rest day on Thursday. Racing is scheduled to resume on Friday, with the men's and women's individual biathlon. To follow and watch U.S. Paralympics Nordic Skiing competition from the 2022 Beijing Paralympics, tune in to NBC, which features more than 230 hours of coverage across NBC, Peacock, USA Network, the Olympic Channel, NBCOlympics.com and the NBC Sports App.
For media requests, please contact Stephen Meyers at Stephen.Meyers@usatriathlon.org.