Oksana Masters Adds Another Silver, Goes Six-for-Six in Individual Events at Beijing 2022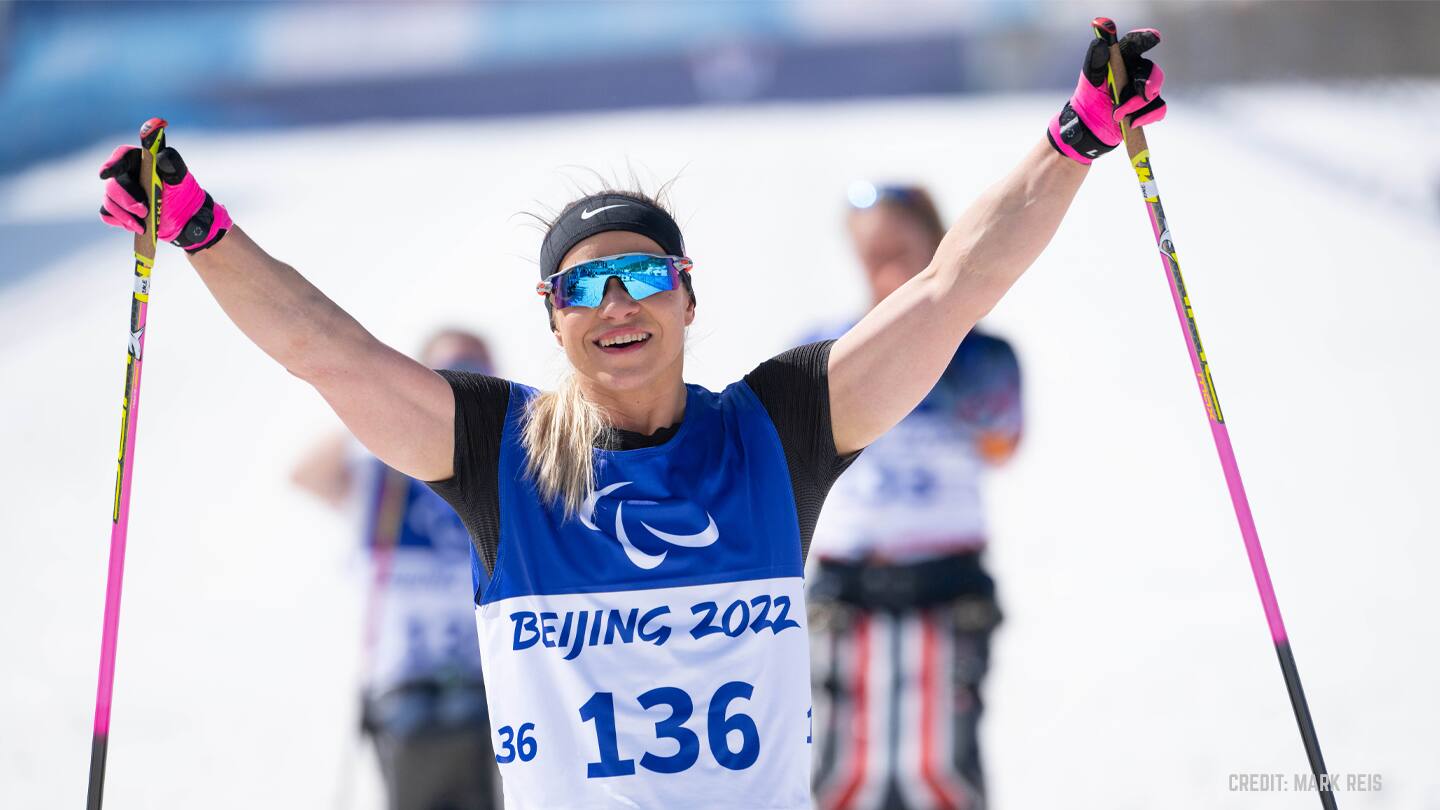 Oksana Masters crosses the finish line after an event at the 2022 Winter Paralympics.
ZHANGJIAKOU, China — Team USA Nordic skier Oksana Masters (Louisville, Kentucky) skied her way into the record books on Saturday at the Paralympic Winter Games Beijing 2022.
Masters won the silver medal in the women's sitting cross-country middle-distance at the Zhangjiakou Biathlon Center, her sixth medal of Beijing 2022 and 16th overall medal in her Paralympic career, which is the fourth-most Paralympic medals by a U.S. athlete.
A star in both the winter and summer Paralympic Games, Masters has now won eight Paralympic medals in cross-country, five in biathlon, two in Para-cycling and one in rowing. Her eight cross-country medals are the most ever by a U.S. Paralympian and her 13 overall Winter Paralympic medals ties alpine skiers Sarah Billmeier and Sarah Will as the most all-time by a U.S. Paralympian.
On Saturday in warm conditions and slushy snow, Masters skied the middle-distance 7.5-kilometer course in a time of 25:24.7 — 37.2 seconds away from gold. China's Hongqiong Yang won in a factored time of 24:47 and her teammate Jing Ma won bronze in 26:22.
Kendall Gretsch (Downers Grove, Ill.) placed sixth, with a time of 27:47.
"Today was a really tough day. The combination of the fresh snow and the warm temperatures made for a brutal race," said Gretsch, who will head home from Beijing 2022 with three medals from her individual races. "I'm proud of my performance here. I came out every race and gave it everything I had. I wanted a little more and was hoping to do a little bit better, but I can't be upset that I gave everything I had."
Together, the duo of Masters and Gretsch have won nine medals across six days of biathlon and cross-country racing at Beijing 2022, and the U.S. Nordic team as a whole has won 13 medals. With individual racing now concluded, the Nordic racing action finishes on Sunday with the mixed relays on the final day of Beijing 2022.
In Saturday's standing middle-distance, Jake Adicoff (Sun Valley, Idaho), with guide Sam Wood (Harpswell, Maine), placed sixth in the men's vision impaired category. Team USA's Ruslan Reiter (Manchester, Maine) scored a top-10 finish in the men's standing middle-distance, placing 10th, while teammate Drew Shea (Vienna, Virginia) finished 19th.
Sydney Peterson (Lake Elmo, Minnesota) who has won two medals in Beijing 2022 in her debut Paralympic Games, led the U.S. women in the standing middle-distance with a sixth-place finish. Dani Aravich (Boise, Idaho) scored her second top-10 finish of these Games, placing ninth. Two-time Paralympian Grace Miller (Palmer, Alaska) placed 16th. In the men's sitting middle-distance, six-time Paralympian Aaron Pike (Park Rapids, Minnesota) led the way for the U.S. with a 12th-place finish. Josh Sweeney (Glendale, Arizona) took 24th.
To follow and watch U.S. Paralympics Nordic Skiing competition from the 2022 Beijing Paralympics, tune in to NBC, which features more than 230 hours of coverage across NBC, Peacock, USA Network, the Olympic Channel, NBCOlympics.com and the NBC Sports App.
For media requests, please contact Stephen Meyers at Stephen.Meyers@usatriathlon.org.