TEAM USA CELEBRATES HISTORIC PERFORMANCES AS 2022 PARALYMPIC GAMES CONCLUDE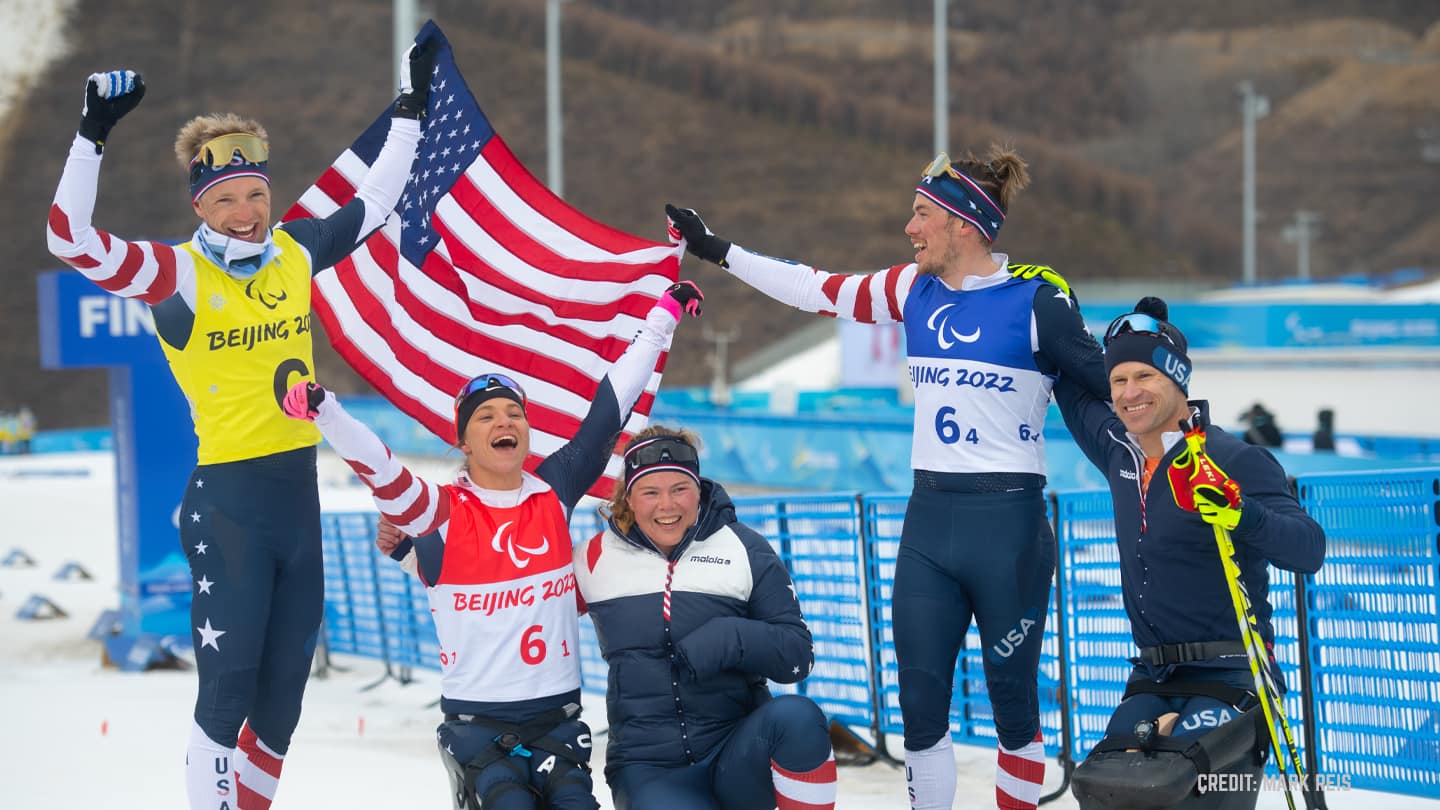 Team USA celebrate after winning gold in the cross-country mixed relay
ZHANGJIAKOU, China — In thrilling, come-from-behind finish, Team USA won the gold medal in the Para Nordic cross-country mixed relay at the Zhangjiakou National Biathlon Center on Sunday, the final day of the Paralympic Winter Games Beijing 2022.
The gold is the first Paralympic mixed relay medal for the U.S. Para Nordic team and the 14th medal won by U.S. Nordic skiers at Beijing 2022.
The gold medal is also historic for U.S. relay team member Oksana Masters (Louisville, Kentucky). With the title, Masters now has won 14 Winter Paralympic medals, making her the most decorated U.S. Winter Paralympian of all time. Combined with her Paralympic Games medals in Para-cycling and rowing, Masters now has 17 career Paralympic medals. In Beijing, she won seven medals in all seven events she raced.
A sit-skier, Masters led off the mixed relay for Team USA, joining first-time Paralympian Sydney Peterson (Lake Elmo, Minnesota), three-time Paralympic sit-skier Dan Cnossen and three-time Paralympic standing vision-impaired skier Jake Adicoff (Sun Valley, Idaho), with his guide, Sam Wood (Harpswell, Maine), in the 4x2.5-kilometer mixed relay.
Para Nordic relays are structured so that each team's athlete is assigned points based on their classification and gender, and the sum of each team's total points cannot exceed 335 for the mixed relay and 375 for the open relay. Relay races feature a mass start and head-to-head racing, and factored times do not come into play.
Competing against male skiers and skiers in different classifications, Masters led off the race for Team USA, completing her leg in a time of 6:40.9, good for third place, 21.1 seconds behind Ukraine. She tagged to Peterson.
The first-time Paralympian, who earlier in the week won silver and bronze medals in the women's standing long-distance and sprint cross-country, completed her leg in 7:22.8 and tagged to Cnossen, with the U.S. in fourth place behind China, Ukraine and Canada.
Cnossen, who won six medals at the Paralympic Winter Games in PyeongChang in 2018, quickly made up the 48.9-second deficit. Sprinting from the relay exchange zone, Cnossen powered through his leg in a time of 6:28.1 — the third-fastest split in the field. His efforts narrowed the gap and he tagged to Adicoff and Wood, the pair staring at a 30.7-second deficit to gold.
The duo was ready for the challenge.
"We were watching the Jumbotron and watching our three teammates ski incredible leg after incredible leg. We knew that we were going to come into that last leg with a bit of a deficit to make up, that's just how the team is set up, and we were excited it was 30 seconds," said Adicoff, who also won silvers in the long-distance and sprint cross-country in Beijing. "We came out of the gate hot and just really sent it in the first half. It was just really easy after that and so much excitement out there that the skiing was fun and easy and fast."
With adrenaline behind them, Adicoff and Wood gave the U.S. the lead 1k into their leg, overtaking Ukraine, China and Canada. From the 8.5k mark to the 10k finish, the pair extended the lead, skiing their leg in a blazing fast time of 5:27.5 to deliver the U.S. Para Nordic team its first Paralympic relay medal with an overall time of 25:59. China (26:25) won the the silver and Canada (27:00) took the bronze.
"I handed it off to Jake with a 30+ seconds deficit and I knew he was going to make that up. We were looking at the Jumbotron and we saw when he took the lead that it's home sweet home. He fought through. What a great Games they have all had. What a proud moment for us," Cnossen said. "This is awesome. I couldn't be more proud to be part of this team. When you're part of a team and you know your teammates are counting on you for every second, that's a special feeling."
The mixed relay gold gives Cnossen two gold medals in his Paralympic career, and seven medals total.
"I've had some individual success in the past, but this is the sweetest moment for me to be part of the team. Also, the team behind the team. We have wax technicians working so hard to have wonderful skis for us," Cnossen said. "This is my most proud medal."
For Peterson, the mixed relay gold medal gives her three from Beijing 2022 in her first Paralympic Games. She enjoyed the team atmosphere and camaraderie of competing on the relay.
"It's just great. It's so much better being a part of a team. The five of us all had great races and we had so much support back home," Peterson said.
For Adicoff, who had retired from skiing following his silver medal in 2018 PyeongChang, the gold in the mixed relay — alongside his teammates — made his return to the sport even more sweet.
"This return to skiing for me has been all about the people I've been skiing with. To win this medal as the team — and not only as a team of like the five of us that skied but, you know, the whole team USA that was behind us is awesome. We're just ecstatic," said Adicoff, now a four-time Paralympic medalist.
In the final Para Nordic competition of Beijing 2022, U.S. Para Nordic skiers Max Nelson (Mahtomedi, Minnesota), guided by Simi Hamilton (Aspen, Colorado), Drew Shea (Vienna, Virginia), Kendall Gretsch (Downers Grove, Illinois) and Ruslan Reiter (Manchester, Maine) teamed up to race in the 4x2.5k open relay. The mix of first-time Paralympians (Nelson and Shea) combined with Paralympic veterans in Gretsch and Reiter to place ninth with a time of 33:03. Ukraine won gold in 28:05, France took silver in 28:30 and Norway earned bronze in 28:41.
Nelson, the youngest skier on the U.S. Para Nordic team in Beijing, embraced his opportunity to represent Team USA in the open relay.
"It was pretty crazy at the start trying to fight off a couple skiers for my spot," Nelson, 18, said. "But I'm just honored to be here and race for Team USA. It was a great day."
Across eight days of competition in cross-country and biathlon, the U.S. Para Nordic team won 14 medals at Beijing 2022, including four gold.