How The U.S. Emerged As A Power In Para Nordic Skiing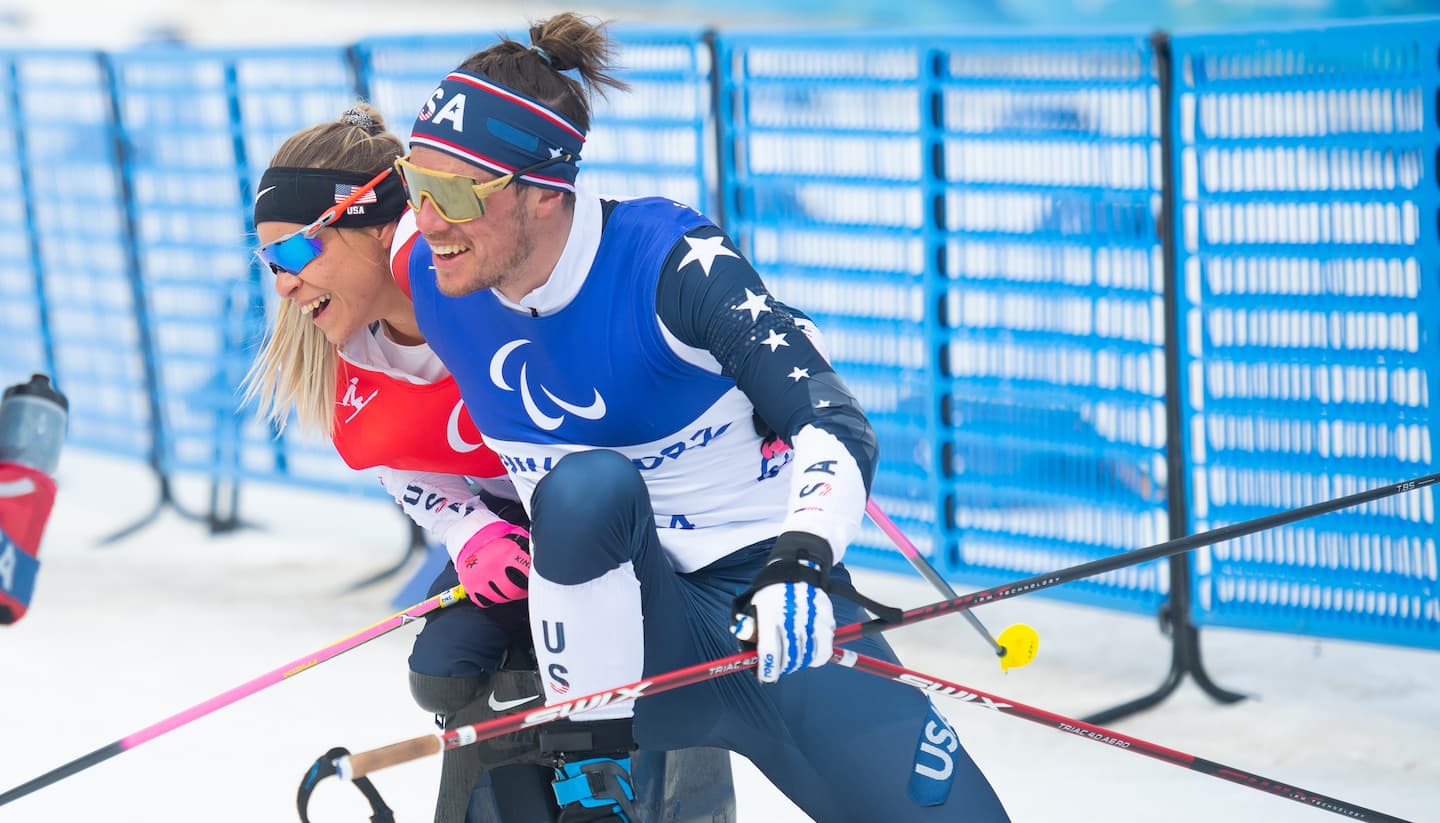 Jake Adicoff and Oksana Masters celebrate after the U.S. won gold in the mixed relay competition in Beijing. (Photo: Mark Reis)
The top American Para Nordic skiers have become recognizable stars.
Oksana Masters has appeared on billboards, magazine covers and HBO's "Real Sports with Bryant Gumbel." Her first book will be published soon.
Dani Aravich, meanwhile, scratched an item off her bucket list when she made the February issue of Sports Illustrated.
And their U.S. Paralympics Nordic Skiing teammates documented their time in Beijing for the Winter Games on Instagram, where they've amassed thousands of followers.
"Oh my gosh, it's just wild," Masters said at the Team USA Media Summit in October. "… I would never consider myself an icon by any means, but (I) am so excited because opportunities are opening up."
American Para Nordic skiers have enjoyed considerable success in recent years, a trend that continued earlier this month in Beijing.
The 2002 Salt Lake City Paralympics — which began 20 years ago on March 7 — proved to be a high-water mark for Team USA, with Americans earning a record 43 medals. However, only five of them came in Nordic skiing, and none of the medals were golds. Team USA didn't make the podium at all in the biathlon.
In the seven Paralympic Winter Games prior, U.S. Nordic skiers won a total of 12 medals.
Things are much different now.
The Americans, who have placed an emphasis on recruiting and training over the past few years, had a breakthrough performance four years ago in PyeongChang, where U.S. athletes won 16 medals between the Nordic disciplines of biathlon and cross-country skiing. That momentum continued earlier this month in Beijing, where they nearly matched that mark while relying on a team made up of both returning Paralympic veterans and promising newcomers.
Masters once again proved to be the biggest star. The 32-year-old multi-sport athlete earned a U.S. record seven medals — one in each event she competed in — while Jake Adicoff, Kendall Gretsch and Sydney Peterson each came home with three.
In total, the U.S. Nordic team finished with 14 medals, including four golds. That meant the U.S. Nordic skiers won nearly three-fourths of Team USA's 20 medals in Beijing.
Their performance helped Team USA finish fourth among all countries in total medals. Masters alone won as many medals as Norway and Japan in becoming the most decorated American Winter Paralympian ever with 14 career winter medals.
In a sign of how much the Para Nordic skiing landscape has shifted over the past 20 years, Dan Cnossen earned more medals in PyeongChang — six — than all the American skiers combined at the Salt Lake City Winter Paralympics. Masters accomplished the same feat in Beijing with her seven medals.
"All of our national team athletes do an amazing job providing exposure of our sport to many more people," said BethAnn Chamberlain, a development coach for U.S. Paralympics Nordic Skiing. "It is exciting to have more people learn about the sport and the opportunities there are to get involved, no matter the age or ability.
"It is a great community of people and wonderful to see it grow, in part because of the exposure our top athletes provide."
Coaches with U.S. Paralympics Nordic Skiing have worked on getting more of their athletes to train together in Bozeman, Montana, where the U.S. national and developmental teams are based.
Two years ago, only four sit skiers and one standing skier on the U.S. national team spent their winter training in Bozeman. That number has only grown. Eleven Para Nordic skiers trained in the Bozeman area during the 2021-22 season, including five national team members and five athletes on the development team.
Much of the development team now lives in Bozeman and trains with the local biathlon club at Crosscut Mountain Sports Center.
"Most of them are based here in Bozeman and getting really quality work in year-round with one of our coaches here," Eileen Carey, director of U.S. Paralympics Nordic Skiing, said in September. "So from a program standpoint, I'd say we're really excited about that growth as a program."
At the same time, U.S. Paralympics Nordic Skiing coaches have found ways to expand their talent pool by introducing more athletes to the sport. Their recruiting efforts continued even during the coronavirus pandemic when it was difficult to have face-to-face meetings.
Chamberlain said coaches held meet-and-greets with new athletes over video calls and offered virtual training sessions.
"We have traveled across the country to connect (with) new potential athletes in the sport and invite them to intro development training camps," Chamberlain said. "However, due to the pandemic we have had to become a little more creative in regards to how we make connections with new potential athletes."
Team USA has also had plenty of success with getting world-class athletes in other sports to give Para Nordic skiing a try — and then stick with it.
Masters is now a 17-time Paralympic medalist in Nordic skiing, cycling and rowing. Her longtime boyfriend, Aaron Pike, has qualified in six consecutive Paralympics as either a Para Nordic skier or a track and field standout. Gretsch was also a proven triathlete before picking up Nordic skiing. After winning two gold medals in her 2018 Paralympic debut as a skier, she earned a triathlon gold medal last summer in Tokyo.
Those recruitment efforts continued to prove fruitful in the most recent quad.
Aravich, a cross country runner in college, qualified for her second Paralympics in Beijing after making her debut as a sprinter in Tokyo this past summer. Not expecting to medal in her first Winter Games, Aravich left Beijing with lots to build on after posting two top-10 finishes.
Meanwhile, although Peterson didn't come to Team USA from a different sport, she is still very new to Para Nordic. Just a few months ago she was focused on skiing for the able-bodied team at St. Lawrence University. After getting her Para classification in December, she won three medals at the world championships in January, then kept the momentum going in Beijing.
"It feels absolutely surreal," Peterson said. "I never expected to be here."
The program's growth was evident beyond the medal podium too.
Team USA brought six standing skiers to Beijing — three men, three women — after having just one man and one woman from that classification in 2014 and 2018.
"I learned early on in the sport that everyone else wants to help each other," said Drew Shea, a standing skier who made his Paralympic debut in Beijing. "You're not on your own. I think that was something Ruslan (Reiter, another standing skier) instilled in me. We'd be racing against each other trying to make it to the Games, but he would still be out there helping me out. I think I'll take that and usher in the younger guys and not be afraid that they take my spot … but maybe they will."
That's all by design, and it's a plan program officials hope to maintain in the coming years.
Chamberlain said U.S. Paralympics Nordic Skiing hosts development training camps throughout the year and collaborates with other Para sport clubs and Nordic organizations to get more athletes on snow.
"So we take it one step at a time and do our best to help athletes have a great first-time experience and provide them with a pathway to continue skiing, training and competing if that is the path they choose," Chamberlain said.
Alex Abrams has written about Olympic sports for more than 15 years, including as a reporter for major newspapers in Florida, Arkansas and Oklahoma. He is a freelance contributor to USParaNordicSkiing.org on behalf of Red Line Editorial, Inc.