Twenty Years Later, Steve Cook's Salt Lake City Performance Still Stands Out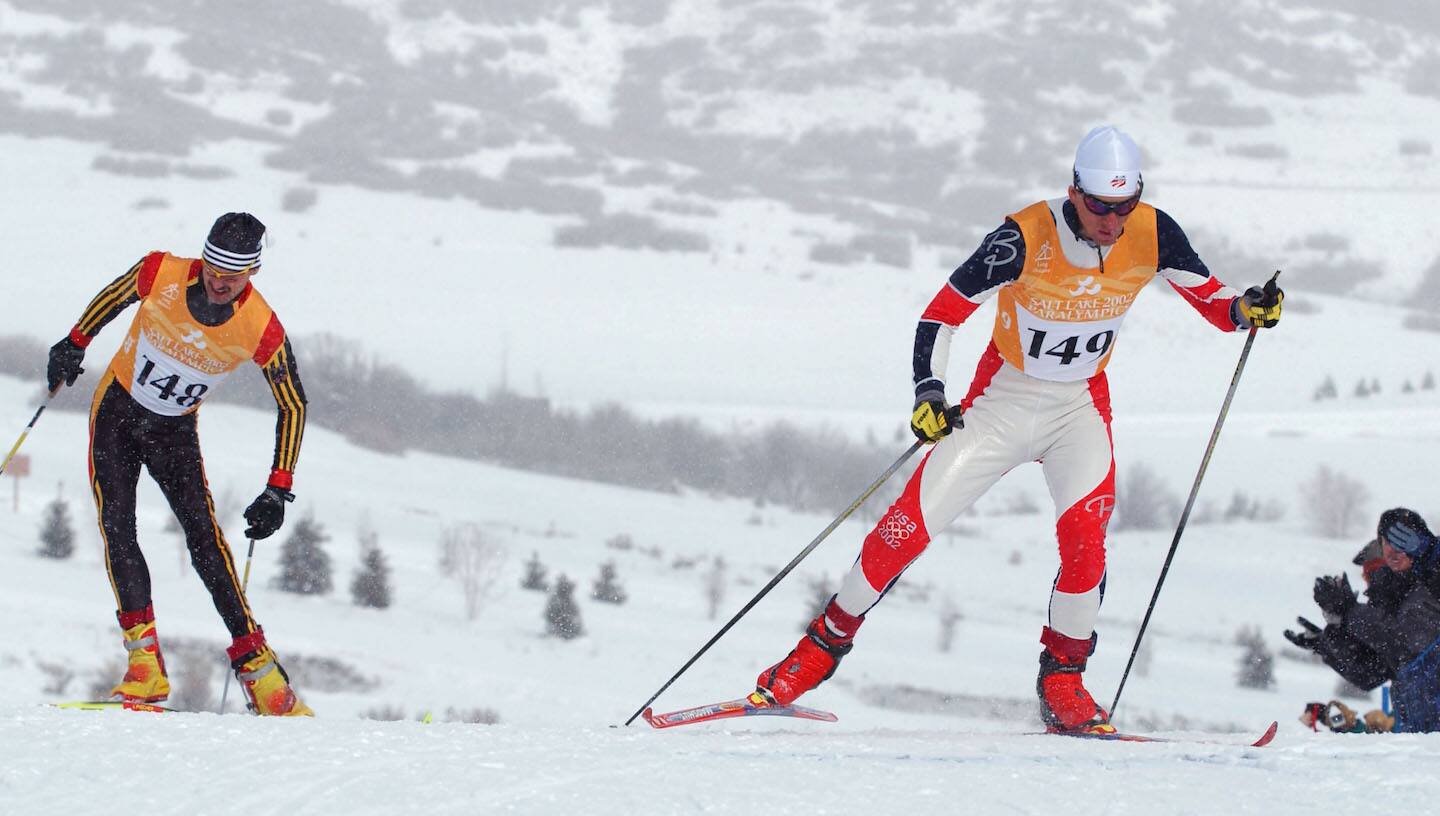 Steve Cook #149 passes Roland Gaess #148 of Germany while competing in the 20K cross country event during the Salt Lake 2002 Paralympics at Soldier Hollow in Heber, Utah. (Photo: Getty Images)
Steve Cook's preparations for the Paralympic Winter Games Salt Lake City 2002 included working a part-time job at a local bicycle shop.
Cook had moved to Salt Lake City when he was in his mid-20s to pursue mountain bike racing. However, after making his Paralympic debut as a cyclist at the 1996 Atlanta Games, he realized Para Nordic skiing suited his detail-oriented personality more.
Cook didn't give up bikes entirely, though.
He worked as a bike mechanic to help cover the costs of his training for the Winter Paralympics. He'd go skiing when he wasn't at the shop, working his usual shift from 9 a.m. to 7 p.m.
"Of course, the boss was really understanding and supportive, and he let me get out and travel and get to all my trainings and things like that," Cook said. "He made it super easy."
March marked the 20-year anniversary of Cook's record-breaking performance in front of a hometown crowd at the Salt Lake City Winter Paralympics.
Cook, a standing skier who had lost the lower part of his right leg in a 1988 farming accident, enjoyed an unforgettable time during a wild two weeks in 2002. He competed in five cross-country races in Salt Lake City, winning a silver medal in all but one of them.
Cook, known as "Cookie" to his teammates, had his friends cheering him on as he raced around the course. As soon as the Winter Paralympics, which began on March 7, 2002, wrapped up nine days later, he celebrated at a barbecue held in nearby Midway, Utah.
"I believe I was skiing really well, and I was pretty healthy the whole season and, yeah, probably fitter than I had been in previous winters," said Cook, who'll turn age 54 on July 11. "So, yeah, it was one of those situations where it just all came together for that one week or 10 days of the Games.
"And it just happened that it was in my backyard, and I was able to share it with not only with my teammates and coaches but also all the friends and family came out."
Heading into Salt Lake City, Cook said his goal was to improve on his performance from the 1998 Nagano Winter Paralympics, where he had recorded a pair of top-10 finishes.
He ended up accounting for four of the five Nordic skiing medals that Team USA won in 2002.
Cook earned the silver in the men's relay open, the 20-kilometer free technique race, the 10-kilometer free technique LW2-4 race and the 5-kilometer classical technique LW2-4 race.
At the time, his four medals were the most by an American at a single Paralympics. The only event that he competed in but didn't medal in was the 7.5-kilometer race.
Cook said he didn't have too much time in between races to savor the moment. He had to go from one event to the next, never sure how he'd stack up against a deep field.
"And that was the thing about the standing men's class at that time. There may have been only 30 or 35 athletes on the start list, but more than half of them had world cup wins or world championship medals or Paralympic medals from years past," Cook said.
"So it was a really stacked field, and you never knew. I mean we'd sit at night and go over the start list and say, 'Oh yeah, he could medal. He could medal. He could medal.' You could just go down the whole list of athletes, and so it was almost a crapshoot every day and you just had to go out and put it all together and see."
Of course, it helped that he had a large cheering section for his races.
Cook said the security at the Salt Lake City Winter Paralympics wasn't that tight, so it was possible for his friends and family members to follow him around the course.
"There would be people in the stands, and a lot of my friends were out on the course. And it was a small enough course that you could run say from one hill to another pretty easily," Cook said. "So you'd go by, and they'd be screaming at you.
"And then you'd go down a downhill and start up the next hill, and there they would be again and they'd be screaming at you. It definitely made for digging deeper a lot easier with all that support and just excitement around you."
Four years later, Cook qualified for his third Winter Paralympics in Torino. After earning four silvers in Salt Lake City, he won his first gold medals in the men's 10-kilometer and 5-kilometer races to go along with a bronze in the 20-kilometer race.
Cook also captured the 2005 world cup title and was the runner-up the following year before retiring in 2007. He still lives in Salt Lake City and considers it his hometown after living there for 30 years.
Cook said he kept his silver medals from the 2002 Winter Paralympics stored in a box for a long time until his wife decided she wanted to proudly display them. They're now on the mantel at their house, next to other trophies he won during his Para Nordic skiing career.
Cook hasn't left the sport, either. He has been a Nordic skiing coach since his retirement.
"It was an awesome experience," Cook said about his performance 20 years ago in Salt Lake City. "My whole entire time on the (U.S.) ski team was just an amazing experience, and as I said, having that kind of performance happen near your hometown made it all much more special.
"That just cemented my love of Nordic skiing and why I wanted to get into coaching when it was all done."
Alex Abrams has written about Olympic sports for more than 15 years, including as a reporter for major newspapers in Florida, Arkansas and Oklahoma. He is a freelance contributor to TeamUSA.org on behalf of Red Line Editorial, Inc.